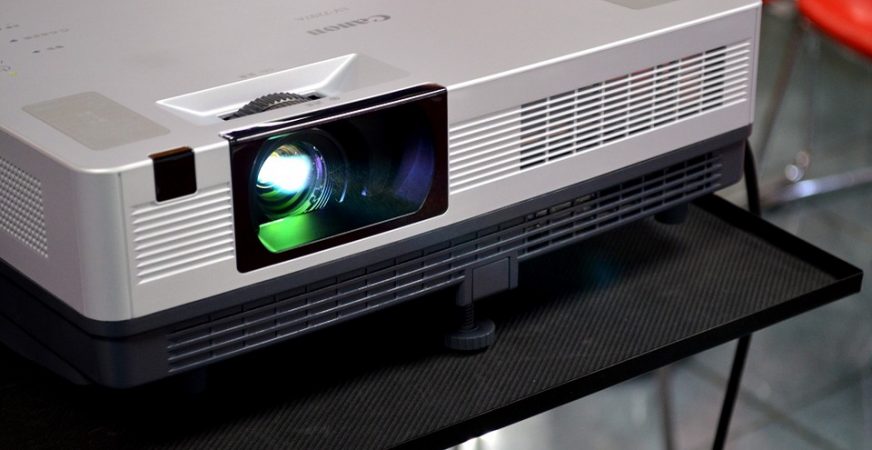 4 Best Projectors Under $200 [2019 Update]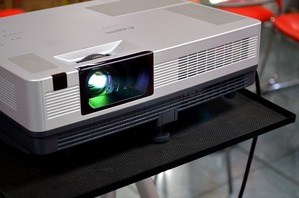 If it's not for presentations, a top notch projector can be all you need to turn a regular old room into a mini-cinema, and who wouldn't love that?
Now, a good projector typically costs well over $500. However, if you are not made of money, you can still take advantage of a budget projector that costs around $100.
We recommend setting your budget to $200 so you can buy a high-end budget product that supports Full HD images.
If you like the sound of that, you're going to love our list of the best projectors under $200:
4 Best Projectors Under $200 – 2019
Do you want to be able to take your projector around without any issues at all? If so, then this Vamvo projector will be right up your alley.
Weighing just 0.6lbs, and with dimensions of 5.7 x 3.2 x 0.9 inches, you will have no problem taking this projector everywhere with you.
Despite its small size, though, this projector offers up a vibrant display as it is equipped with an 1800 lumens LED lamp. Also, it boats a max resolution of 1080p.
As a result, the images and video that you see are brighter and clearer, offering up the ultimate viewing experience.
This is also an incredibly versatile projector. Thanks to the HDMI port, you can connect with a wide variety of devices and gadgets easily.
The surface touch-keys are conveniently located and very responsive. As such, using this projector will be an absolute breeze.
It has a battery capacity of 5200mah which means that it can last up to 2 hours on full charge. What's more, it can be charged quite quickly as well.
The only real downside to this projector is that the sound quality isn't optimal. For the best listening experience, you will have to connect to an external device.
+Pros:
Compact and portable
Clear video
Great vibrancy
Highly compatible
Easy to use
Good battery
-Cons:
Built-in sound quality isn't great
This is another basic budget projector that supports 1080p HD images. The native resolution however is 800×480.
Still, we managed to get bright and rather sharp graphics. It was really vivid for a budget projector.
This projector also had an impressive amount of inputs, including dual HDMI ports and dual USB ports.
These will support a variety of devices including laptops, smartphones, cameras, gaming consoles, and so on.
There was, however, no AV input to plug in speaker devices like a sound bar. That was a big disappointment for us.
This projector supports a screen 32 to 200 inches big. The distance is adjustable.
It will work well in a small room, but this projector is really suitable for outdoor use as well.
It has a loud fan, but the sound is drowned out when a movie is playing. It works really well in pitch black conditions.
The images looked almost true HD when all the lights are out. But image quality drops if there are light bleeds coming from curtains or other lights in the room.
Also, while the color was vivid, there wasn't much range in our opinion.
+Pros:
Sharp and vivid images
Variety of input
Almost true HD quality in pitch black rooms
-Cons:
Not enough color range
Other lights could make the image look bad
If you are looking for ultimate clarity and brightness but don't want to pay a high sticker price, then the GooDee projector is just what you need.
To start with, you get excellent brightness as the machine boasts up to 2000 lux. In fact, you will find that this number is considerably better than many of the other projectors on the market.
Then there is the fact that you get to enjoy top-notch resolution as well. The projector supports 1080p quality, ensuring that you get to watch the highest quality videos.
It should be noted, though, that the color adjustment features are limited. So, depending on what you are watching, you may be dissatisfied with the results.
Now, for a projector, this device actually provides you with good sound quality, allowing you to listen off the projector alone.
To add to this, the project is highly compatible with a wide number of digital devices. As such, you can watch videos off of virtually any gadget.
You will also notice that this project boasts excellent heat dispersion. As such, it doesn't get hot easily and you can use it for hours on end.
As an added bonus, the fan on this device is incredibly soft and you can't hear it all while you are watching the movie.
+Pros:
Great brightness and clarity
High quality resolution
Incredibly compatible
Doesn't get hot
Adequate sound quality
-Cons:
Color adjustment can be limited
This is one of the best projectors under $200 that comes with 3,000 LED luminous efficiency and a contrast ratio of 2000:1.
With these specs the projector has solid resolution. The 1080p Full HD picture it generates is sharp and crisp.
Of course, it's not 4k, but at this price point you have to make some compromises.
We experienced good picture quality throughout, even when resolutions were lower than Full HD.
We did notice a minor color balance issue. But it's not very noticeable when watching movies or playing games.
In fact, unless you are a video pro, you will probably not notice it.
The projector came with a nice tripod mount, which was very convenient. The device was easy enough to set up and operate.
We have to warn that if you operate this projector in an outdoor environment, be aware of dust getting on the ventilation system that can affect picture quality.
The projector is also very quiet, and has manual keystone correction.
It had good built-in speakers with an AUX output as well. All the necessary inputs—HDMI, VGA, USB and AV—are available.
It comes with a valuable one year warranty as well.
+Pros:
High lumen efficiency
Works quietly
Comes with good warranty
Tripod provided
-Cons:
Color balance a bit off
Dust gathers on the ventilation when used outside
How to Buy a Budget Projector Under $200
When your budget for a projector is $200, you shouldn't have unrealistic expectations of your product.
You can still find a good projector that can generate HD images as close to real as possible.
But do not expect professional grade functionality like with an expensive Epson. To make sure you end up with the right product, here are several tips to mind when shopping:
You may not be able to find a budget projector with 1080p movies. But most support 1080p signals generated by devices like Blu Ray players and gaming consoles.
You can generally get a good picture with this support. But lumen count would matter too.
The typical lumen count for a cheap projector is around 1,000. But many of the products listed above have well over 2,500 lumens.
The higher the lumen count, the brighter the projector will be. The brighter the projector is, the less darkness it will require to function properly.
If you are looking for a durable projector, you might want to consider lamp life. The projector's lamp will stop functioning at optimum after a specified period of time.
Most projectors have lamp lives between 2,000 and 4,000 hours. The higher this number is, the longer the lamp will last, obviously.
Manufacturers don't always list lamp life, so you might have to specifically request this piece of information.
Even budget projectors come with warranties. It's best to buy with at least a year's worth of a warranty to safeguard your purchase.