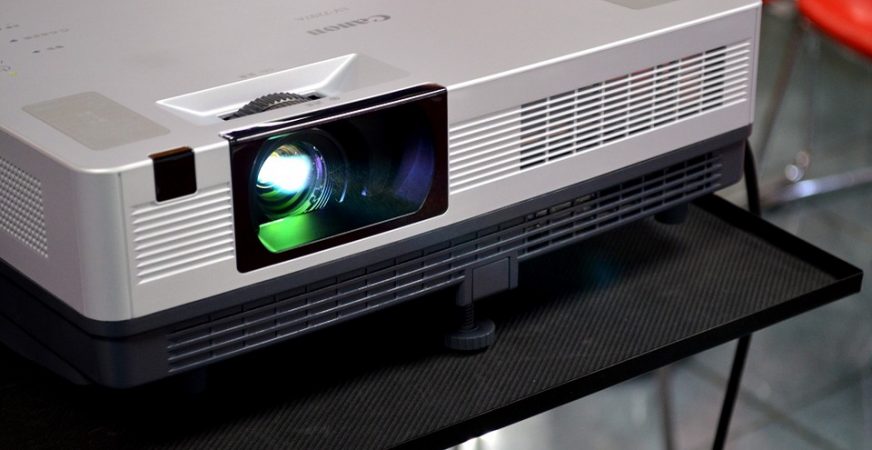 5 Best Projectors Under $200 [2021 Update]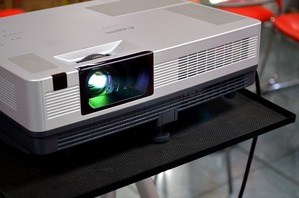 Last updated: 6/4/21
Reading Time: 5 minutes
If it's not for presentations, a top notch projector can be all you need to turn a regular old room into a mini-cinema, and who wouldn't love that?
Now, a good projector typically costs well over $500. However, if you are not made of money, you can still take advantage of a budget projector that costs around $100.
We recommend setting your budget to $200 so you can buy a high-end budget product that supports Full HD images.
If you like the sound of that, you're going to love our list of the best projectors under $200:
5 Best Projectors Under $200 – 2023
1. Vamvo L4200 Portable Video Projector
No products found.
This compact and lightweight projector is perfect for home use without breaking the bank. It offers solid mid-range graphics paired with good features.
The Vamvo L4200 has a native resolution of 720p, so it's not genuinely HD as expected. However, with some tweaking of settings, it can look like a HD projector. The supports 3,800 lumens. It doesn't sound like much, but delivers bright picture quality indoors.
The projector has a number of input ports, including USB, HDMI, and AV. It can be easily plugged into a computer, smartphone, TV, or a gaming console. You can watch movies or share photos conveniently.
The Vamvo L4200 weighs only 2.75 lbs so it's highly portable. You can take it anywhere easily in a backpack.
The projector comes with a built-in speaker set. The dual stereo speakers have SRS sound quality. It's more than adequate for this price range. It's sufficient for watching movies indoors. However, sound might not be that clear outdoors.
This gadget can project on to a screen between 40 to 200 inches in size. It requires between 4.9 to 15 projection distance. Overall, the Vamvo L4200 is more than suited for your home theatre big screen needs.
+Pros:
Good lumen count
Multiple port support
Lightweight and portable
Reliable in-built sound
2. ARTLii HD Projector
There is no denying that this is certainly one of the top projectors that you can get for under $200. One of the main perks of this device is that it does so many things well.
To start with, the projector supports 1080p quality, ensuring that all of the images are sharp, crisp, and completely clear. This really does transform every viewing experience, regardless of what you are watching.
Furthermore, the projection screen created by the device is also impressive. It takes up around 200 inches of space, making it perfect for movies, sports, and video games, especially when you have a large crowd gathered.
Then there is the fact that this projector boasts built-in Hi-Fi stereo that produces excellent sound, ensuring that you don't external speakers. What's more this system is equipped with advanced noise reduction as well.
Another excellent feature is all of the various ports. This includes HDMI, USB and VGA, Micro SD, and AV port. Thanks to this, you should have no trouble at all, connecting this projector to a wide variety of devices in your home or office.
The only real downside with this projector is that the keystone adjustment is limited. Therefore, you do need to be careful about just where it is that you place the device.
+Pros:
Excellent quality
Built-in sound system
Highly compatible
Good sized viewing experience
-Cons:
Keystone adjustments are limited
3. GooDee Video Projector
If you are looking for ultimate clarity and brightness but don't want to pay a high sticker price, then the GooDee projector is just what you need.
To start with, you get excellent brightness as the machine boasts up to 2000 lux. In fact, you will find that this number is considerably better than many of the other projectors on the market.
Then there is the fact that you get to enjoy top-notch resolution as well. The projector supports 1080p quality, ensuring that you get to watch the highest quality videos.
It should be noted, though, that the color adjustment features are limited. So, depending on what you are watching, you may be dissatisfied with the results.
Now, for a projector, this device actually provides you with good sound quality, allowing you to listen off the projector alone.
To add to this, the project is highly compatible with a wide number of digital devices. As such, you can watch videos off of virtually any gadget.
You will also notice that this project boasts excellent heat dispersion. As such, it doesn't get hot easily and you can use it for hours on end.
As an added bonus, the fan on this device is incredibly soft and you can't hear it all while you are watching the movie.
+Pros:
Great brightness and clarity
High quality resolution
Incredibly compatible
Doesn't get hot
Adequate sound quality
-Cons:
Color adjustment can be limited
4. Vamvo Video Projector
For this price range, it is impressive to find that this device has all of the features that you can ask for from a modern projector.
Perhaps the most important is the quality. Well, you will be pleased to learn that this projector offers up 1080p, HD quality for all of your viewing needs.
To add to this, the projector is able to correct brightness and colors so that the images and video you see are as close to the real thing as possible.
Another impressive feature is that you are able to expand the image up to 200 inches. This means that you can enjoy a cinema-like viewing experience right in your own home.
You will also discover that it is an absolute breeze to connect the projector to any of the devices in your home. This is thanks to the HDMI, USB, AV, SD card, and VGA ports.
Finally, this is a rather durable projector as well. This is due to the fact that you can expect the lamp to last for around 30,000 hours of use.
The only minor issue with this projector is that it isn't capable of producing a very high sound and you may require an external soundbar in certain environments.
+Pros:
Great image and video quality
Built-in stereo
Excellent compatibility
Long lasting
Large viewing screen
-Cons:
Volume isn't suitable for noisy environments
5. VANKYO HD Projector
No products found.
If you want to experience bright and vivid colors in the comfort of your own home, then this is the projector for you.
You will be able to watch movies, play video games, knowing that every detail has been perfectly recreated on the screen.
Now, this projector does say that it offers up to 1080p in resolution. However, you will find the best quality is in the device's native 720p.
There are also two excellent, built-in speakers that offer up high quality and crisp sound, even at higher volumes.
The projector also supports a wide variety of formats, thanks to the various connective methods. This device boasts VGA, HDMI, AV, USB, and Micro SD card ports. So, you should be able to connect the projector to any device that you like.
You will also find it quite easy to adjust the screen on this projector. Furthermore, you will also be able to increase the screen size up to 200 inches.
The lamp life on this projector is quite impressive as well. It is sure to last you for years, even if you use it for long stretches of time.
Finally, this projector is quite easy to set up and most people will be able to manage it in just a few minutes.
+Pros:
Good quality
Built-in speakers
Large screen
Long lasting
Easy to setup
-Cons:
Doesn't work too well outside of native resolution
How to Buy a Budget Projector Under $200
When your budget for a projector is $200, you shouldn't have unrealistic expectations of your product.
You can still find a good projector that can generate HD images as close to real as possible.
But do not expect professional grade functionality like with an expensive Epson. To make sure you end up with the right product, here are several tips to mind when shopping:
You may not be able to find a budget projector with 1080p movies. But most support 1080p signals generated by devices like Blu Ray players and gaming consoles.
You can generally get a good picture with this support. But lumen count would matter too.
The typical lumen count for a cheap projector is around 1,000. But many of the products listed above have well over 2,500 lumens.
The higher the lumen count, the brighter the projector will be. The brighter the projector is, the less darkness it will require to function properly.
If you are looking for a durable projector, you might want to consider lamp life. The projector's lamp will stop functioning at optimum after a specified period of time.
Most projectors have lamp lives between 2,000 and 4,000 hours. The higher this number is, the longer the lamp will last, obviously.
Manufacturers don't always list lamp life, so you might have to specifically request this piece of information.
Even budget projectors come with warranties. It's best to buy with at least a year's worth of a warranty to safeguard your purchase.