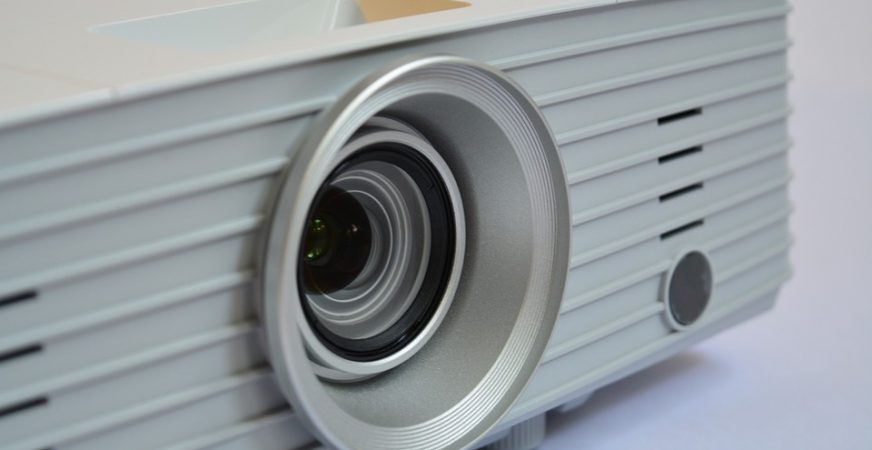 5 Best Cheap Projectors (Under $100) [2020 Update]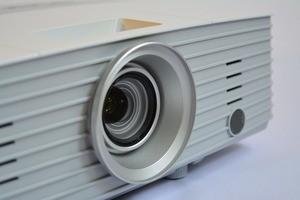 Having your own projector can have many benefits.
You can use it at home to convert the backyard or the living room into a makeshift theater.
Home projectors are also great for showing kids educational videos.
Small businesses may also prefer to have a small and portable projector on hand for presentations.
Projectors are no longer confined to the high-end market. You can easily purchase a compact projector for budget-friendly prices.
Picture quality, of course, will vary depending on your choice.
Read ahead to find out more such choices in the list below.
All the projectors on this list cost $100 or less.
5 Best Cheap Projectors – 2021
APEMAN LC350 Mini Projector, 2021 Upgraded 4500L, 1080P and 180" Display Supported, Portable Movie Video Projector, 55,000Hrs LED Life, Compatible with TV Stick, VGA, PS4, HDMI, TF, AV, USB
For a tiny portable projector, the Apeman packs a punch. It has dual
built-in speakers
and operated with
3,500 lumens
of power. It's fully capable of rendering 1080p, Full HD images.
There is a host of connections this projector supports including HDMI, VGA, USB, RF, PS4, and even smartphones. The Apeman is perfect for a home theater.
The projector uses the newest 4.0 LCD technology, which makes the projection particularly bright. The projection size reaches up to 180 inches. It's suitable for the big screen experience.
Thanks to the multiple connections, this projector is highly versatile. The energy consumption is significantly low. However, this projector doesn't support Bluetooth or Wi-Fi connections. Everything has to be wired.
There's a decent cooling system inside to avoid dangerous overheating. The projector can handle a movie or two. However, don't expect non-stop projection similar to a larger device.
Overall, it's a great device for the price. The only downside is audio, as you have to rely on the in-built speaker system.
Sale
DR. J Professional HI-04 Mini Projector Outdoor Movie Projector with 100Inch Projector Screen, 1080P Supported Compatible with TV Stick, Video Games, HDMI,USB,TF,VGA,AUX,AV [Latest Upgrade]
**Quick updated note:
It appears the
DR. J Professional HI-04 1080P Supported Portable Movie
Projector can be -
at times
- listed a bit
above $100
, so please keep this in mind (and we apologize if it is listed above $100 in those instances).
**
---
If you are looking for a projector that works as an excellent home entertainment system and doesn't take up a lot of space, then this is the model for you.
What's great about this projector is the level of brightness produced. All videos are sharp, clear, and easy to view in any type of lighting at all.
Although it has a native resolution of 800 x 480, the projector supports resolution up to 1080p. This means that you can watch any movie at all in high definition.
This model is also highly compatible and can be connected to TVs, laptops, smartphones, USBs, and much more.
The only downside is that it can be a bit loud due to the fans.
iDGLAX iDG-787W/785 LCD LED Video Multi-Media Mini Portable Projector with Free HDMI Cable for Home Theater Cinema Movie Night Game TV DVD Laptop iPhone Andriod Smartphone 1080P Compatible
This iDGLAX projector is 2,000 lumens bright (or 50 ANSI). That's about 70 percent more brightness than the average LED projector, especially at this price range.
The above-average brightness is accompanied by an 800 x 480 native resolution. Though this resolution is not sufficient to support business presentations, it's well-suited for home use.
Plus, this projector is compatible with 1080p Full HD media. You can get an aspect ratio of 16:9 or 4:3 and contrast at 1000:1.
You can expect a considerably large projection screen between 30 to 100 inches. The best distance is between 6 to 9 feet for a projection screen around 80 inches.
In other words, this projector delivers exceptional brightness with all its basic features. It's compatible with home theater systems and gaming consoles.
As an extra perk, you will get a free HDMI cable to connect to a TV set. The projector supports VGA, USB, AV, and SD connections as well.
You can connect the projector to a smartphone or a tablet if you have an HDMI adapter. The 5V output port can charge your smartphone.
If there's a downside, it's the noise. The fan inside can be a bit noisy.
DBPOWER L12 Mini Projector, 176'' 3000L LED Movie Projector, Home Theater Video Projector with HDMI Cable, Support 1080P/USB/VGA/AV/TV/Laptop/Phone
This projector is a high-res device capable of generating
1080p
images. However, there are some caveats. Overall, the price overcomes the problems.
Keep in mind that this is a 1,500 lumens projector. It's not as bright as projectors that reach over 3,000 lumens. Therefore, purchase with caution.
You would need a near completely dark room to use this projector. Even a bit of light could come in the way because of the lack of brightness.
Other than that, the projector works fine. It can project to a large screen as big as 2 meters. The projector is versatile and can be connected to a laptop, CD player, or a phone.
No HDMI outlet is present. But you can use an HDMI adapter.
This projector works surprisingly quietly too. It's great for home use, especially in smaller rooms.
VANKYO LEISURE 3 Mini Projector, 1080P and 170'' Display Supported, Portable Movie Projector with 40,000 Hrs LED Lamp Life, Compatible with TV Stick, PS4, HDMI, VGA, TF, AV and USB
One of the truly impressive details about this projector is the image that it produces. Pictures and videos are incredibly bright, with startling clarity and detail.
To top this off, the projector supports up to 1080p, despite it having a native resolution of 480p. So, you can enjoy a wide variety of entertainment whether it is stills, blockbuster movies, or live sports.
The plug and play feature on this projector as well as its overall compatibility allows you to sync it to a number of different devices and outlets.
The projector also comes equipped with a dual speaker, ensuring that you can use this projector alone, without any need for additional speakers.
The minor issue with this projector is that the focus feature can be a bit tricky to work out.
How to Buy a Projector on a Budget
There are three main things you should consider when you shop for a projector with a $100 budget:
The width and other dimension sizes of the screen you plan on projecting on
The distance between the screen and the projector
The amount of light present in the environment
How you go on about buying a projector depends on the above.
If you have a large screen, you will require a powerful projector, which usually cost north of $500.
If you have an average screen designed for homes, a small budget projector would suffice.
Different projectors have different projection lengths.
Some can only handle 10 feet, while some others may be able to project from beyond 22 feet. When you buy the projector, consider this length carefully.
If you are planning an indoor home theater, for example, you will need to measure the length of the room before you purchase the projector.
Last, you will have to adjust the lighting in the environment to make it suitable for the projector.
Most budget projectors work best in darkly lit rooms or dark environments. If you need to
If you need to projector to work during daytime, you will have to shop for specific models.
Assess your needs and carefully review if your projector is suitable for the purposes you want to fulfill.
Buy a projector with a warranty just in case you want to return the product.