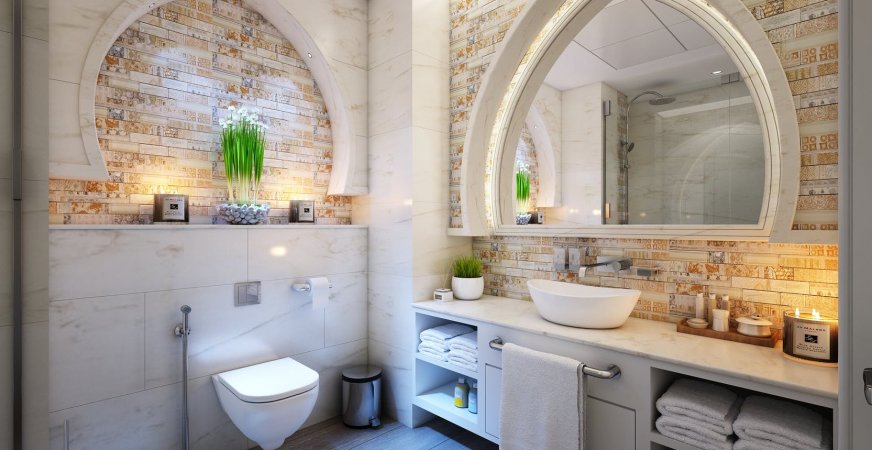 Master Bathroom Masterpieces: 15 Bathroom Design Ideas for Every Home
Your master bathroom isn't just another room in your house. This space is also a haven where you cleanse and invigorate your body each day.
As such, you can't really afford to be lax or lazy when decorating or designing this area.
That being said, it can be rather tricky to construct a scheme for your bathroom. After all, you do have to keep in mind form as well as function.
Not to mention, you do have limited space to work with.
So, if you are looking for something new, fresh, and exciting, you have come to the right place. Here you will find some truly outstanding master bathroom designs:
Design Idea #1: Embrace Your Blue Period for Better Resale Value
It has long been accepted that blue is the go-to paint color for a wide variety of surfaces.
This is largely because it has been known to have a calming effect and also complements a variety of other shades.
However, there may now be an even better reason for you to choose blue for your bathroom – a much higher resale value.
A
study has shown
that homes that have blue bathrooms can sell
for up to more than $5,440
above the expected price.
While the exact reason for this isn't clear, it is definitely an indicator of which wall color you should choose.
Now, going blue doesn't have to be boring or simplistic as there are lots of ways to play around with this shade.
For instance, if you want to skip the painted walls, go with blue tile instead. This will give you the opportunity to opt for bolder hues such as cerulean and cobalt.
If this still feels like a little too much blue for you, then be strategic with your use of the color.
Have blue fixtures throughout the bathroom. This includes a blue vanity, blue bathtub, or a singular blue statement wall.
An interesting take on this would be to have a blue and white stained glass window that casts a blue hue onto the rest of the room.
Design Idea #2: Create the Illusion of Size with Mirrors
Small bathrooms can feel rather claustrophobic. This is why you have to try to make them seem as big as possible.
Your secret weapon in this particular endeavor is mirrors.
There are a number of reasons why this method is so effective. For one thing, mirrors tend to look like windows, if situated properly.
So, in this sense, they can appear to extend a smaller space.
What's more, they are a great way for the room to seem lighter and airier, as they reflect light around the room.
Here are a few ways that you can utilize mirrors in your bathroom:
First, choose large mirrors to place over the sink.
Make sure that the mirrors that you have chosen reach all the way to the ceiling. This creates the effect of a taller room.
If the ceiling isn't all that high up, then choose mirrors that have a greater length instead. Just make sure to leave all of these mirrors unframed to increase the impact.
Last but not least, place the mirrors opposite of any windows that may be in the bathroom. This creates the effect of two mirrors and also lets the light bounce around the room.
Design Idea #3: Keep It Clean and Chic with an All-Tile Bathroom
One of the best parts about tile in a bathroom is that it is really easy to dry off.
Also, you don't really have to worry about this particular material getting damaged by water.
However, tile doesn't just have to have a functional purpose in your bathroom.
One of the top bathroom renovation ideas is to have tile on the floors and the walls.
While this can be a bit more expensive than other traditional options, it will definitely pay off in the long run.
Of course, for this design idea to really work there are still some rules that you have to follow:
Rule 1:
Narrow down your favorite tile. The first thing you will need to do is to find a tile with a color or pattern that you really love.
This will act as a foundation for all of your other tile-related style decisions.
Rule 2:
Choose no more than two other tiles after this. The colors and patterns should complement each other as well as the main tile that you have chosen.
These tiles will act as the background to the main tile.
Rule 3:
Create focal points rather than having large areas of over-the-top tile designs.
Rule 4:
If you have a small bathroom, choose larger tiles as they can help to make your bathroom look bigger.
As long as you keep these in mind, you should have no problem with pulling this all-tile look off beautifully.
Design Idea #4: Show Off Your Artistic Side With Fixtures and Pictures
When you think of bathrooms, you don't really conjure up images of art or even artistic flair.
However, there is no reason for these two things to be mutually exclusive, as long as you know how to do it the right way.
The first thing that you need to do is to choose the right pieces.
Even if you spend ages soaking in the bath, it really isn't a good idea to hang up anything expensive or important to you.
With the water, humidity, and other factors, the bathroom doesn't provide the greatest environment for art.
Instead, opt for hardier pieces that you aren't too attached to.
The other tip to keep in mind is regarding the frames. Once again, stay away from anything elaborate and stick with simple, hardy wooden frames.
You should also remember that paintings aren't the only way to express creativity in this space. Sculptures work well too.
There is also no harm in opting for a more functional route. For instance, you can look for interesting doorknobs, bathroom taps, light fixtures, and more.
Design Idea #5: Go Rustic with Farmhouse Style
The rustic vibe invaded the architecture and design industry and doesn't look like it's about to go anywhere anytime soon.
The reason that the rustic and farmhouse style works so well with bathrooms is that it creates a comfortable and laidback air.
This is perfect for a space that you want to be warm and relaxing.
Now, there are a lot of ways to incorporate farmhouse style into your bathroom but it is best to start with the basics.
This includes warm and earthy, neutral tones. Browns and greys work particularly well in this room.
Then it is a matter of relying on the right materials. In this sense, focus on wood, stone, and distressed metal.
Another great option is to use repurposed items. For instance, try to find an old trough and use it as a sink. Or, use wooden crates as a storage option.
You should also keep in mind that little details count. So, using Z-backing detailed doors or checkered curtains are enough to create that country-living vibe.
Design Idea #6: Use Creative Storage for Small Bathrooms
While there are plenty of small bathroom ideas to choose from, a lot of people feel stuck when it comes to storage options.
After all, it's not like you can simply create additional space.
Well, the good news is that you don't actually have to. It is just a matter of coming up with some creative storage ideas.
For instance, instead of trying to fit in large bulky cupboards or cabinets, opt for floating shelves instead.
These will hold up all of the things you need without taking up any extra space. Best of all, you can even manage them as a DIY project!
Your other option is to look for unusual spaces such as above your door. Since these areas can be difficult to reach, it is a good place to keep items that you don't use too often.
Here, you can install horizontal basket shelves so that you can still maintain some style in your storage options.
Design Idea #7: Go Green with Nature-Based Flair
There is no denying that having a nature theme in your bathroom can be very relaxing. It can help the space to feel more open and calm.
Interestingly enough, it is also easy enough to manage.
Now, the first thing that you should do is focus on letting in as much natural light as possible.
Depending on where the bathroom is situated, this could mean constructing a larger window. Of course, you should have the window in a spot where you still feel that your privacy is maintained.
If the bathroom is on the highest floor, consider having a skylight instead.
Wooden floors are a nice touch but, of course, in the bathroom, can create a few problems. A great way to overcome this would be to opt for tile with a natural, wood pattern.
In keeping with the theme, try for a rain shower as this feels a great deal more organic than traditional styles.
No nature-themed bathroom is complete without lots of greenery. Nonetheless, it is up to you how far you want to take this particular element.
If you just want a touch of shrubbery, keep a few small potted plants around – flowering ones will add a pop of color.
On the other hand, if you want to go all out, try having a vertical wall that is filled with potted plants, making them easy to maintain.
Design #8: Keep It Minimal with a Modern Vibe
It isn't too difficult to create a modern bathroom since the overall theme should be simplistic.
This is why it is a good idea to stick with neutrals such as white and grey.
A great option is to have dark grey floors with white walls, creating a nice contrast.
Bright, white lighting is also a must but the light sources themselves shouldn't be too obvious. Focus on light strips or small lights embedded in the ceiling.
A modern bathroom should also have lots of repeating patterns. This means that the fixtures should look as though they have come from the same manufacturer, even if they haven't.
So, look for similar patterns and grains in the fixtures that you choose.
Modern design is all about keeping things sleek and minimal. The tricky part, though, is to make sure that you don't end up with a bathroom that feels too cold.
So, how do you get the best of both worlds?
Well, you need to balance the starker features such as tile or marble with softer materials such as wood.
While you don't want need to incorporate too much of this, make sure that you use it for frames, drawers, etc.
Design Idea #9: Aye, Aye Captain – A Nautical Inspired Bathroom
For reasons that we can't quite explain, people really love nautical bathrooms. Perhaps it is because they remind us of more fun times, down by the beach.
So, if you want to capture the look and feel of sailing the seven seas, what do you need?
Well, first off, you need to be committed to this theme. Fortunately, this is simple enough as white and blue are the most enduring colors of this particular scheme.
If this feels a little over-the-top for you, try nude tones that remind you of beach sand instead.
Then, it is all about using things that remind you of boats and the ocean. So, try decorating with seashells and thick rope. Old lifesavers are a good way to go too.
Design Idea #10: Create Flair with Wallpaper
If you are tired of traditional walls and want more colors and patterns to play around with, this can be done with the help of wallpaper.
Now, for the longest time, wallpaper wasn't suitable for this particular room in the house because of all of the moisture and humidity.
These days, however, the quality of wallpaper has definitely improved and the adhesive is more likely to withstand all of the temperature fluctuations and moisture levels.
That being said, it is still a good idea to follow these few tips, nonetheless:
Tip 1:
Choose appropriate wallpaper – it needs to be highly water resistant and scrub-proof as well.
Tip 2:
Look for the right adhesive. There are various types of wallpaper adhesives so you will need to find one that it is going to stick to the walls of your bathroom well.
Tip 3:
Choose the wall farthest from the splash zone. This includes walls that are away from sinks, showers, and bathtubs. This way, you can ensure that it will last even longer.
Tip 4:
Create an accent wall. If you don't want to overpower the room, just put up one accent wall so that the wallpaper is balanced out by a more neutral background.
Tip 5:
Use wallpaper as a border. Again, if you don't want to go overboard, create a wallpaper border below the ceiling, around a doorway, or as a frame around a window.
These tips should make it a lot easier to incorporate wallpaper into your bathroom renovation ideas.
Design Idea #11: Go Back in Time with Vintage Vibes
It doesn't matter how far modern society progresses, there is something timeless and beautiful about an old-fashioned, vintage bathroom.
So, let's take a look at how you could recreate this particular trend.
Well, the main themes here should be walls and floors with a marble-feature.
While you don't have to spend money on the real deal, you should look for tiles that can mimic the effect.
Grey and blue hues look especially gorgeous against a white backdrop.
Now, as far as fixtures go, gold is a popular choice.
After all, it is all about being ornate and glamorous. Opt for gilded mirrors, gold trays, brass faucets, and other little touches, here and there.
Once you have gotten this theme down, it is time to go antique shopping. Look for anything that is a throwback to a bygone era like light fixtures, door knobs, etc.
Design Idea #12: Let Your Boho Spirit Loose with Patterns and Styles
The first rule of incorporating boho style into your bathroom? There are no rules!
Seriously though, bohemian design is all about being eclectic and experimenting with color, texture, patterns and more.
This is why you shouldn't be afraid to take chances and simply go with things that you like and make you feel good.
An interesting tip, though, is to paint your floors in a pattern that you love. This gives you a lot more control over the stylistic direction of your bathroom.
Another thing that you should consider doing is to mix and match from various eras. So, let the roaring 20s live alongside a more austere Victorian era.
The end result will be breathtaking.
Design Idea #13: Add Spa-like Features to Create a Relaxing Zone
If you are just looking to unwind after a long day, the best way to do this is by making your bathroom one of the most peaceful places imaginable.
If you have the budget for it, try converting your shower into a steam room as well. This way, you can just sweat it out, whenever you feel like it.
For a thriftier option, simply get a massage mat for the bottom of your bathtub.
Of course, the main part of a spa is the calming ambiance, which is what you need to recreate in your bathroom.
So, stick with paint colors that make you feel calm – these will inevitably be white, blue, etc.
Also, incorporate lots of natural, warm elements like stone, wood, and plants.
Last but not least, light and scent are also a large part of the spa experience. This is why you should have diffusers and candleholders built into your walls.
You can then create the right mood a lot faster.
Design Idea #14: Create the Ultimate All-White Bathroom
There is just something about an all-white bathroom. It looks so clean and put-together.
That being said, you do have to be careful when creating this look.
If you go in the wrong direction with it, you will end up with a bland or cold bathroom.
The first thing you should do is choose different shades of white paint. Yes, there are actual variations in white paint.
They each have varying depths which is why they can add some much-needed complexity to an all-white bathroom.
The other thing to remember is to use texture as a way to create some interesting distinctions. So, switch it up from cool tiles to warm rugs.
Mosaic is also an excellent way to add texture to this space.
The final thing to keep in mind is that you do need to add some color to your bathroom. To avoid creating too much of a contrast, though, stick with other neutral shades.
Design Idea #15: Step into the Future with the Smart Bathroom
These days, you rely on technology for almost everything, so why not incorporate it into your bathroom?
Before you do splurge, though, you need to think about what you are actually going to need.
There are some gadgets that are actually useful and there are others that just fulfill your excitement about technology.
One thing you should definitely get is programmable showers. These controls let you adjust temperature and water pressure, according to what you find most comfortable.
You should also think about getting heated floors as these will help to keep you toasty, especially when the temperatures drop outside.
Automatic or digital faucets aren't just hygienic, they also help to save on water since they stop after a short while.
Finally, get a variety of waterproof devices such as screens and music players so that you can be entertained while you relax in the bath or even take a quick shower.
As you can see, there are quite a few bathroom design ideas here.
This means that, regardless of your style, taste, or thoughts about your dream bathroom, you are sure to find something that will suit you and your home.
Happy designing!
Related Reading: