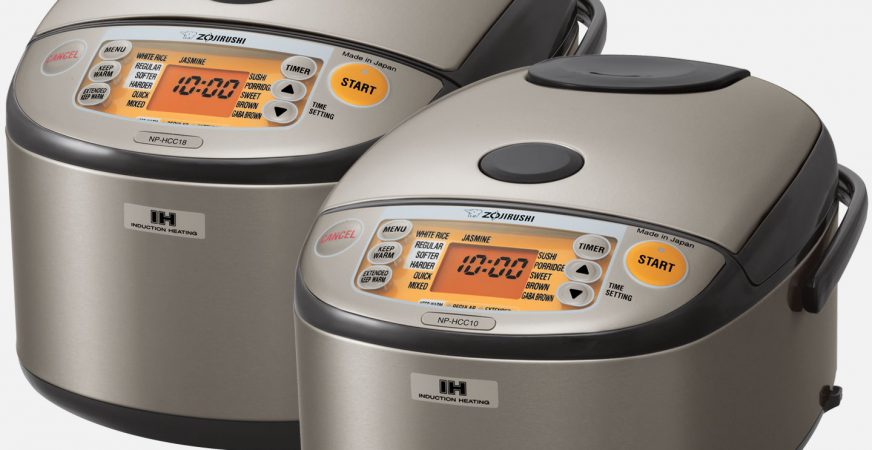 Top Rice Cookers That Deliver Great Taste [2023 Version]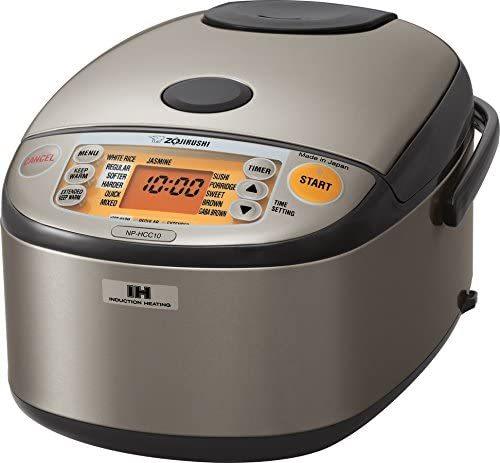 Updated: 1/26/2023 | 4 minute approximate reading time
For rice connoisseurs, a rice cooker is of utmost importance to have in the kitchen, along side a set of good kitchen knives. Additionally, for a good number of people, a basic rice cooker with the standard electrical heating unit and temperature thermostat will suffice and more than serve their needs and desires.
If you're here reading this, however, then, you're at the very least, more curious about getting better results from the rice you're cooking and want a good return on your hard-earned money. What we looked for when determining our top 5 best rice cookers list was value in overall price, features and functions, reliability from consumers, and, of course, if the rice cooker delivered on great tasting rice.
Before we get into our Top Rice Cookers, I'd like to quickly outline the main differences between your "standard" rice cookers and the fancier "induction heating" rice cookers.
Your basic, standard rice cookers will have a electric heating element (below your rice container pot), cooking from the bottom (you'll usually see something that looks like a large metal button), and a thermostat to keep things in check. The vast majority of the times these standard rice cookers costs much less than induction heated rice cookers, which are known to be the high standard for rice cookers today and have become much more prevalent on kitchen counters over the past 10 years.
Induction heated rice cookers (IH) are known for achieving more flavor and texture (i.e. fluffier rice) by getting their heat from electrical currents movement (i.e. magnetic field) around the pot, creating much more even heat distribution than a standard rice cooker. You'll definitely be paying a higher premium, for an IH rice cooker, however, the significant benefits in taste and texture may sway you towards ultimately purchasing one.
While cooking your basic white or brown rice is generally what most people utilize rice cookers for many also utilize rice cookers to make porridge, sweet rice and sushi rice to name a few things, which is something to definitely consider when thinking about which rice cooker will serve your needs. The good news is the below rice cookers are all capable of multiple functions – it really comes down to your needs, wants and budget. So, without further delay…
Important updated note about IH rice cookers: while IH cookers are great they can't "fix" a poor water to rice mix ratio. If you're for instance going to cook sushi short grain rice and are aiming for the typical 1.1 (water) to 1 (rice) ratio, if you're significantly off in the water to rice ratio your final cooked product will not turn out as intended.
Our Top 5 Rice Cookers – 2023
Zojirushi needs no introduction. This Company from Japan has been making well-respected products for over 100 years with a nearly unparalleled reputation for rice cookers (and almost assured a spot in our Top 5 Rice Cookers list as a result). It should be noted that this rice cooker, while from the famed Japanese company, is not made in Japan. Typically, Zojirushi rice cookers made in Japan costs significantly more – and the Company definitely will display this information prominently on the front of the rice cooker when it is, indeed, made in Japan.
You could say the Zojirushi NS-TSC10 is the great pound-for-pound value choice here since it will do very good job cooking your rice, steaming food, baking a cake – all while looking aesthetically great in your kitchen and looking like it costs just as much as the higher priced tagged IH rice cookers they make.
Menu settings include: White/Sushi, Mixed, Porridge, Sweet, Brown, Cake, Steam and Quick Cooking.
As mentioned, this rice cooker will do a great job – really as good as any non-IH rice cooker out there, so it can't be ignored as a great value and buy for those wanting a great looking Zojirushi rice cooker, that has great quality and bang for the buck.
Pros:
Great overall value at the price
Looks quality and is quality
Cons:
Lacks induction heating, which is understandable at this price point
While our top choice is Zojirushi brand rice cooker, then why does the NP-HCC10XH model take second choice, especially considering the price difference between the two?
It's because the NP-HCC10XH does it all and has induction heating (IH) to boot, which ensures the rice is cooked at a much better heat distribution. You can invariably spend even more money on a "higher-end" rice cooker, however, at NP-HCC10XH's price point, you'll have hard time (believe it or not) finding a better value.
Due to this rice cooker having induction heating, you'll notice when you've completed cooking even your standard mid-quality jasmine rice (white rice) that your rice has much more texture, is more aromatic, and has a more noticeable sweeter taste. If you or your family has a likelihood of eating rice several times a week, then we encourage you to at least look into an IH cooker, such as this one. Meaning, if you have a friend who owns a similar IH-type cooker, then it's worth the effort to taste since you'll likely be using the rice cooker you purchase for many years into the future (i.e. typically more than 5 years, if not more than 10 years, depending on level of usage).
One small downside we found with this cooker is that the plastic button to open the lid of the cooker easily scratches. We get why Zojirushi would not want to make the button a stainless metal since it would likely get hot to the touch, but wish the material wasn't so easily scratched since the button is very prominently located.
This rice cooker is considered to be the "dream" rice cooker for many since it delivers delicious, fluffy rice; has the ability to keep rice nice and white for many days after the initial cook; is easy to clean and maintain; has great utility; is an eye catcher in the kitchen; doesn't take much space on your counter; and is also made in Japan. It's definitely a desirable rice cooker.
Personal note: as an aside, my family purchased this same model about 2 years ago. It's been, hands down, the best rice cooker we've ever had, and it looks fantastic, too. Also, we're not sponsored in any way by Zojirushi, as an FYI. It's just a good rice cooker.
Pros:
Induction heating
Delivers fluffy, well textured rice
Cons:
Pricier option, however, it's an elite rice cooker
If you're looking for great bang for the buck that looks the part and does the part, then Aroma Housewares' Rice Cooker and Steamer will deliver all within an ease of use design.
This great piece of hardware checks in at a fraction of the price and should provide years of solid rice cooking, while definitely matching with certain color schemes in your kitchen (i.e. white color schemes, white/gray, lighter yellows, etc.)
The Aroma Housewares cooker will cook anywhere from 2 to 8 cups of any variety of rice, and is also good for steaming, say, vegetables and for cooking soups and stews (e.g. chili, chicken soup). If you're looking for a very cost-effective rice cooking option, or are perhaps just sinking your teeth into the rice cooking world the Aroma Housewares cooker is a viable one and happens to be the cheapest option on this list (and that definitely doesn't mean that it doesn't cook rice well, because it definitely does).
Pros:
Easy to use
Affordability
Cons:
Design and overall quality of parts are just decent
Tiger is another Japanese brand well-known internationally for quality and longevity. The JBV-A10U is no exception to this and is also priced competitively within the overall marketplace.
With 4 cooking menu settings (Synchrony-cooking/Plain rice/Brown rice/Slow cooking) has decent utility and a non-stick coating inner pan means easy cleaning. It's also a very straight-forward unit to use with a simplistic interface.
The relatively compact, white design is simple yet clean and has a low profile stance that is quite modern, which, if you care about matching the color scheme in your kitchen, should definitely be considered when you're looking for a cost-effective, solid cooking rice cooker that has a modern aura to it. You'll see these units quite frequently at places such as Costco, but they're also very popular online and always seem to garner rave reviews, which we believe are warranted.
Pros:
Affordable and value-driven product
Cons:
Inner pot is prone to scratching fairly easily
If you're in the market for the best rice cooker and you're willing to pay for it, then the Zojirushi NP-NVC10 should absolutely be in consideration. It is Zojirushi's top of the line, flagship model that also has AI (Artificial Intelligence), which, according to the Company, will "learn" from past cooking experiences and adjust to the cooking "flow" to cook ideal rice.
The inner cooking pan is also platinum infused, a further indication of how serious this Made in Japan rice cooker truly is.
Multi-menu cooking functions include settings for white, mixed, sushi/sweet rice, porridge, brown, GABA brown and quick cooking.
And there is also a "Umami" setting, which extends soaking and steaming time for better rice.
Pros:
You're getting the best from Zojirushi
Conclusion
Picking a rice cooker can be a very personal buying experience with all the needs rice cookers in the market now provide. Additionally, with so many varying grains/types of rice available to try, picking the best rice cooker becomes much more important. Again, if you're a discerning rice eater, it will be worth your time to compare the higher-end non induction heated rice cookers to the induction heated rice cookers since you'll likely be living with your rice cooker for several years (and countless pots of cooked rice to boot!).
It should be noted that the differences between the high-end rice IH cookers was minimal; however, if you are a discerning rice person, then it matters.  In the end, the above rice cookers are all good options in their own right, because we all have different wants and needs.
Related Links: