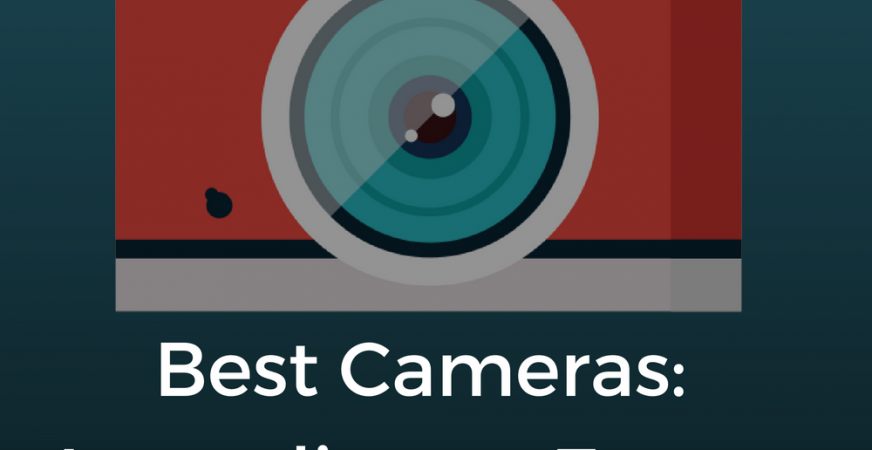 Best Cameras: According to 24 of the Most Accomplished Photographers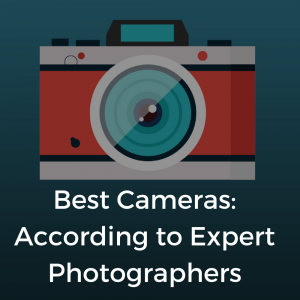 There are a number of camera brands and models available on the market.
You have the staples of the industry that have been around for years and at the same time, there are new brands finding their way onto the market each day.
They all appear to have similar features, boast advanced technology, and make the same claims.
So, with all of this choice available to you, it can be tricky to decide which one is actually worth its price tag.
Do you stick with your tried and true cameras or do you give something new a try?
Since we had these same questions, we decided to talk to the people who would know best. We contacted distinguished and award-winning photographers to ask them:
"If you had to choose one, what is the best camera model (and lens) for photography based on your experience? And why?"
All of their excellent recommendations can be found below.
But first, here is what we learned:
Best Camera Picks
We discovered that our expert photographers actually had a few common choices when it came to their favorite cameras. Let's take a look at what they thought were the best DSLR and mirrorless cameras:
Best DSLR Camera – Nikon D850
It isn't all that surprising that the Nikon D850 was chosen by several photographers.
The model boasts a 45.4MP full-frame back-illuminated sensor which offers an impressive pixel boost over the previous models.
The camera has also been designed to work well in low-lit conditions to produce clear and high-quality images.
The D850 is equipped with an upgraded 153-point auto-focus system for greater stabilization. It can also shoot 4K UHD video in FX format.
These features combined are what make this model such a great choice for a wide variety of photographers.
Best Mirrorless Camera – Sony a7R II
The Sony a7R II is equipped with the world's first ever back-illuminated 35 mm full-frame CMOS image sensor with 42.4 megapixels.
This means that you get to enjoy an incredible level of pixel quality with this camera. The model also offers up sensitivity – up to ISO 102,400 – and a much faster response time as well.
If this wasn't enough, the a7R II has been designed to greatly improve stabilization while also allowing you to keep your subjects in sharp focus for the entire frame.
So, this mirrorless camera is a great evolutionary step for photographers.
Best Camera Brands
It is quite likely that you can identify the camera brands mentioned by our professional photographers.
This is because Nikon, Sony, and Canon continue to be some of the most commonly used brands, by experts and amateurs alike.
Nikon and Canon are often the most hotly contested cameras. This is because they have a far-reaching legacy, with plenty of modern options to boot.
Nikon has earned a reputation as a good choice for those who are DSLR beginners or photography enthusiasts.
The reason for this is that it has a lot more choice when it comes to entry-level and affordable models.
These cameras also tend to offer up a longer battery charge, allowing you to take a greater number of pictures within the same time frame.
Nikon cameras are also known for their ability to pick out finer details while cutting down on distortion, especially in low light.
Canon, of course, provides just as many features.
One of the more standout features about these cameras is that they tend to focus on megapixels, which in turn, offers up greatly improved resolution.
Also, when it comes to speed, Canons tend to stand out as the clear winner, which is why they work so well for sports photography.
These cameras are also known for their auto-focus features which is why they often provide high-quality video as well.
This doesn't mean Sony is out of the running, though. Its DSLR and mirrorless cameras are sought after by many.
Now, there are lots of reasons for this, starting with the fact that you should be able to find more affordable, albeit older, models with this brand.
The auto-focus for video and customizable auto-ISO are some of the more dominant features of this brand.
The high frame rates on many of the models are what make these good choices for wildlife photography.
It's Time to Hear from the Experts!
Of course, what you are really here for is to see what professional photographers have to say about their favorite camera.
So, dispensing with the suspense, this is their take on what is the best camera:
Matt Hart – Fujifilm GFX50S
Bio: Matt is a black and white street and event artist who captures the world around him in a very unique way. He is a Formatt Hitech featured Artist and also an official Fujifilm X Photographer. Matt is the founder of the Fujiholics Social Media Group. You can check out his website on www.matthewhartphotography.com or follow him on Twitter @matt6t6.
"The camera I use for my professional work is the Fujifilm GFX50S with 23mm 100mm and 32-64mm lenses. The medium format camera is perfect for delivering the image size and quality my clients require. They can print great advertising and marketing posters as well as use the image for social media.
The GFX50S makes me slow down and think about the shot and delivers the quality I need. I use the GFX50S for my projects as well. The GFX is the perfect camera for printing large prints with amazing detail. I use the Fujifilm X and GFX series for all my professional work because the system is reliable and gives me the image quality that suits my needs."
No products found.
Benjamin Von Wong – Sony a7R II
Bio: Benjamin is most known for his hyper-realistic art that has gained quite a following. He has also snagged the prize for the 2015 Power of Photography AP Awards. He is the ambassador for Wacom and Broncolor GenNext as well as being a Fujifilm X photographer. Benjamin is currently involved in social and conservation projects. You can check out his website at www.vonwong.com or follow him on Twitter @thevonwong.
"I'm a big fan of the Sony mirrorless systems as I feel like they strike the optimal combination of size, resolution and flexibility. I personally shoot with a Sony a7R II and a 16-35mm f4 as my combo of choice. I love the high resolution (42MP), and wide field of view."
Chris Burkard – Sony a7R II, a7S II, + a6500
Bio: To say that Chris is an award-winning photographer would be an understatement as he has received an incredible amount of acclaim for his work. He was even named one of the top 10 social influencers 2017 by Forbes magazine. His film, Under an Arctic Sky, was an official selection for the Tribeca Film Festival. You can check out his website at www.chrisburkard.com or follow him on Twitter @chrisburkard.
"I shoot with the Sony mirrorless systems and use the Sony a7S II for most of my work. It is what I shoot my night and astro pictures with. This camera was built for sensitivity at High ISO. For my commercial work, I rely on the Sony a7R II as it provides unparalleled reproduction for large prints and works well for most of my clients' needs.
When I need something lighter or if I'm shooting in the water, I use the Sony a6500 as it is incredibly light. This camera is perfect for sports photography, hiking, climbing and anytime you need to be weight conscious."
Editor's note: We noticed that the Sony a6500 was mentioned in our article for the Best Action Cameras as well, making it a well-rounded camera, indeed.
Jerry Ghionis – Nikon D850
Bio: Jerry is one of the most acclaimed wedding photographers on the planet and has been bestowed with awards such as Top Ten Wedding Photographers in the world by American Photo Magazine, PPA Diamond Level Photographer of the Year Award, United Nations IPC Photography Leadership Award to name a few. He has also been described as being one of the best teachers in his field. You can check out his website at www.ghionis.com or follow him on Twitter @jerryghionis.
"If I could recommend one camera to an aspiring professional, it would be the Nikon D850. It offers the choice of 3 resolutions sizes, super-fast focus, incredibly accurate metering system, the flip out screen, the ability to shoot a square file, slo-mo at 120 frames a second, silent shooting mode, etc… all at an attainable price. My favorite lens that I favor the most is the 70-200 f2.8 followed by the 105mm f1.4."
Sandro Miller – Nikon D850
Bio: Sandro's work has been featured in magazines such as Esquire, GQ, ESPN, The New Yorker, Time, Newsweek, and many more. He has also received numerous awards including being named one of the 200 Best Photographers, International Photographer of the Year Award by the Lucie Foundation, Saatchi & Saatchi Best New Director Award, and IPA Advertising Photographer of the Year. You can check out his website at www.sandrofilm.com and follow him on Twitter @sandrofilm.
"As a professional I have many cameras ready to be pulled out at any time for duty.  But for most people out there looking for the best all-around dependable gear I would without a doubt say Nikon. I have been shooting with Nikon gear for over 40 years and it has never, ever let me down.
The new D850 right now is the best DSLR on the market. Couple this camera with the 85mm f1.4 or 24mm f1.4 both prime lens and you will be ready for action. Remember it's a lot about the lens you put on the front of your camera so make it a Nikkor/Nikon combination and you're ready to rock and roll."
Kasper Nymann – Sony A99 II
Bio: Kasper is a self-taught microstock photographer who focuses on landscapes and nature to take breathtaking pictures. He has been a part of the industry for almost ten years and continues to take his work to the next level with each shoot. You can check out his website at polarpx.com or follow him on Twitter @polarpx.
"My favorite setup is the Sony a99 II camera with the Sony 16-35mm f2.8 ZA SSM lens. Perfect for landscape photography and the best wide-angle lens for Sony Full-frame. Even though this is a wide-angle lens, you can still get very close to subjects and it gives you endless creative possibilities. The a99 II camera is by far the best camera I have owned with fast auto-focus, incredible sharpness and amazing ISO."
Jasmine Star – Canon 5D Mark III
Bio: Jasmine isn't just a well-published photographer, she was also voted one of the Top 10 Wedding Photographers in the world. In addition to her photography passion, Jasmine is also a branding and marketing strategist who deals specifically with creative entrepreneurs. You can check out her website on jasminestar.com or follow her on Twitter @jasminestar.
"When the Canon 5DMIII was announced in 2012, I immediately ordered it. To be honest, I was a little intimidated by the new Menu layout and the focusing system. The focusing system is beautiful, glorious, and makes me think Paula Dean is sitting on my sensor because when it locks in, it's like BUTTER.
I've used that body ever since and I'm smitten. My all-time favorite lens is the Canon 50mm 1.2. This is my go-to lens. My favorite. My baby. My sister-from-another-mister. I adore this lens and could shoot an entire shoot with this lens alone. It produces some of my favorite imagery and has helped define my style."
Bradley Hanson – Sony A7 II
Bio: Bradley's work has been produced in magazines such as Martha Stewart Weddings, Rolling Stone (Germany), Conde Nast's Brides Magazine, and more. He has been the recipient of awards such as Wedding Wire Couple's Choice winner, PDN's Top Knots wedding photography contest, and The Knot's Best of Weddings winner. Bradley co-hosts the Outerfocus photography podcast with UK photographer Ian Weldon. You can listen here: www.outerfocuspodcast.com. You can check out his website at www.bradleyhanson.com or follow him on Twitter.
"It would be difficult to say that what is the best for me would universally apply to other photographers, but I'm working with three Sony A7 II bodies and three prime lenses for weddings and landscapes and everything I do. Sony makes versions that have larger files (A7R III) and some that are even better in low light (A7S II) and some that are faster (A9), but the A7 series, currently in its third generation, is the best all-around camera. It's also a great value as used copies can be obtained cheaply.
My favorite thing about the Sony A7 II is the full frame quality in a small mirrorless package. The dynamic range will please everyone from wedding/portrait photographers to landscape photographers, and the performance in low light is miles ahead of any of the film cameras I've ever owned. The face recognition is helpful, and I've been shooting with an EVF set to high contrast B&W for 6 years, which helps me see the final product while shooting. I could never go back to an optical finder as the EVF sees in the dark, helpful in low light wedding receptions.
I use three prime lenses with three bodies: a 35mm, 55mm and 85mm. If I had to choose only one, it would be the Sony Zeiss 55mm f1.8 lens. I can do an entire wedding with this lens. It is dangerously sharp and has a unique character that makes is useful for both subjects as part of a scene or isolating the subject from a distracting background or drawing the eye to a specific point in the frame. In contrast to the larger f1.4 lenses in Sony's line, the 55mm f1.8 is comparatively tiny and easy to carry around all day. This makes it ideal as a day to day lens for general use, too.
That said, every camera and every lens is good. Ultimately, the difference between brands is merely preference: what works best for YOU. All that matters is that you are creating work that satisfies you. If you are working professionally, you need to satisfy the client AND yourself. Everything else is trivial."
Quintin Lake – Canon EOS 5DS-R
Bio: Quintin's main focus is on architectural photography and has worked with over 300 clients worldwide. His passions include photographing landscapes as well. Quintin has been awarded a variety of accolades among which are 2012 International Photography Awards, 2010 Travel Photographer of the Year, and 2010 Outdoor Photographer of the Year. You can check out his website at www.quintinlake.com or follow him on Twitter @quintinlake.
"My favourite camera is the Canon EOS 5DS-R as it covers my needs of both commercial, architectural and fine art landscape subjects. My most often used lenses are the TS-E 17mm f/4L lens for architecture the EF 70-300 f/4-5.6L for landscapes. The very high resolution of the camera meets both the exacting requirements of architecture magazines and allows me to make very large prints of landscape work.
Having one camera system to master for all my work is an advantage as I get intimately aquatinted with its characteristics such as tonal range, white clipping and handling of colour so I can work to the strengths of the camera."
Jason Houston – Fuji X-Pro2
Bio: Jason's photography is truly transcendental as he offers the world an entirely new perspective on cultures and social issues. He is a Senior Fellow with the International League of Conservation Photographers and has published work in the New York Times, Smithsonia, National Geographic website, UNESCO, Businessweek, and more. Jason was also named one of the World's Top Wildlife, Nature, and Culture Photographers by Origin magazine. You can check out his website on www.jasonhouston.com or follow him on Twitter @jasonbhouston.
"I recently switched after almost 30 years of using Canon's pro-level gear to the Fuji X-Pro2 mirrorless system and several of the smaller Sony cameras. For years, and especially in the early decades of digital, one had to be focused on imaging technology. But in recent years as the quality and capability of smaller cameras has improved, it has allowed us to choose cameras for any number of other variables.
Now, working almost exclusively on social documentary themes in remote communities in the developing world, the smaller format and less pretentious gear has fundamentally changed my relationships with my subjects — and, as a result, the emotional connections I'm able to make through my work."
Matthew Lloyd – Nikon D850
Bio: Matthew has quite the resume with published images in the Sunday Times, the Guardian, and Bloomberg. He also takes portraitures of the rich, famous, and the influential. Matthew has also snagged more than a few awards for his work including the Picture Editor's Guild Young Photographer of the Year and Taylor Wessing Portrait Prize. You can check out his website on www.matthewglloyd.co.uk or follow him on Twitter @mlloydphoto.
"Nikon D850 with a 50mm 1.4, a 35 1.4 and an 85 1.4 is all I really need. I used to have a Canon 5D Mark III for photojournalism, and a Phase One for commercial and portrait work. The D850 means I can use just one camera instead."
Neale James – Canon 5D Mark IV
Bio: Neale's images offer an entirely new take on wedding photography with the way he is able to capture the emotion between two people. He has won more than a few awards for this gift including recognition in Junebug's Best Wedding Photographs of the World, and 2014's Wedding Photographer of the Year for London and the South East at the Wedding Industry Awards. You can check out his website on www.nealejames.com or follow him on Twitter @nealejames.
"I use both Fuji and Canon systems for my photography, but if I were looking at weddings right now and looking at the latest metadata of a body and lens combo I favour, I'd be leaning on the Canon 5D4 paired with the L series 24mm. This lens and body combination draws me into a scene, physically and artistically. It was a close call between that and the 85mm focal length, but when I'm paired with the 24mm, my compositions seem to have more urgency and more raw emotion."
Josh Rossi – Sony a7R II
Bio: Josh is a perfectionist when it comes to his work, which explains why he has been in some of the most notable publications in the world. These include Forbes, The Wall Street Journal, USA Today, People Magazine, Ad Week, and more. He was also featured in Luerzer's Archive 200 Best Digital Artists Worldwide 2014-2015. You can check out his website at joshrossi.com or follow him on Twitter @joshrossiphoto.
"I use the Sony a7R2 and it has been great. Very portable and lightweight. It's perfect for both in-studio as well as landscape shots. The sharpness and 4K video are killer."
Edward Fury – Hasselblad H5D 50c
Bio: Edward photographs still life, products, and portraits. His skilled eye has led him to work with a number of notable clients. He has held shoots for Timberland, Nespresso, The Guardian, The Savoy, and many others. He has also worked on a numerous personal photography projects as well. You can check out his website at edwardfury.com or follow him on Twitter @edfuryphoto.
"So I would say the Hasselblad H5D 50c. Because it's what I use on a day to day basis. It does everything I need it to – leaf shutter, high pixel count, and a large latitude in highlights and shadows. The ability to control the camera from the computer is important for still life too – once it's set I don't want to touch the camera at all if I can help it."
No products found.
Golden Czermak – Nikon D800
Bio: Golden focuses on modeling, fitness, and book covers, and his work has appeared in publications all around the world. Golden has captured over 500 book covers for best-selling authors. He is the creative force behind the photography company FuriousFotog and has gained an enormous social media following. Golden is a published author as well. You can check out his website at www.onefuriousfotog.com or follow him on Twitter @onefuriousfotog.
"For me my go-to is a Nikon D800 with a Nikkor 24-70 mm f/2.8 lens. It allows me flexibility for both studio and location shots with good bokeh on the 50-70 mm end. I also use a 70-200mm for added background blur and utility for shoots at the beach, etc."
Helen Bartlett – Canon 1DX Mark II
Bio: Helen is one of the most sought after children and family photographers in the UK and her work has received critical acclaim internationally as well. She had a multi-page feature in the esteemed Photo World magazine. Helen continues to teach other eager photographers, passing on her impressive experience to them. You can check out her website at www.helenbartlett.co.uk or follow her on Twitter @helen_bartlett.
"I love the combination of the Canon 1DX mark II and the Canon EF 85mm f1.4L IS USM lens for photographing children. The incredible low light capabilities of the IDX mark II combined with its lightning fast auto-focus, and rugged build quality means I can photograph anything from a baby playing happily in their home to a teenager water-skiing.  It's brilliant for any situation I find myself in.
The Canon 85mm 1.4 L lens is a thing of beauty, a perfect length for photographing children as it's not too long, you can still chat to your subject while taking pictures and be involved with the action. The quality of the glass is staggering, and the way it renders out of focus areas is just beautiful. Since I bought the 85mm 1.4L it's hardly ever been off my camera, it's definitely my Desert Island Lens."
David Bostock – Canon 5D Mark IV
Bio: David has been a noteworthy wedding photographer for quite a while, which is how he has managed to amass around 70 photography awards. This includes him being considered one of the UK's Top 50 Wedding Photographers. He is the owner of the photography business David Bostock Photography. You can check out his website at davidbostockphotography.co.uk or follow him on Twitter @davidbostock.
"Canon 5DMK4 body with Canon EF 70-200mm f2.8 L IS lens is my pick. As a professional wedding photographer this is my fave combination and I team it with another identical 5DMK4 body with EF 24-70 f2.8 L mk2 lens. This means that on a busy wedding day I have 24-200 covered when I don't have time/need for the faster primes in my bag.
The 5DMK4 really is the perfect wedding camera great in low light, accurate AF and reasonable burst mode. Most important of all, it has 2 card slots for CF and SD cards meaning I have back-up on the go as I shoot RAWS to both cards. The 70-200 has good image stabilization which helps in lower light conditions, I can go down to about 1/30th sec."
Will Austin – Nikon D850
Bio: Will Austin has a wide range as he focuses on architectural, location, industrial, and editorial photography. Some of his more notable clients include National Geographic Books and Microsoft Corporation. He has traveled around the world taking truly innovative pictures. You can check out his website at willaustin.com or follow him on Twitter @willaustinphoto.
"This is easy for me – I love the Nikon D850!  It is a fantastic all-round camera with huge, detailed files, incredible dynamic range and very impressive video specs. In daily use it really delivers too – the battery life is outstanding and so is the burst rate, 7 fps at almost 50 megapixels! Two other aspects that few others mention is the ergonomics – it feels great in my hands, like an extension of my body. And the shutter sound is beautiful and more quiet than my other Nikons – crazy but true.  If I had to pick one lens I'd go with the outstanding 24-70mm 2.8, but I use two bodies with the 17-35mm 2.8 and the 70-200mm 4.0."
Andy Marcus – Canon 1D X
Bio: Though he came from humble beginnings, Andy's hard work and dedication made his studio Fred Marcus, one of the most renowned in New York. This is why he became the wedding photographer for the rich and famous including several Trumps, Princess Yasmin Aga Khan, Kelsey Grammar, and Eddie Murphy. He continues to be one of the most sought after photographers in the world. You can see his work at www.fredmarcus.com or follow him on Twitter @AndyMarcus.  
"My main camera at the moment is my Canon 1D X and I love its speed and reliability. One of my main reasons for sticking with Canon is their service department CPS (Canon Professional Services). It is unmatched in the industry for quality and speed.   I do use Sigma lens exclusively because of the quality of their build and their sharpness.  My two most used lenses are the 70-200 Sigma which I use for my portraits and the 24-105 Sigma lens which I use for a good part of my candids.
I am, however, looking at alternatives for my main camera. Today with the ability to use high ISO's and the availability of lighter and faster and smaller cameras, I look for ways to reduce the amount of weight I carry for those 10 hour days I work.  Fuji and Sony are doing a great job at making things a lot lighter for us as end users.  I honestly think this is the direction photographers are looking to go in the wedding, portrait area of our business."
Ashleigh Scully – Canon 5D Mark III
Bio: although she is still a teenager, Ashleigh has accomplished as much as any adult professional photographer. An avid wildlife photographer, she has won a number of prestigious awards including London Natural History Museum's Wildlife Photographer of the Year, Nature's Best Windland Smith Rice International Photography Awards Youth Wildlife Photographer of the Year, and winner of the Yellowstone Forever Photo Competition. You can check out her website on www.ashleighscullyphotography.com or follow her on Twitter @ashleighscully. 
"Camera: Canon 5D Mark III
Lenses: Canon 100mm – 400mm and Canon 500mm f/4 L IS II USM
As a wildlife photographer, I really appreciate the flexibility of the Canon 100mm – 400mm zoom lens. It is lightweight, and adjustable to many different situations. It is my go-to lens when I am in need of something that is easy to carry in the field. The Canon 500mm is also a very flexible super-telephoto lens because I can attach a teleconverter to get extra reach, or I can shoot it as is which works great in low light wide open at f/4.
I have also learned to hand-hold this bigger lens, and I'm not sure that I could do that with the 600mm. The Canon 5D Mark III has never let me down. Knowing that I have the reach of the 100mm – 400mm and 500mm lenses, I am comfortable using a full frame camera, and the 5D Mark III has been the most dependable body that I've ever used."
David Michael Bradford – Canon 5D Mark III
Bio: David Michael is not just talented, he is also incredibly experienced, having photographed over 600 weddings around the world. He has won a number of awards for his efforts including the prestigious Essex Wedding Awards Wedding Photographer of the Year, Master Photography Awards Award of Excellence, and Wedding Industry Expert Award Most Popular Photographer Worldwide. You can see his work on his website www.davidmichaelphotography.co.uk or follow him on Twitter @davidmichaelbr. 
"Through my teaching of students I get to sample many camera bodies and lenses. Olympus UK recently kindly loaned me their mirrorless system and pro lenses to test and I really like them as they are so lightweight. However, I can't bring myself to move away from the Canon 5D Mark III body.
It might be because I have always been a Canon user, but I just find all the buttons and menus to make sense in terms of where they are and how to use them. For all my weddings and portraiture my number one lens is the 50mm 1.2L. If I could only take one lens on any job, this would be this one – it's just beautiful and gives great results every time."
Martin Beddall – Sony a9
Bio: Martin has an entirely different approach to photographing weddings which is why he considers himself a wedding photojournalist. This tactic has ensured that he has won many awards including Wedding Photographer of the Year and Professional Photographer of the Year 2012. His work has also appeared in Time magazine, the Wall Street Journal, the Financial Times, and the Observer. You can check out his website at www.mcbweddings.com or follow him on Twitter @mcbweddings. 
"I've been using the Sony a9 in my reportage wedding photography work for the past year. I bought an a9 last May and I tried it out with the 55mm f1.8 that I already owned, during the evening. I was amazed how much better and faster in operation, this camera was compared the a7S I had owned before. Even in lowlight. They have been my cameras for this work ever since.
So much that previous mirrorless had been lacking, were improved with the a9. Better battery life, two card slots, fast and very accurate AF – in a small, light package. The silent shutter has meant I have been able to shoot where DSLR cameras would not have been allowed. For the reportage approach this is very useful.
Any minuses though? Startup could be quicker. Its use with flash is clunky and they are not the most beautiful cameras to look at or to hold, but as tools for the job, they suit the way I work. One downside is not being able to use Nikon glass on them, with full AF – like the sublime Nikon 105mm f1.4 or the 28mm f1.4."
Tamara Lackey – Nikon D850
Bio: Tamara isn't just a talented and renowned photographer, she is also an incredible humanitarian. Her pictures have been published in notable works such as O Magazine, Men's Journal, Parenting Magazine, and Town & Country. She has won multiple awards including the WPPI/Rangefinder Humanitarian Award and the PMDA Photographers Give Back Award. You can find out more about her on her website tamaralackey.com or follow her on Twitter @tamaralackey.
"My favorite camera body is the Nikon D850. It's a fantastic combination of durability, speed, and impressive resolution. I also find that the touch & tilt LCD make difficult shots easier to get – and it speeds up navigation. My favorite lens to pair it with is the 105mm f1.4, a flattering portrait lens and a gorgeous piece of sturdy glass with amazing optics."
Abhishek Hajela – Olympus OM-D EM-1 Mark II
Bio: Abhishek is a renowned travel photographer. His images have appeared in magazines such as National Geographic Traveller India, The Hindustan Times, and The Lonely Planet India. He also received the Nikon World Photography Award in the Emerging Talent Category. You can check out his work on his website www.abhishekhajela.com or follow him on Twitter @abhishekhajela. 
"For me the best camera and lens will be Olympus OM-D EM-1 Mark II and the 12-40 2.8 lens (24-80 equivalent). So, the Olympus OM-D EM-1 Mark II is a mirrorless camera which is very powerful but very small in size and lightweight. So you don't mind carrying it everywhere. The 12-40 2.8 which is equivalent to the 24-80 2.8 is the best zoom lens for street, people, cultural, travel, and day to day photography. Also, smaller equipment is not so intrusive and people think you are not a professional which really makes my work easier and helps me get into people's houses, etc."
Well, as you can see, all of these responses have invaluable advice in determining which camera is best for you.
You should now have a better idea of the choices that are available to you and be able to figure out just which one will suit your needs.
So, when you are shopping around, you will find it a lot easier to make a decision.
Now that you know what some of the premier photographers in the world use, let us know what your top picks are!