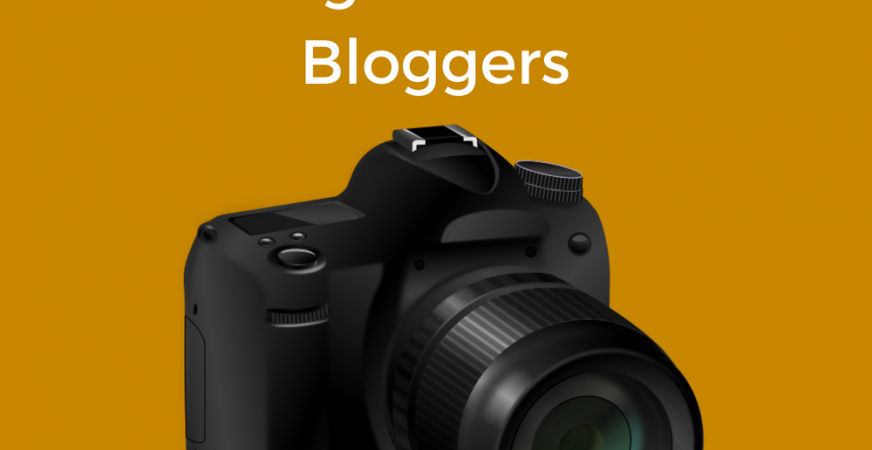 18 Professional Travelers and Bloggers Name the Best Camera for Vlogging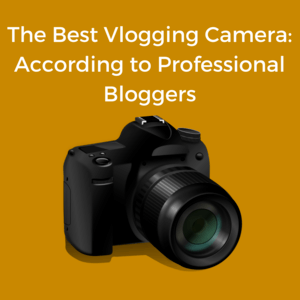 It's no secret that the success of a vlogger depends a lot on the quality of the camera in use.
After all, online viewers won't pay attention to your videos if they are grainy and hard to look at.
No one is better suited to recommend a top-quality vlogging camera for YouTube than a professional vlogger.
So we reached out to a number of established vloggers with this question:
If you had to choose one camera for vlogging, what would you say is the best one, based on your experience, and why?
We received a remarkable number of responses with useful insights, hints, and even some tips. Read ahead to learn what the pros had to say:
Top Recommendation for Vlogging Camera
The responses we received from professional vloggers were somewhat varied but focused on similar themes.
Vloggers, regardless of the topic they cover, have similar concerns when it comes to choosing a reliable camera.
Most had concerns about the portability of cameras, given that nearly everyone moved a lot while filming for YouTube or personal blogs.
But there was a clear majority that agreed on the following:
Top Recommendation for Vlogging Camera by Brand
The top camera brand our vloggers prefer to use is Canon, hands down. The brand won in a landslide, with almost all the vloggers that responded using a Canon model.
Canon is certainly one of the best-known camera brands for digital photography worldwide.
The brand usually goes head-to-head with another famous Japanese camera brand, Nikon (though not among our experts).
It's easy to understand why vloggers might prefer Canon over other brands.
Canon is also aimed at regular users, which is how vloggers start out. Nikon, on the other hand, is aimed more at professional photographers.
Surprisingly enough, the recommendations we got were not dominated by praise for the GoPro, the world's best-known action camera. Though one of our experts did mention the brand.
Top Recommendation for Vlogging Camera by Model
The top pick was the Canon G7 X and variations of the G7 X like Mark II and Powershot.
The G7 X was originally unveiled in 2014. This camera is known for is compact body but sensitive sensors and high-quality lens.
This camera sports 20.2 mega pixels, optical zoom lens, and an LCD screen that can be tilted. The design is very selfie friendly.
The G7 X quickly rose in popularity against the then-famous Sony RX100. This Canon model made a splash by having more zoom power and brighter max aperture than the RX100.
The G7 X Powershot has a CMOS sensor that is larger and more sensitive than the regular G7 X's. It also comes with f/1.8 (W)-f/2.8 (T) lenses for capturing more light.
The G7 X Mark II improves the ISO performance of the original, and it also has a DIGIC 7 image processor that's faster than the original version.
What Professional Vloggers Have to Say about Their Top Camera Choice
The vloggers that responded to our queries came from many backgrounds. Some vlog from home, while others vlog during their travels.
Without further ado, scroll down to read what the expert vloggers have to say about the best camera for the art. Please note that the reposes are listed based on the order in which each was received.
Alex Chacon—Sony RX100 Mark II, Canon 80D w/10-22mm, Sony A7RII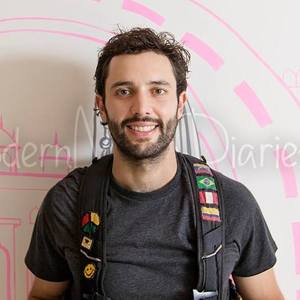 Bio: Alex is an adventurous traveler who's been to over 50 countries and crossed over 80 borders. After graduating from college, he took a gap year before attending medical school, sold all his belongings and took off for the open road. He once biked from Alaska to Argentina for 500 days for charity. You can check out Alex's travel diaries on his YouTube channel or learn more about his incredible tours on his personal website.
"There no such thing as the best vlogging camera in my experience, in fact the camera on your phone is sometimes the best to vlog with depending on your ideas and creative approach. But it's hard to choose one that's the best especially with what's available out there now, let me explain why.
I personally use the Sony RX100 Mark II, the Canon 80D w/10-22mm, and a Sony A7RII with 16-70mm for vlogging. I choose which one according to my project and locations. When I'm in a comfortable place with an idea I'm filming, the 80D has its back screen that flips so I can see myself.
However, when I want super awesome 4K Log footage when I'm on a trip around the world, I go Sony A7RII all the way as the video quality is what I'm looking for and I sacrifice the ability to have a flip screen. But since I'm [vlogging] I don't need to look at myself all the time on a flip screen.
Then when [it] comes to portability and [run-and-gun] vlogging, I go with the RX100 as it's easy and quick to open and film. However the sound is not the best and I have to talk much louder than when I have the 80D and A7 with mic. So this would be not a good choice when in a museum or quiet place, however great when traveling around the world on a motorcycle where space is limited. My last reminder is that my most viral videos on YouTube [have] all been shot on a GoPro. "
Elle and Mimi— Canon G7 X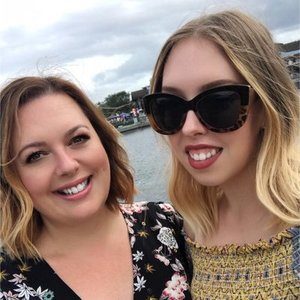 Bio: Aimee and Lynn, or Elle and Mimi, are a mother and daughter pair who blog and vlog together. Interestingly, Lynn is based in the UK while Aimee is in Florida. They blog about their travels and life experiences on their personal website. They also have an up-and-coming YouTube channel that focuses on beauty, lifestyle, travel, and everything in between.
"We use the Canon G7 X, which we bought 2 years ago when we first started vlogging. We did our research and the G7 X appeared to be very popular among vloggers we enjoyed watching.
We loved the idea of the flip-up screen so that we could check that we were in frame and focus (and a girl has to check her lipstick!). The size really appealed to us as it is small and lightweight enough to carry around all day and it fits easily into the smallest of handbags.
The picture quality is always fantastic and the camera settings are straightforward and easy to get the hang of. We love the Canon G7 X and would highly recommend it to other vloggers starting out."
Kelsey and Kendra Murrell—Canon PowerShot G7 X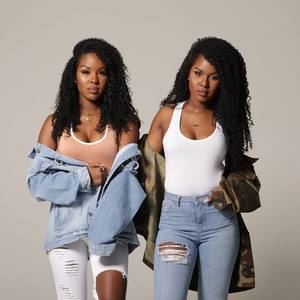 Bio: Kelsey and Kendra are twins who vlog on their YouTube channel. The very successful channel focuses on beauty, hair care, makeup, and twin stuff. Their health tips videos have been such a hit, the pair have even published an Amazon bestseller compiling them. You can catch Kelsey and Kendra and learn more about them on their Facebook page.
"We love our Canon PowerShot G7 X! We've had several vlogging cameras and this one by far is the best.
It's super important that we have the best equipment with the most up-to-date features to create quality videos for our followers. This camera has been a game changer for us and captures quality pictures, as well as video footage.
The Canon PowerShot G7 X has really good focus, great lighting and shows the true color of your surroundings. Other features we appreciate are that it's lightweight, easy to use, and works extremely well in low light and darker areas."
Raya—Sony RX100
Bio: Raya is a globetrotting nomad originally from Bulgaria. She's been extensively traveling for the past two years all over the world. You can access Raya's vlogging tour entries and general lifestyle videos on her YouTube channel. Raya is also an amateur photographer. You can learn more about her on her travel blog.
"For me, the best vloggging camera has got to be the Sony [RX100]. It's small enough that I can always have it in my bag with me just in case and it's good enough for both vlogging and photos.
If I want to get really creative with B-roll, I'll bring a bigger camera with interchangeable lenses, but if I can only have one camera with me it's got to be the [RX100]. Also, it's light enough to comfortably hold for any shots of you talking to camera on the go."
Sarah Cantwell—Canon G7 XII
Bio: Sarah is a full time mom to two charming girls. She has an increasingly popular YouTube channel dedicated to vlogging about her family life with kids and an Olympic weightlifter husband. Sarah vlogs obsessively because she wants her family to have a record of their memories forever, long after she is gone. You can catch Sarah's personal musings on her website.
"My favorite vlogging camera is the Canon G7 XII. It's portable and hardy—so perfect for grabbing on the go. The flip screen camera makes selfie mode a breeze."
Shenaz Treasury—Sony A7 III, Go Pro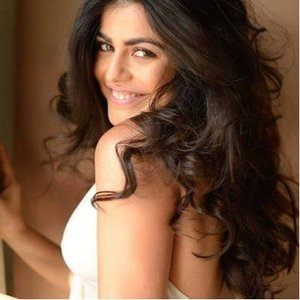 Bio: Indian-born Shenaz is an avid traveler. She documents her travels, stays at hotels, and engages in various activities for a rapt audience on YouTube. When she's not posting a travel video, she loves making hilarious parody videos. You can catch Shenaz's adventures on her YouTube channel or befriend her on Facebook.
"…I love the Sony Cameras. I use the Sony [A7 III]. I also use all Sony lenses. I do feel it's more about the lenses than the body.
I am also a fan of GoPro and use it for action and underwater shots 🙂 "
Nigel Danson—Fuji XT2, Fuji XH1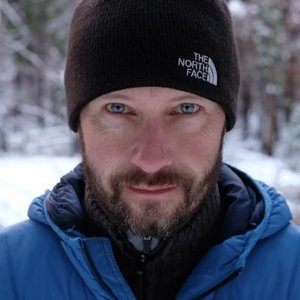 Bio: Nigel is an experienced landscape photographer and a traveler. Before taking up photography full time, he did a boring desk job that gave him back pain. He took care of his health problems by taking up backpacking on a full-time basis. You can see Nigel's breathtaking photos on his blog or follow his vlogging videos on YouTube.
"My recommendation would be the Fuji XT2 or Fuji XH1. Both these cameras are great.
Fuji [is] a forward-looking company and their policy of upgrading cameras with new and significant features through updates is a breath of fresh air.
The key things in a good vlogging camera are portability/weight, quality, autofocus speed and features like 120FPS and f-log recording. Both these cameras have all these and more. Add in a wealth of amazing lenses in the Fuji lineup and you have a very flexible and scalable vlogging solution."
Charlotte Ruff—Canon G7 X Mark II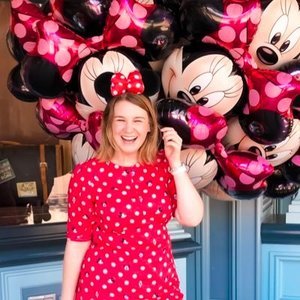 Bio: Charlotte is a businesswoman who has made a career out of traveling. She has a thriving YouTube channel and a personal website where she chronicles her many adventures mainly at Disney-themed locations. If you ever want to know what a "Be Our Guest" breakfast looks like, you can find out on her channel. It's paradise for both adult and kiddie Disney fans.
"I use the Canon G7 X Mark II, and here's what I have to say:
The Canon G7 X Mark II is a great camera for vloggers at all levels; from beginner to YouTube superstar.  It is light and durable and great in low light. While it doesn't have an interchangeable lens (less bulky to carry around) the picture quality is impressive, meaning you can leave the DSLR at home.
Battery life [has] improved greatly since the Mark I and the flip out screen means you'll always be able to see if you're getting that perfect shot."
Elise Harbour—Canon G7 X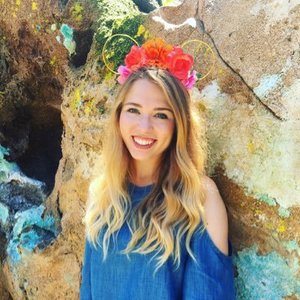 Bio: Elise is an up-and-coming YouTube personality who vlogs about everything she loves, which includes dancing, Disney, traveling, movies, and taking pictures, of course. Her channel is Disney heavy, a result stemming from a Disney College Program. But Elise has now expanded to how-to videos, advice skits, and many more that you can check out on her channel.
"I have used the Canon G7 X for the past year and [it] has been wonderful! It is much more sturdy than my past vlogging cameras, which is really important since I'm shoving it in my bags and dragging it out at random times to 'capture the moment.'
I do recommend getting a nice tripod, though, or else it won't capture much of what's going on while you are talking to the camera, because it [doesn't have] a wide-angle lens. The great thing about this camera is it also takes really nice pictures, which can be easy to forget at times."
Yoon Kwon Costello—Canon G7 Mark II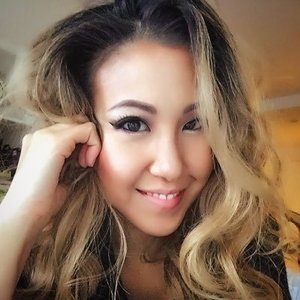 Bio: Yoon Kwon is a violinist, vlogger, and a "vixen." She plays in a band and teaches music. This busy lady doesn't stop there and prolifically vlogs on her YouTube channel as well. She talks about her passion—music—and many other topics like fashion, lifestyle, food and shopping on her personal website.
"My current one is the Canon G7 Mark II.  I like it A LOT. The quality is so great that I stopped traveling with my huge Canon 6D. It's great for vlogging because it is DSLR-quality in a point-and-shoot so it does double duty.
The mic is great as well and it has a flip screen which is a must for us vloggers. I used to use the Sony RX Mark I and Mark III – both of which I lost… but I was unhappy with the focus while vlogging; it wouldn't focus on my face but the background and it would drive me crazy!
Canon G7 has quick focus, almost always focuses on my face and the few times it doesn't, it also has touch screen, so I can quickly tap on whatever I'm focusing on. There's really no complaint. I mean, it [can] always be slimmer and have better depth of field, but that's just nit-picking. It also takes great pictures!"
Marcus Patten—Canon Rebel T5i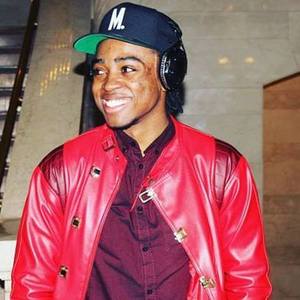 Bio: Marcus runs a popular YouTube channel under the name "the Black Mastadonte." His videos focus on gaming, anime, and a whole lot of comedy. If you want to discuss your favorite video game or anime in detail, Marcus's channel is definitely the place. When he's not posting gamer vids, Marcus livestreams the Anime Academy podcast.
"I'd say the Canon Rebel T5i is the best. Especially if you are just starting to [vlog]. It is not very expensive; it has a screen that you can flip so you can watch yourself speak, and it's pretty simple to use."
Alegra Chetti—Sony A5100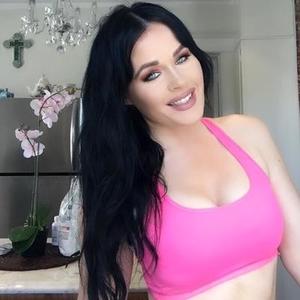 Bio: Alegra is a makeup artist based in the Big Apple. During her free time, she makes beauty videos and shares them on her popular YouTube channel. She does the beauty care research so her viewers don't have to. Alegra also has a blog where she posts her fashion ideas and shares travel diaries.
"I love the Sony A5100 for vlogging =)
I love how small and lightweight it is and the flip screen to see yourself [and] find your best angles. The skin smoothing feature is amazing too!
It makes everything look bright and beautiful and is so easy to use =)"
Patrick Levar—Samsung Galaxy S7 Edge Smartphone Camera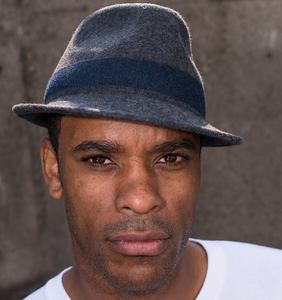 Bio: Patrick is an American living it up in Japan. He juggles many passions as a YouTube vlogger, a podcaster, drummer, actor, golfer, DJ, and a producer. He occasionally teaches as well. He is a very mobile person who loves mobile technology that facilitates a high-tech life on the road. You can check out his Facebook to learn more about him.
"…Being a mobile photographer and filmmaker, my best suggestion is a [very small] cell phone [that] fits in your pocket. Most people always have a cell phone on them [and] it is extremely easy to use, there is no learning curve.
"Today's phone camera video quality is fantastic and meets the needs of most social media [like] YouTube, Instagram, Facebook. Many companies are [now] developing tools made for the cell phone such as gimbals mic systems, etc. So if somebody wanted to start vlogging they don't need to go out and buy equipment; all they need to do is take their cell phone out and hit record…
…At the moment I'm using a Samsung Galaxy S7 Edge. I would love to get my hands on an iPhone too, lol."
Jason King—Panasonic GH5, Panasonic G7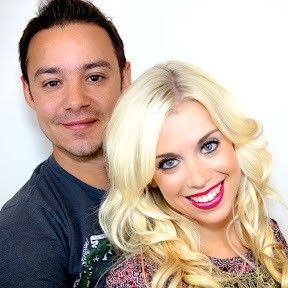 Bio: Jason, who goes by JK, is a veteran commercial radio presenter from the UK. He has also appeared on TV, occasionally, during his two-decade career. He and his wife, Charli, plus the kids, now have a rather successful vlogging channel on YouTube. You can check out what they're up to on their Instagram.
"I currently shoot with a Panasonic GH5 (GH4 before that) but my first choice of vlogging camera years back was the Panasonic G7. It's very underrated and packs so much vlogging power! The quality is excellent and looks very professional.
It's a small DSLR, basically, which means you can use different lenses. 4K (UHD) video at up to 100Mbps, 30p/25p + 24p with 4K Photo mode with 'pre-burst' mode. It has a fully-articulated touch screen and Wi-Fi for remote shooting and image transfer with a decent app too.
The G7 also offers focus peaking and zebra highlight warnings – two of the key tools necessary for shooting pro video too. There's a nice cine D log setting, so you have more control over colour grading. It has a mic input for hot shoe mic (I use [Rode VideoMic Pro]).
The only downside is it is a bit shaky handheld so always use a tripod when you can. It's rugged and perfect for the slightly more advanced vlogger that wants a cheap pro entry camera. And the price—I've just seen one on Ebay for £300 (body only)."
Damon and Jo—Canon G7 X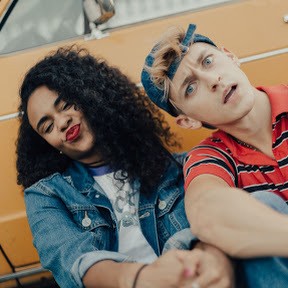 Bio: Jo is an ardent travel enthusiast and a risk taker. She met her travel partner Damon in NYC and the two have since toured over 20 countries. Budget travel with hostel stays is their specialty. The pair runs a successful website between trips and frequently updates their YouTube channel for hundreds of thousands of viewers.
"The Canon G7 X: it's not our favorite but it's incognito, gets the job done, and is one of the only high-quality cameras that won't get you kicked out of places for filming.
Plus, the audio is surprisingly great! Here's a list of everything we use to film videos on the road: https://kit.com/damonandjo/camera-gear."
Hywel Evans—Canon G7 X, Canon 80D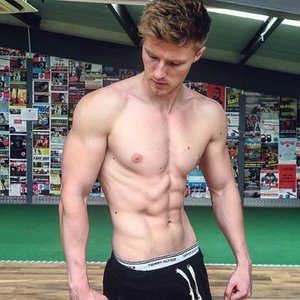 Bio: Hywel is a bodybuilder and a fitness enthusiast. He vlogs about his bodybuilding journey to an audience of thousands on YouTube. He loves posting videos about the supplements he uses, eating habits, and all the other important concerns bodybuilders have to think about. Occasionally, you will find a travel video on a playlist too. Catch him on Facebook if you like.
"From experience, one of my favorite vlogging cameras of all time is the Canon G7 X. Amazing quality and such an easy to use device when you need that quick shot. However, for me it also came with the limitation of no external mic availability.
For that reason, I chose to upgrade to the DSLR Canon 80D. In my opinion, this thing is amazing for vlogging (although a little heavy), and has absolutely every feature I'd ever need! Also, the changeable lens gives my vlogs and videos a variety of new aspects for shooting.
I do however, keep a hold of the G7 X for those situation where a larger camera (the 80D) may not be suitable!"
Here Be Barr—Canon M50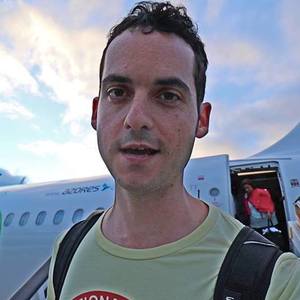 Bio: Jon Barr is a traveler who vlogs about his experiences on his blog. He specializes in a type of informative videos that don't waste people's time. His videos focus on local experiences at destinations and how to travel on a budget. You can check out his YouTube channel for budget travel challenge videos.
"As of now,  I think the best vlogging camera needs to be something that is portable, light, and can fit multiple lenses [as well as] have an external mic. I recently purchased the Canon M50 and it really gives you so many options [for] a camera that's barely over a pound.
If you want something that you can throw into your backpack, that won't weigh you down but will still get you a professional result every time, the Canon M50 is the way to go. I'd recommend buying a small Rode Mic to pair with it [and] at least one wide angle lens."
Siddharth Varerkar—Canon G7 X Mark II, Sony A6500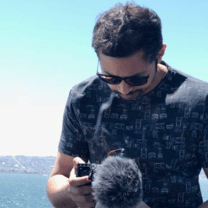 Bio: Siddharth is a vlogger, technology professional, and an entrepreneur. He loves traveling, cars, and gadgets, and vlogs about these things from Dubai. You can check out his videos on this YouTube channel. Siddharth's love of cars has made him the founder and CEO of a car rental company in Dubai.
"The vlogging camera I recommend to everybody who asks is the Canon G7 X Mark II. It's got a great autofocus system and a flip out touch screen which is a must for any vlogger starting out. Apart from that, it is also well priced and gives you close to DSLR-like quality in an extremely compact size. This camera will fit in your pocket with ease!
The 1.8F aperture gives you great depth of field and amazing low-light image quality. It also has a great zoom range going from 24mm, which is perfect for self-facing camera shots and extends all the way to 100mm, which gives you a decent distance zoom as well. The camera also has inbuilt features like time-lapse, which should give you some interesting shots.
I would recommend adding a small 'dead cat' to the 2 mics at the top so that you can hear yourself in windy conditions. But apart from that, this camera is pretty much perfect.
I have personally moved on to a Sony A6500 and Sigma 16mm 1.4F lens combo. It does give you a much better image and an external mic will give you great sound but it also costs about 4 times as much and I do miss my flip-out screen. I always carry my G7 X as a backup!"
Overall, the pro vloggers preferred cameras that were stable enough for frequent shooting, offered great picture quality, and didn't cost an arm and a leg to purchase.
The vloggers also offered some useful and unexpected insights about what it takes to shoot great videos.
The type of camera you need to use will depend on the scenario in which you are shooting, according to several pros.
What do you think makes a great vlogging camera? Do you agree with what the professional vloggers recommend?
Share your thoughts in the comments section below!