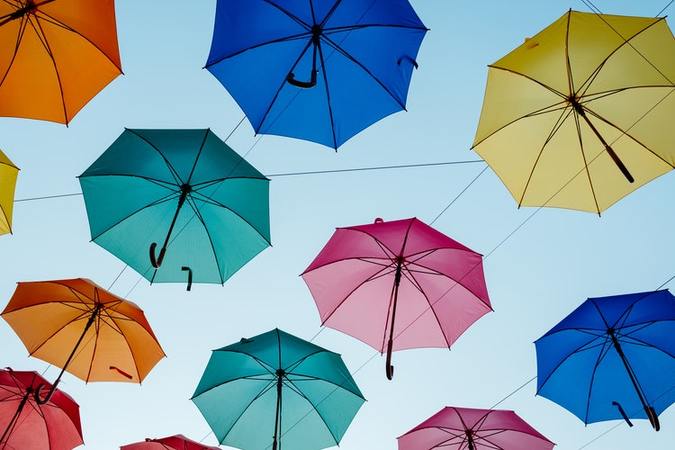 5 Best Umbrellas [2021 Update]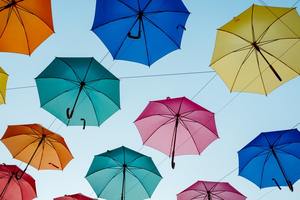 If you are trying to get somewhere, rainy days are the absolute worst. This is why you need the right umbrella to help you out if you don't want to arrive at your destination dripping wet and miserable.
Unfortunately, while umbrellas have been around for quite a while, it is still incredibly difficult to find one that keeps you nice and dry during stormy weather.
After all, your umbrella has to fulfill quite a few responsibilities.
You need an umbrella that can keep you completely dry, protect you from the wind, be simple to use, and look good too.
Considering this laundry list of requirements, it isn't surprising that you have to hunt around for a good product.
Well, we decided to handle this particular project for you. We looked at some of the best umbrellas on the market and narrowed down the list to figure out which ones were the cream of the crop.
This is what we came up with.
Top 5 Best Umbrellas – 2023
1. FrostFire '55 MPH' Travel Umbrella
If you live somewhere that is incredibly windy, then you are going to appreciate this umbrella. This is because it has been specifically designed to withstand high winds.
In fact, it should remain undamaged even in winds up to 55mph!
This is possible largely thanks to the wind resistant frame system incorporated into the umbrellas.
Constructed from high-quality fiberglass and stainless steel, the umbrella ribs are a lot more flexible than other brands. As a result, they flex against the wind and then bounce back into shape again, instead of breaking.
You no longer have to worry about your umbrellas being bent out of shape if they flip inside out in the wind.
This isn't the only great feature on this umbrella, however. It also protects you from the rain really well. The canopy is made from high-grade pongee which is known to be very water-resistant.
Not only can you avoid getting wet, you will also notice that your umbrella is drying a lot faster as well.
Unfortunately, all of these tough components mean that this ends up being a rather heavy umbrella to carry around.
Despite this, you will still have no trouble handling this umbrella once handed. This is because, with the click of a button, you can open and close the canopy.
Also, as yet another plus point, there are lots of colors to choose from as well.
+Pros:
Easy to use
Works well in high winds
Extremely water resistant
Very durable
Looks good
Let's face it, most umbrellas don't exactly scream fashion accessory. Rather, they tend to be a bit bulky and dull.
Well, this umbrella changes all of that, thanks to its innovative and chic design. Now, this isn't an umbrella that looks good, though. It is also effective against the rain.
This is due to the dome-shaped canopy. So, when you are holding the umbrella over your head, it actually envelopes a great deal of your torso as well.
So, more of you gets to remain dry, regardless of how hard it is raining. It also works well on windy days as you get to make sure that not a hair is out of place.
At the same time, the canopy is completely clear which allows you to see right through. As a result, you don't have to worry about bumping into anyone or even feeling claustrophobic. Something of note: in the country of Japan, you'll frequently see folks walking around with clear umbrellas for this very reason. They can point the umbrella against the wind and rain and still see where they're going.
The canopy is also waterproof which means that all of the water just rolls right off it, without seeping through.
The acrylic handle on this umbrella makes it easy to hold while still adding a stylish feature to the overall look.
Now, it should be noted that it is a rather large umbrella. So even when it is folded up, it can be a tad bit bulky and difficult to walk around with.
+Pros:
Makes it easier to stay dry
Looks good
Easy to hold
Good for windy days
-Cons:
Bulky, even when folded up
This is yet another design that works well against the wind. So, if you frequently have to contend with strong winds and want your umbrella to be able to withstand them, then this is a good option.
What makes this umbrella so useful in the wind are the materials. It is constructed from fiberglass ribs and has an all-metal frame.
This makes the foundation of the umbrella strong enough to resist the high winds. At the same time, the fiberglass hinges with the fail-safe technology are also responsible for this mechanism.
They ensure that while the umbrella may flip inside out, it will not break. Due to this, you will find that you can get the umbrella back into shape within seconds.
There is also the added benefit that this is a very simple umbrella to use, even if you are using just one hand. With just a flick of a switch, the canopy can open and close, thanks to the auto open and close function, requiring no other effort.
The only real disadvantage with this umbrella is that it is a bit heavy due to all of the tough materials. As such, you may find it a bit of a struggle to carry around.
That being said, it is a rather compact umbrella. The 3 fold telescopic shaft ensures that you can shrink down the umbrella to a tiny 12 inches in length.
As an added bonus, there are also a few colors to choose from.
+Pros:
Sturdy construction
Works well in high winds
Compact
Different colors available
Easy to open and close
Are you tired of your umbrella flipping inside out every time a gust of wind passes by you? If so, you may have found the solution to your problems with this umbrella.
This umbrella doesn't just weather the wind well, it finds a way to disperse the heavier gusts. This is due to the double canopy that lets the wind pass through the vents.
At the same time, this is definitely a sturdy umbrella. Made from stainless steel and fiberglass, the umbrella is made up of nine flexible ribs.
So, in heavy winds, the umbrella ribs don't break – instead, they bend to accommodate the gusts and then bounce right back. This increases their lifespan in bad weather quite a bit, even in winds up to 55mph.
The other advantage with this umbrella is that the canopy is made from 210T water-repellent fabric. So, you can be quite sure that not a drop of water will seep through and land on you.
The handle is also made of rubber, making it easy for you to get a grip on your umbrella, even if it is wet.
You will find that the canopy can be opened and closed automatically, with a click of a button. Unfortunately, you may find it a bit difficult to wrestle the telescopic handle down, though.
The distinct color and design certainly make this an eye-catching umbrella, however.
+Pros:
Works well in windy conditions
Keeps the water away
Canopy opens and closes automatically
Looks good
-Cons:
A bit difficult to make compact
As the name suggests, this is an umbrella that is excellent at repelling water from its surface. This is possible due to the Teflon coating on top of the canopy.
This means that the water droplets simply roll away rather than seeping through the material. So, you get to enjoy yet another benefit.
Not only does the canopy keep the water away, it also ensures that the umbrella dries incredibly quickly as well.
The umbrella performs rather well in the wind as well. The base structure of the umbrella is made from resin re-enforced fiberglass ribs.
This has a two-fold advantage. First, it makes the umbrella incredibly strong so that it will not break when facing winds.
At the same time, it ensures that the umbrella is flexible enough to bend and then bounce back into position almost immediately.
Despite all of this, the umbrella is actually rather lightweight, making it ideal to carry around with you wherever you go.
The only real downside with this umbrella is that the canopy is a bit small so it doesn't do an excellent job of covering taller people.
On the plus side, though, it does have an auto open and close mechanism. So, you can work the canopy one-handed.
+Pros:
Lightweight
Can open and close automatically
Keeps rain off and dries quickly
Good for windy conditions
Things to Know When Buying an Umbrella
Here are the various features and details that you need to understand when choosing an umbrella:
Different Types of Umbrellas
There are actually quite a few different types of umbrellas on the market. Let's take a look at some of the most common designs:
Classic Design: these are old-fashioned umbrellas with longer handles and larger canopies. While they tend to be rather durable and look good, the downside is that they are not retractable. So, they take up a lot of space and can be a bit bulky to travel around with.
Compact Umbrellas: in contrast, the compact umbrellas are specifically made from travel. This makes them rather lightweight and easy to carry around. However, these often have smaller canopies and may not be suitable for heavy rains or taller individuals.
Bubble Umbrellas: these are gaining in popularity due to both their unique design and relevance as well. These umbrellas create a dome-shaped space that envelopes most of your torso. This keeps more of your body dry. They are also either transparent so that you can see out easily. The disadvantage is that they aren't very compact.
Wind-resistant Umbrellas: these are the umbrellas that have been designed to function in high-wind situations. So, they are often more durable and flexible. This allows them to withstand a great deal of pressure without breaking or snapping. The downside of this is that these umbrellas are a bit heavier than most other designs.
The Main Features of an Umbrella
Now, let's look at some of the features that are most important when searching for a solid, reliable umbrella:
What Do You Need It For?
The first thing you will need to ask yourself is what you need the umbrella for most. This, of course, depends on the kind of weather that you experience where you live.
For instance, if your main concern is the sun, then you are going to need an umbrella with an UV-proof canopy.
This will help to keep the rays off of your skin and will also help to prevent the umbrella from being damaged by the UV rays.
On the other hand, if you are expecting torrential rains, then your main concern would be securing an umbrella with a highly water resistant canopy.
Nonetheless, if strong winds are what you are concerned with, then you will need to find yourself a wind-resistant umbrella.
The Canopy Material
One of the most important factors to consider is the type of material that the canopy is made from.
Most canopies are made from either nylon, polyester, plastic, or pongee.
Now, in terms of durability and water resistance, nylon and pongee are ahead of the other kinds of materials. In this sense, they work well in heavy rains.
With pongee, the slight downside is that the material tends to be a tad bit more expensive.
Nylon, on the other hand, tends towards shrinkage, especially in humid conditions. This can make it difficult to open and close the umbrella.
The Rib Construction
A lot of people mistakenly believe that an umbrella skeleton has to just be incredibly strong. While the ribs do need to be durable, they also must be flexible.
This is the only way to ensure that they will not break when straining against high winds.
So, look for an umbrella that is made of a good mix of materials – ideally stainless steel and fiberglass. This way, you get to enjoy the best of both worlds.
Canopy Size
The other thing to pay attention to is the size of the canopy. This is because it needs to properly cover you as you walk through the rain.
Due to this, larger canopies are often more useful, especially if you are on the taller side or tend to travel with baggage.
This way, the canopy will have enough room beneath it for everything that you are carrying as well.
Of course, you should be aware that a larger canopy results in an umbrella that isn't all that compact. So, you may find that these umbrellas aren't easy to walk around with.
Things to Look For When Buying an Umbrella
Here are some tips to consider when choosing an umbrella:
Durability: if you are going to be using your umbrella often or in bad weather, then you need one with a thick canopy and a strong skeleton. This will ensure that it will last you through all kinds of conditions.
Good Handle: look for a handle that has a good grip and that is easy to hold onto even your hands are slick from the rain.
Ease in opening and closing: it is best to get an umbrella that can be opened and closed automatically. This way, you will find that you are able to manage with just one hand, which is useful especially in bad weather conditions.
Conclusion
So, when looking for an umbrella, you have to look for one that is strong, can keep the water at bay, works well in windy conditions, and is easy for you to use.
If you are looking for a cheaper option, you will find that the Rain-Mate and Kolumbo umbrellas are a good choice.
On the other hand, if you want something for heavy-duty weather conditions, then the EEZ-Y and Rebel umbrella will be suitable for the job.
For something that is a little chic, you will find the Totes umbrella has a great design.
So, there you have it – all that you need to know about umbrellas, including how to choose one and which are best for you.
With all this information, you will surely have no trouble making a choice.