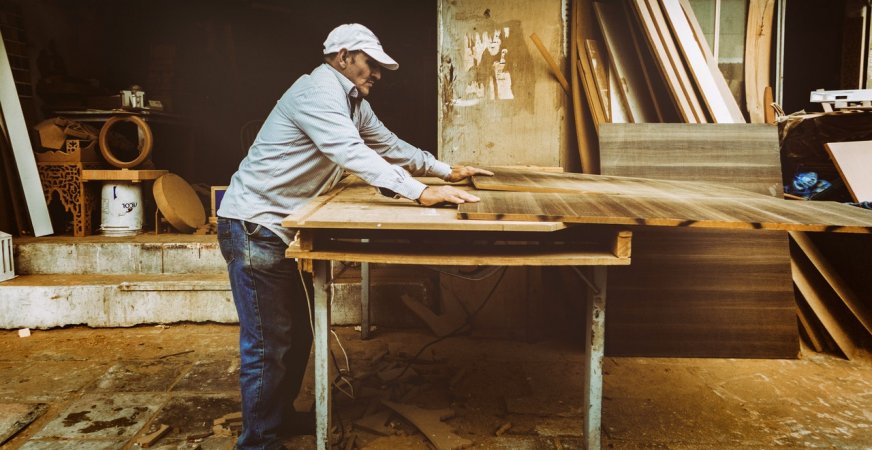 5 Best Sawhorses [2023 Update]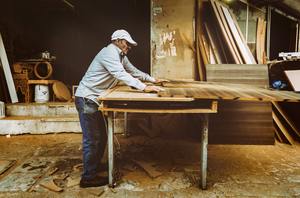 Last updated: 3/27/23 | 5 min read
Whether you are a woodworker or just like being handy around the house, the one thing you are going to need in your arsenal is a sawhorse.
This particular piece of equipment isn't just beneficial and compact, it is also incredibly versatile, ensuring that you can use it in a number of different ways.
Now, considering the vital role it plays, it only stands to reason that you need to pick the best sawhorses for your projects.
This, however, may not be as easy as you would imagine, considering that a good sawhorse needs to be sturdy and durable, have an effective cutting surface, and can be collapsed and put away easily.
In case you don't want to go through the trouble of finding such a piece of equipment for yourself, you can find a list of the top products below. We also added a buying guide for some additional tips.
So, without further ado, find out which sawhorse is just right for you.
Top 5 Best Sawhorses – 2023
1. DEWALT DWX725
At a glance, this sawhorse may not look all that sturdy but you can guarantee that it has been built to withstand most type of projects.
This is because it is has a 1000 pound capacity, making it suitable for both lightweight work as well as heavy duty tasks.
Despite this, the sawhorse weighs just 15.4 pounds and can be easily folded up and carried around with you. This function is further aided by the fact that it is equipped with a carrying handle for even simpler transport.
Not to mention, because it is made from high-quality aluminum, this sawhorse has been designed to last a while.
Now, there is a downside to this low weight, however. When you are working on a smooth flow, you may find that the vibrations caused by a machine or tool can cause this stand to move around a bit.
One of the reasons this is such a high-rated sawhorse is due to the design and construction of the legs.
For one thing, they offer up excellent support, ensuring that the sawhorse bears the weight of materials and tools well.
These features are equipped with leg lock levers that make it an absolute breeze to set this sawhorse up as well as fold it back again.
+Pros:
Durable
Lightweight
Compact
Easily folded and set up
-Cons:
May move around on slick floors
2. WORX Pegasus WX051 Sawhorse
Can't decide between a sawhorse and a workbench? Well, with this model you won't have to. The Pegasus can quickly and easily be converted from a sawhorse to a workbench and back again.
Of course, it doesn't actually matter which design you decide to go with, both of these workspaces will prove to be just what you need, depending on the project. This is aided by the fact that the worktable comes equipped with different kinds of clamps.
In its sawhorse form, this table is capable of holding up to 1000lbs. As a workbench, it is able to support up to 300lbs.
In case this wasn't enough space for you, this sawhorse also has a lower tier where you can store tools.
What's great about this sawhorse is that anyone can start using it immediately, and there is absolutely no assembly required, whatsoever.
Also, you will have no trouble either setting this table up or folding it any carrying it around. The leg locks work to stabilize the table completely.
When it is folded, it is just 5 inches in depth.
Due to all the features, though, you will find that this table can be a tad bit heavy to carry around.
+Pros:
Can hold immense loads
Convertible
Storage area
Stable
Easy to fold and set up
-Cons:
A bit heavy to carry around
3. WORX WX065 Clamping Sawhorse Pair
What's great about these sawhorses is that you get two, for the price of one. This is because they are meant to be used together so you have a better surface to work on.
The combined capacity of these two sawhorses equal 1000lbs so you will have no trouble using them for a wide variety of projects.
Not to mention, they are equipped with two detachable bar clamps and these can be attached vertically or horizontally, depending on your requirements.
This means that you get to enjoy a higher level of stability as you work, particularly when using wide planks. The clamps can be widened up to 18 inches.
Now, these sawhorses are made from a strong yet lightweight thermoplastic polymer material.
So, when needed, you will have no trouble simply folding up the sawhorses and moving them around. When folded, they are just 2.5 inches thick. On a similar note, it is just as easy to set these sawhorses up.
This lightweight feature does come with a downside, though. When using heavy-duty machinery, you may find that the sawhorse moves a bit.
To make this sawhorse even more versatile, it contains a shelf as well as cord hooks that can be used to store many of your tools while you are working.
+Pros:
Lightweight and compact
Easy to set up and fold
Can carry heavy load
Versatile
Has clamps
-Cons:
May move around when using machinery
4. Hopkins 2×4 Basics 90196 Sawhorse Kit
Perhaps the first thing to know about this kit is that the lumber is not included and this has to be purchased by you.
Now, although this may seem like a hassle, it actually serves a purpose. Since you select the wood, you get to determine just how high and long it is.
You can build a sawhorse that is up to 8 feet long and 4 feet tall, depending on your preference and the materials you use.
Not to mention, you will find it fairly simple to set this kit up. The only tool required is a screwdriver and the instructions will help you with the rest.
The pieces included in the packaging allow you to build two sawhorses for your projects.
Still, it has to be noted that you may have to incur additional cost when purchasing this kit. Also, it can be folded once completed.
Once you have set the sawhorses up, you will find that they can support up to 2000lbs together. You can easily use these pieces of equipment even to handle the more heavy-duty tasks.
There are also two levels which means that you have somewhere to keep your materials while you are working on your project.
+Pros:
Sturdy and heavy-duty sawhorses
Contains storage level
Easy to set up
Can be customized
-Cons:
Requires additional materials
Can't be folded
5. ToughBuilt TB-C500 Sawhorse
If you are looking for a seriously heavy-duty sawhorse, then this is the product for you. Simply by looking at it, you will know it can withstand all the abuse you put it through.
This is because it is made from tough and strong steel, ensuring that it is capable of withstanding weight and pressure.
Not to mention, the zinc-plated surfaces and powder coating ensure that it can be used in a number of different environments and conditions. It will last longer and continue to be in good condition too.
In fact, you will find that this sawhorse can hold up to 1100lbs in weight, allowing you to utilize it for most of your projects.
The sawhorse also has 2×4 support arms that let you transform it into a job site table if you choose to do so.
Despite its solid construction, this is a sawhorse that can be folded and set up, so that you can carry it from one site to another. Thanks to fast-open legs, this is a relatively simple process.
Since it is such a sturdy sawhorse, it also means that it is quite heavy to lug around and may be difficult for some to carry.
+Pros:
Very strong and sturdy
Can be folded and set up easily
Holds heavy load
Suitable for many different conditions
Can be converted
Things to Know When Buying a Sawhorse
In this section, we focus on all the details and elements that you need to know about to choose the best sawhorse:
Different Types of Sawhorses
Although there are different classifications for sawhorses, they are most commonly categorized as folding or non-folding.
Folding Sawhorses: there are a few perks to using this design and one of these is portability. It is a breeze to pack them up and take them wherever you want. This is why they are popular among certain construction companies. Due to this, they also have lighter weight models. The main downside to folding sawhorses is that they are typically not as sturdy as the non-folding versions.
Non-Folding Sawhorses: these are heavy-duty, stable sawhorses that are meant for larger projects or heavier materials. They can often last for years on end, due to their construction. Of course, this means that they are quite heavy and can't easily be moved around. They also take up more space than the folding option.
The Main Features of a Sawhorse
Now, let's discuss what the most important features are when choosing a sawhorse:
Load Capacity
Perhaps the first thing you will need to look at is just how much a sawhorse is capable of holding. The good news is that these days, most models can hold heavier loads.
If you are looking for a sawhorse for household projects and don't feel as though you require anything too sturdy, a 300lb capacity should be enough.
On the other hand, if you are going to do heavier work (or you are simply not sure), look for one that is capable of holding 1000lbs or more.
If you buy sawhorses that come in pairs, make sure to check how much each one can hold, just to be certain that you get the right capacity.
The Durability
Of course, it isn't just enough to have a sawhorse that can handle a heavy load, you are also going to need one that can stand up to constant use and abuse.
To ascertain durability, you can typically figure this out by looking at the materials. If you want incredibly strong sawhorses, focus on those made from high-quality wood or steel.
These tend to be a lot stronger than the other options and therefore, will not break or damage as easily.
If you want something with medium durability but that is also lightweight, look for those made from aluminium.
The Stability
A sawhorse can only really be useful if it is stable. Therefore, the first thing you will need to look at is the legs, to make sure they are all the same length and are tightly bolted to the beam.
The beam should also be completely flat and straight with no imperfections, dents, or bumps at all. To make certain of this, you can use a level to test the flatness.
With folding sawhorses, you need to check that the legs can be straightened out completely and that the locking mechanism keeps them that way.
The Height
It can be difficult to know what height is best for a sawhorse. This is because each user will have a different height and therefore will need a higher or lower surface, depending on this.
So, the first thing to do is to figure out what height is most comfortable for you to work on. Then, look for a sawhorse that matches these dimensions.
If you want a sawhorse that's suitable for a variety of people, get one with adjustable legs. This way, they can be manipulated according to whoever is using the equipment.
Things to Look for When Buying a Sawhorse
In this part, you will discover some tips and tricks to narrow down the top sawhorse for you:
Choose Pairs for Versatility: if you aren't quite certain what kind of projects you will be working on, it can be helpful to look for sawhorses that come in pairs. These allow you to use the equipment in a variety of ways and sometimes, they can even be converted into a worktable.
Clamps: if you don't want to lug additional equipment around, consider sawhorses that come with clamps attached. This will make it simpler for you to hold various materials in place while you are working on them.
Storage Space: it can be useful to have hooks or tiers on your sawhorse. This way, you will have someplace to keep your tools or materials while you are working. So, these are good additional features to look for in a sawhorse.
Conclusion
To sum things up, you need a sawhorse that has a large load capacity, that is durable, and is a good fit for your project.
If you want a more versatile sawhorse, both the WORX models have additional features to be used for different projects.
On the other hand, if you are interested in durability and sturdiness, the ToughBuilt and DeWalt models are what you should get.
For a more customized option, the 2×4 Basics sawhorse will definitely be a good fit for you.
If you are looking for the best sawhorses on the market, this guide will certainly help you out. Follow this advice and you will be able to find the right product for your needs.
Related Reading: