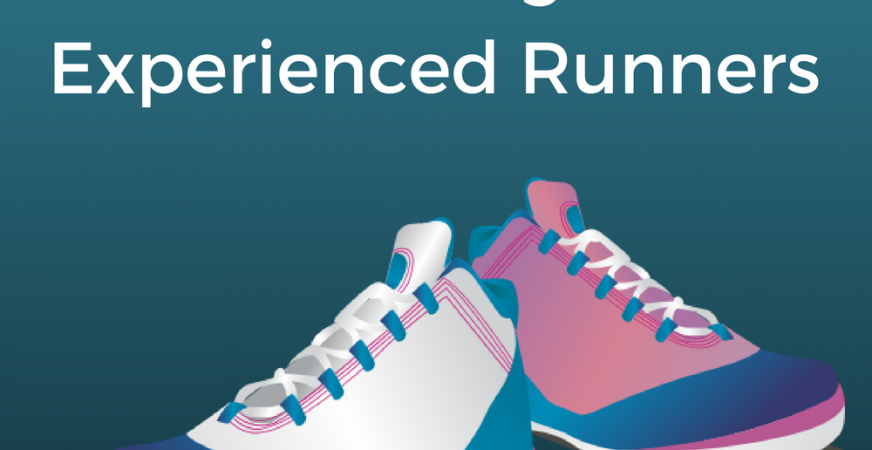 Best Running Shoes: 21 Experienced Runners Cast Their Vote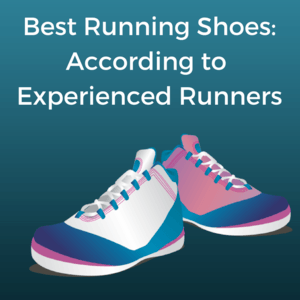 Whether you are going for gold or just getting your daily cardio in, there is no denying that running shoes can make all the difference to your running style and time.
Of course, your closet filled with failed experiments proves that choosing the right shoe isn't as easy as you might think.
Sure, there are a number of brands and designs out there but how many of them actually do as they claim?
The truth is: very few of them.
Since we were tired of wasting money on shoes that just couldn't keep up with our pavement pounding ways, we decided to turn to the experts.
We enlisted the help and advice of people who have had the time and opportunities to test out a variety of shoes.
Now, we understand that each person is different and it can be difficult to pinpoint the best running shoes as everyone has a different running style.
However, we figured that we could at least find out what some of the all-round pairs were.
So, with this in mind, we asked our experts their top pick of running shoes based on their experience and why.
Here is what we found out:
Best Running Shoes – Picks
Now, as we mentioned, each runner is going to have their own opinions of what running shoe is best.
We did notice, however, that some shoes seemed to be popular choices among many of the runners.
The ones that stood out the most were the HOKA ONE ONE Clifton shoes and the Nike Air Zoom Pegasus. So, let's take a closer look at these.
HOKA ONE ONE Clifton
HOKA ONE ONE can be considered the new kid on the block because it was founded less than a decade ago.
Nonetheless, they have been making some serious waves since then and, in part, this has been due to the Clifton line.
This isn't all that unexpected considering that this shoe manages to combine two of the most important factors for any runner – low weight and comfort.
The lightweight construction of the shoe means that runners can avoid the dreaded forefront irritation. At the same time, the shoe has more than enough cushioning to keep you comfy, even on your longer runs.
Nike Air Zoom Pegasus
Let's face it, it isn't surprising that Nike made the cut – it has consistently produced some of the most popular running shoes in the world.
That being said, it is fair to say that the Air Zoom Pegasus line is in a league of its own.
This is a line that has continued to offer up what many runners crave: comfort and some serious flair.
These shoes are known for their breathability, excellent traction, and their great arch support.
Of course, the Pegasus line kicks it up a notch by throwing in some color and style, making this line really pop.
Running Shoes Recommendations – From the Experts
Well, that's enough of dawdling, let's move on to what you really came for – expert advice from the people who know what they are talking about.
Here are their responses in the order in which they were received:
Denny Krahe – Altra Escalante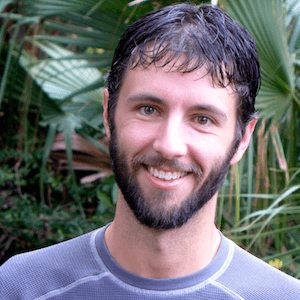 Bio: Denny Krahe acquired his passion for running late in life but he has more than made up for it since then. He has run numerous marathons including a 50k. his biggest goal is to run a marathon in all 50 states. Denny spends most of his time as a coach for others learning to run. You can check out his website at dizruns.com or follow him on Twitter @dizruns.
"Without question, my favorite pair of running shoes that are currently available are the Altra Escalantes. The Escalantes may be the most comfortable shoes I've ever worn, both in the sole and in the upper. To be quite honest, the Escalantes feel a bit more like wearing a pair of socks than a pair of shoes, that's how comfortable they are. The shoes are also great for just about any use on the roads, from racing to training to doing hard workouts.
Additionally, the Escalantes (like every pair of Altra shoes) feature a zero-drop and a foot shaped toe box. These take a little getting used to but have proven to be game changing for me and my running in improving my form and reducing the incidents of plantar fasciitis and shin splints."
Camille Herron – Nike Vaporfly 4%, Air Zoom Terra Kiger 4, Air Zoom Pegasus, Epic React, + Odyssey React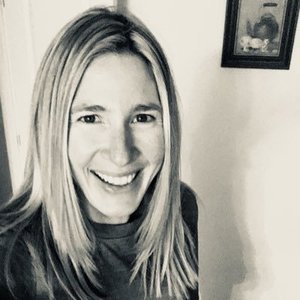 Bio: Camille has won an astounding 20 marathons in total and has gone on to qualify for the Olympic Marathon Trials three times. She also holds a Guinness World Record for the fastest marathon in a costume. Camille has been presented with Ultrarunner and Athlete of the Year awards. You can check out her website on www.camilleherron.com or follow her on Twitter @runcamille.
"That's a great question – probably the best pair of running shoes for someone is what feels the best for the person and keeps them healthy! For faster running and long runs I like Nike Vaporfly 4%, for trails Nike Air Zoom Terra Kiger 4, and for easy running a mix of Nike Air Zoom Pegasus, Nike Epic React, and Nike Odyssey React.
I like soft, light, and responsive shoes. I wore the Nike Vaporfly 4% for my 12 hour and 100 Mile World Records. My legs felt great 80+ miles into both races and kept springing. Nike makes the best quality shoes of any brand I've tried, and they now sponsor me as well."
Stuart Mann – ASICS GT-2000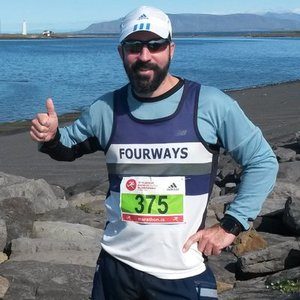 Bio: Stuart has run over 160 marathons and ultramarathons and he is far from done. A self-confessed running addict, he has plans to complete every marathon and ultra in South Africa. When he isn't running, he is a Lean-Agile Coach. You can see more of his accomplishments on his website runningmann.co.za or follow him on Twitter @runningmann100.
"I like the ASICS GT-2000 and have run all 188 of my marathons and ultras in them (not the same pair though!). I have big flat feet and pronate badly – this is the shoe that allows me to run a marathon every weekend!"
Richard Hayes – adidas adizero Adios 3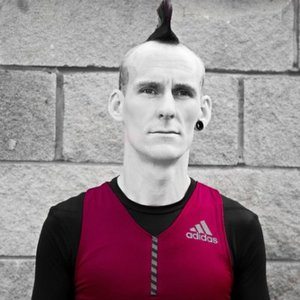 Bio: Rich is no stranger to competing and winning in races. He has over a dozen titles under his belt including Northern Masters 1500m gold medalist and cross country champion, SYCAA Track & Field Meet 3000m winner, and Holmfirth 10k winner. He has also raised over a £1 million for charity through his running. You can check out his website at mohicanrunner.uk or follow him on Twitter @mohicanrunner.
"For me, it would be the adidas adizero Adios 3, a great racing shoe. However, I've found it to be very versatile. I have various versions of the past few years and raced from 5k all way up to a marathon in a pair.
They give you the right amount of cushioning where you need it most but, at same time, are light and responsive enough to power you to a personal best. I also use pairs for both track sessions and tempo runs. I've found that while they are fantastic racing for up to 300 miles, you can double their lifespan by using them for training runs and track stuff."
Lucja Leonard – Salomon S/LAB ULTRA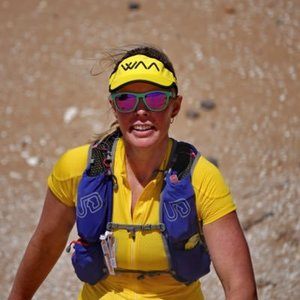 Bio: Lucja first started running to get in shape but soon discovered a passion for it. This is why, to date she has completed multiple races including the Kalahari Augrabies Extreme Marathon and the Marathon Des Sables. She also ran across the Netherlands to raise money and awareness for breast cancer. You can check out her website on runningdutchie.org or follow her on Twitter @Runningdutchie.
"I'd recommend the Salomon S/LAB ULTRA. Salomon have absolutely nailed it with this trail shoe they have developed. It's a precise blend of comfort, fit and grip that works on all types of trails. I've found in my experience that my shoes need to perform in so many varied conditions because even during a race the conditions and terrain can vary so much that you need the shoe to be responsive and comfortable throughout.
It weighs in at approximately 300g, with an 8mm heel drop and built with an internal fit sleeve which hugs the foot nicely in all the right places making you feel secure and comfortable.  This shoe fits well, handles the terrain, and can stand the test of time – they are my go-to racing shoes for sure."
No products found.
Matt Llano – HOKA ONE ONE Clifton 4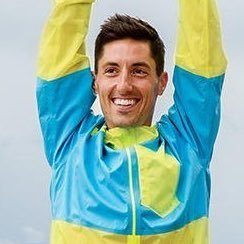 Bio: Matt is all about breaking his personal records as well as those of other runners. This is why he has clocked some incredible times for USA Half Marathon Championships, World Half Marathon Championships, and more. He also came in 6th at the US Olympic Marathon Trials. You can learn more about his story at mattllano.com or follow him on Twitter @mattllano.
"My personal favorite running shoe is the HOKA ONE ONE Clifton 4. It's an ultra-lightweight shoe, especially given the amount of cushioning it provides. It's great for everything from daily training runs to tempo runs, long runs, hard workouts, and everything in between. Additionally, because of the balance it strikes between plush cushion and springy responsiveness, it allows for enhanced recovery between training sessions. It also doesn't hurt that it's pretty easy on the eyes with slick aesthetics for a shoe that looks as fast as it feels. For these few reasons, along with a handful of others, the HOKA ONE ONE Clifton 4 is easily my favorite go-to shoe."
Deena Kastor – ASICS GEL-Cumulus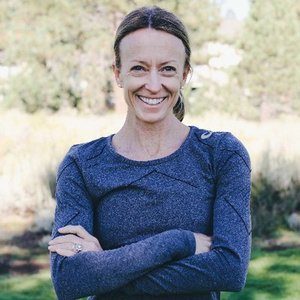 Bio: One of the most notable accomplishments for Deena was winning the Bronze Medal at the 2004 Olympics. She then went onto win a number of other titles, including winning 18 U.S. titles, and was two-time silver medalist at Silver Medals at the World Cross-Country Championships. You can check out more about her work at deenakastor.com or follow her on Twitter @DeenaKastor.
"I am currently loving the ASICS GEL-Cumulus. For me, it is a genius balance of stability, cushion, and fashion. I can enjoy the miles on rocky terrain, roads or the track, and with weeks of high mileage, my legs never feel beat up. They happen to coordinate with a lot of my favorite running outfits including the new line of London Liberty Fabrics."
Sandro Sket – HOKA ONE ONE Clifton 4 + Mach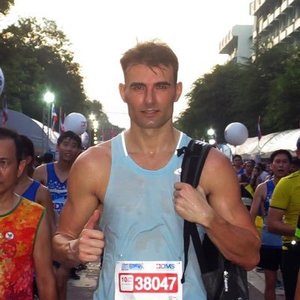 Bio: It is Sandro's competitive spirit that kept him to keep beating his own personal bests in both sprinting and half marathons. It is this same mentality that allows him to train runners and athletes as a NSCA-Certified Strength & Conditioning Specialist. You can learn more about Sandro at www.run4speed.com or follow him on Twitter @sandrosket.
"There's no perfect running shoe for everyone. But for injury-prone runners or those who want to push their running mileage to the edge of what's tolerable, I recommend the HOKA ONE ONE 'Clifton 4' for training and the HOKA ONE ONE 'Mach' for racing. What I like about the HOKAs are their cushioning, minimal heel drop, and stability – and yet they allow for fast running because of their responsiveness."
Luke Humphrey – Brooks Ravenna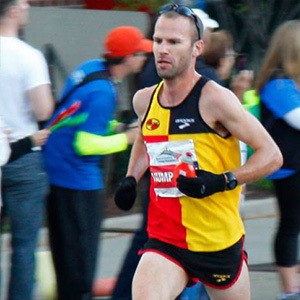 Bio: Luke has certainly powered through a number of races and marathons which has resulted in him earning some rather impressive titles. He has been a two-time Olympic Trials Marathon Qualifier, 10th place at 2010 USATF Club XC championships, and even gotten 9th place in 2008 USATF 15k Championships. He is the owner of Hansons Running. You can check out his website at hansonscoachingservices.com or follow him on Twitter @luke_hansons.
"The best shoe is ultimately going to be the one that fits your foot and provides what you need individually. With that said, my favorite shoe for the last several years has been the Brooks Ravenna. It is lightweight, cushioned, and offers enough support to fit a wide range of runners."
Marina Ranger – HOKA ONE ONE Clifton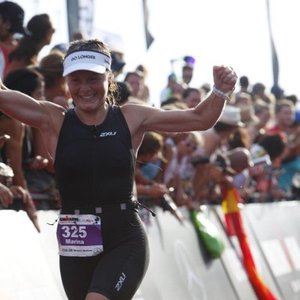 Bio: Marina hasn't just participated in a lot of races, she has made some incredibly impressive times as well. These include Kalahari Augrabies Extreme Marathon, Race to the Stones, Marathon Des Sables, and Wadi Rum Ultra. She also ran the length of The Netherlands to raise awareness and money for breast cancer. You can see more of her exploits at running-ranger.squarespace.com or follow her on Twitter @mranger90.
"My go-to running shoe has to be HOKA ONE ONE Cliftons. I originally bought them to train in for running 500km in 5 days across Holland as I knew I would need extra support and cushioning for many miles on hard ground. I've stuck with the Cliftons since and now use them to train on both road and trails.
They are extremely comfortable and breathable and have luckily kept me injury free. Knee niggles are no longer an issue! I now also take them to race with in my triathlons. A bonus is the fact that they come in such bright colours too! I've had them in fluorescent pink (my Baby Spice shoes) and bright blue and think I need to get my third pair in a new colour for my next race soon!"
Krissy Shreeve – Nike Air Zoom Pegasus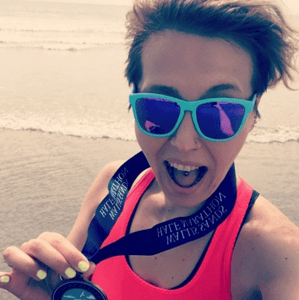 Bio: Krissy didn't start running until she was an adult but she kept with it, soon completing more and more races. In addition to trying to run as much as possible, she also runs a website and podcast dedicated to the topic. Check out what she has to say at badcaseoftheruns.com or follow her on Twitter @badcaseofruns.
"Now, of course–since there are 2 big groups–stability shoes and neutral shoes; I can only give my opinion on neutral shoes, as I underpronate.
Out of everything I've tried and worn out, I can safely say that my favorite running shoes and all their iterations have been the Nike Air Zoom Pegasus (I've had versions 29-34 thus far).  No blisters when running straight out of the box, they fit well, I feel stable in them, seem to get more mileage out of them (as compared to the Brooks PureFlows, Levitates, or Mizuno Wave Riders), and they have some pretty killer colors to boot.  Nikes tend to get a bad rap on narrowness but I have a wider foot (for sure), and I always opt for my Pegasus!  I have 4 current pairs in my rotation!"
Martise Moore – Nike Air Zoom Pegasus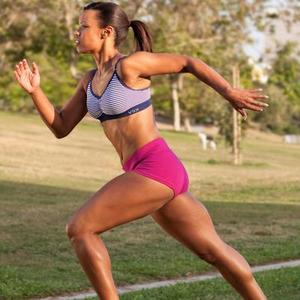 Bio: Martise has the distinction of being a four-time state hurdles champion, continuing her athletic career at USC. These days, she is a running coach, striving to help everyone reach their personal best. She is the creator of GreenRunner. You can learn more about her at www.greenrunnerla.com or follow her on Twitter @greenrunnerla.
"I choose the Nike Air Zoom Pegasus.  Its lightweight and durable support makes it a fast training shoe for long-distance and sprint-distance runners. I prefer its moderate and flexible sole, which promotes optimal foot-strike performance and less ground impact. I also like the Pegasus's stylish design and fun color options.  Plus, I can choose the width of the shoe for maximum comfort."
Amy Friel – New Balance 1500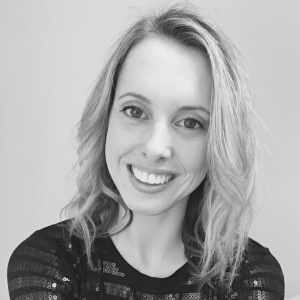 Bio: Amy comes from a long line of marathon royalty which explains why she is constantly after her next best. To date, she has run numerous 5ks, 10ks, half-marathons, and marathons and shows no signs of stopping anytime soon. You can check out what she is up to at thelongslowdistance.com or follow her on Twitter @thefriel.
"I'm on the taller side (for a marathon runner, anyway) with a bit of a wonky gait, so for me, stability shoes are an absolute must. But while many stability shoes can be stiff and heavy, my New Balance 1500s give me the support I need while still letting me feel light on my feet.
1500s are also incredibly versatile: substantial enough to see you through gruelling long runs, while still light enough to be worn as a marathon racing flat. They're easier on the wallet than a lot of heftier stability shoes — a huge bonus for any marathoner that burns through multiple pairs of shoes in one training cycle."
No products found.
Angie Spencer – Altra Escalante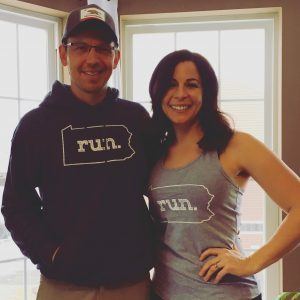 Bio: Angie has racked up quite a record, running 52 marathons, including 4 ultramarathons. She isn't satisfied with just her personal goals which is why she setup The Marathon Training Academy with her husband. Here she helps others to complete marathons, injury-free. See what Angie is up to at marathontrainingacademy.com.
"My current top pick for running shoes is the Altra Escalante. The Altra brand focuses on making shoes that follow the natural shape of the foot with a wide toe box. The Altra Escalante is a great pick for both short and long runs on a variety of terrain. It's a zero drop lightweight shoe with a soft and flexible upper. The midsole provides a surprising amount of cushioning and rebound for a lightweight trainer.  I've logged many miles in them including two marathons and have been very pleased with their performance and durability. While there is no one pair of shoes that works for every runner the Escalante is a shoe that works great for my feet."
Nick Joannidis – Saucony Kinvara 7 + 9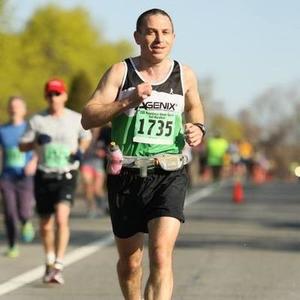 Bio: Nick has pretty much run every running event there is, up to marathons. In fact, he has qualified for the Boston Marathon four times and smashed several of his personal records. He has also coached several teams with great success and now offers his expertise to anyone who is interested in improving their running times. You can learn more about him at http://www.runcoachnick.com or follow him on Twitter @runcoachnick.
"There are many shoes I have used in the past that have been discontinued.  My current favorite pair is the Saucony Kinvara 7 (now Kinvara 9). It is a lightweight shoe and has a nice cushion and it is a little wider, giving me a nice base for my naturally wide feet. I use this shoe for all my track workouts and races. Most shoes don't fit my feet well.  If not too narrow, then they tend to be bulky and too heavy as wide shoes normally are. This brand/style combo has been great for me since I started using it in early 2016."
Caithy Walker – New Balance Fresh Foam 1080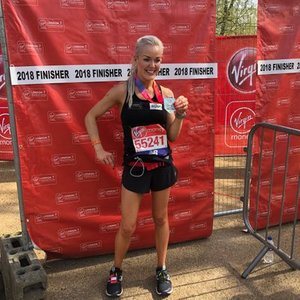 Bio: For most people, running 5ks, 10ks, and half-marathons like Caithy would be impressive enough. However, this runner is even more inspiring considering that she battles through her incurable degenerative disk disease of the spine every day. She shares her positivity, determination, and love for running through social media. You can learn more about her at caithywalker.com or follow her on Twitter @CaithyWalker.
"As a runner, the one piece of kit that is a must is a decent pair of trainers. I've tried every brand on the market and have to say that based on this year and finally running a marathon, I highly recommend the New Balance Fresh Foam 1080 trainers. No blisters after an entire marathon and their advanced cushioning provides the ultimate comfort and support! If you are going to invest, they are worth every penny!"
Andrew Murray – Merrell All Out Rush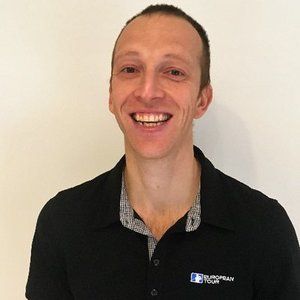 Bio: Andrew Murray has accomplished some amazing runs including a 4,300km run from Scotland to the Sahara desert, he was one of the first people to run across Namib desert, and he has completed seven ultramarathons on seven continents. He has also placed first in various races including the North Pole Marathon, the Gobi Challenge, and the Antarctic Ice Marathon. You can check his website out at docandrewmurray.com or follow him on Twitter @docandrewmurray.
"Merrell All Out Rush is my favourite shoe. It's a great all-rounder that I use on the road, and the trail, and am also happy to recommend to people looking for a comfortable, versatile running shoe. It's hard wearing and easy to clean also."
Krissy Moehl – Vasque Trailbender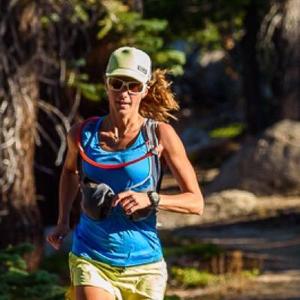 Bio: Krissy has spent 17 years of her life engaged in ultra running. The results that she has to show are stunning. A tiny taste of these are: circumnavigating Mt. Kilimanjaro, 106 mile crossing of Patagonia National Park, and placing 16th overall in the Lesotho 50k Ultra. To find out more about her, you can check out her website krissymoehl.com or follow her on Twitter @krissymoehl.
"I love the Vasque Trailbender. As one of their sponsored athletes I worked on the development of this shoe from the first sample. I love the level of cushioning, support, and protection offered in this trail model. The traction is perfect for my backyard, muddy, rocky and mossy trails. They also travel well for a variety of terrains. I wore a brand new pair for the Gaoligong 160km race in China just two months ago. Same pair start to finish."
Jason Romero – HOKA ONE ONE Bondi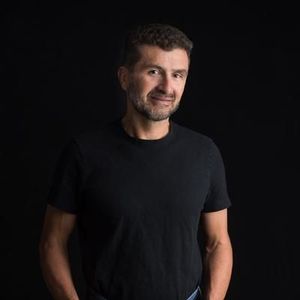 Bio: Despite having a visual impairment, Jason never let that stop him from following his passion for running. He was first encouraged to run competitively while raising money for a charitable cause. Since, then he has gone on to complete a number of races and has been the first blind person to complete an ultramarathon and run across America. He has even broken World Records. You can find out more about him on his website www.relentlessromero.com or subscribe to his YouTube channel.
"HOKA ONE ONE Bondi has been bulletproof in HOKA's line up since the company's early years. It underwent a few overhauls but has continued to be a workhorse.
HOKA's max cushion approach to running shoes has been perfect for my high mileage training sessions which take place mostly on concrete and asphalt. The upper in the shoe has become increasingly more comfortable with seamless logos and it comfortably fits most feet. They even created a 2E wide shoe for people who have flat feet, like me. I'm able to routinely get 1000 miles on a pair of shoes in training.
HOKA's designs and color schemes have improved, and made it less "courageous" to wear max cushion shoes casually. For runners who are experiencing pain while running, my first piece of advice is to train their foot strike cadence to be 180 foot strikes per minute. My second piece of advice is to try a pair of HOKA ONE ONEs."
Mark Sullivan – ASICS GT-2000 Series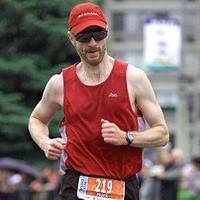 Bio: Mark has completed a whopping 176 marathons and has even partaken in several ultramarathons. In case that wasn't impressive enough, he has also qualified for and run in 32 consecutive Boston Marathons. He acts as a coach and teacher to those who want to improve their running. See what he is up to at www.irunicoach.com.
"Choosing one 'best' running shoe is subjective and depends on the needs of the user. Instead of 'best', I prefer the term 'most suitable'. Most suitable would be the shoe meeting the biomechanical needs of the most runners. For the majority of runners I coach, the ASICS GT-2000 series has been most suitable. (ASICS GT-2000 6, being the latest model.)
The ASICS 2000 series basically created the structured cushioning category when it was first introduced. The shoe is an excellent blend of cushioning and support with a minimal amount of control so it can be worn by anyone except those requiring extreme motion control or very high arched toe runners. That means the ASICS GT-2000 is suitable for up to 75% of all runners.
I often refer to the GT-2000 as a "workhorse" because the shoe is a durable and good choice for most daily runs. The fact the shoe is moderately priced and less expensive than many shoes of comparable quality and mileage make it an even more suitable choice for most."
Jeff Pelletier – Salomon SENSE PRO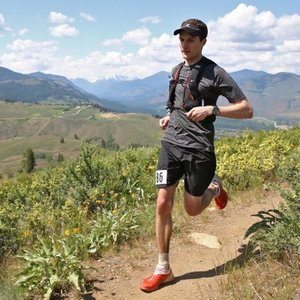 Bio: Jeff Pelletier has progressed from road running to trail and ultra-distance running. This has seen him run a number of marathons as well as take part in competitions like the Fat Dog 120 mile race and the Grand to Grand Ultra. He has also run in some truly breathtaking spots like the Grand Canyon and Mount Rainier. You can check out his website at jeffpelletier.com or follow him on Twitter @jpelletier.
"My go-to is the Salomon SENSE PRO. It's got enough grip for most conditions, but is comfortable enough for long training runs and races. I can wear a pair of these for a 100 mile race without once thinking about my feet or getting a single blister. It's also perfectly priced as a high mileage trainer."
Well, as you can see, you can put all of this information to good use. You are now aware of not just what some of top running shoes are, but also which ones suit specific situations.
So, you are going to find it a lot easier to figure out which running shoe is for you by gathering details offered up by the experts.
Now, that you know what some of the top runners in the world have to say, tell us what you consider the best running shoe to be?
Related Guides: 50 Outdoor Activities You Can Do Right Now