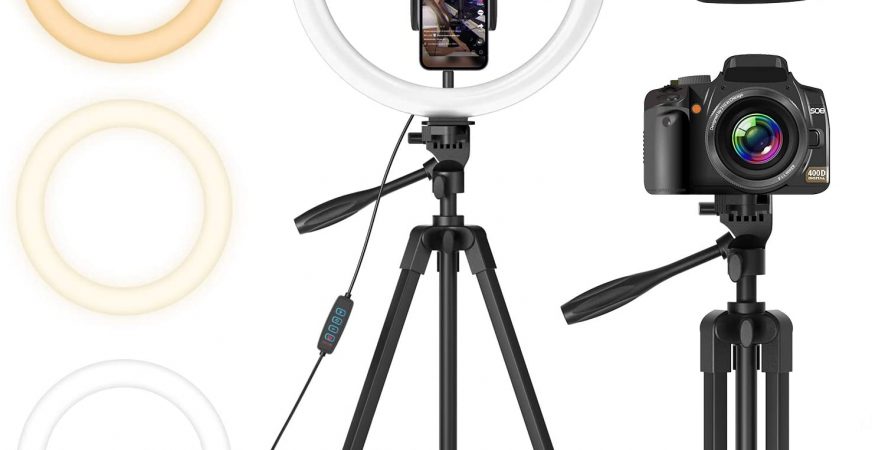 Best Ring Light for YouTube, TikTok, Vlogging, and Photography [2023 Version]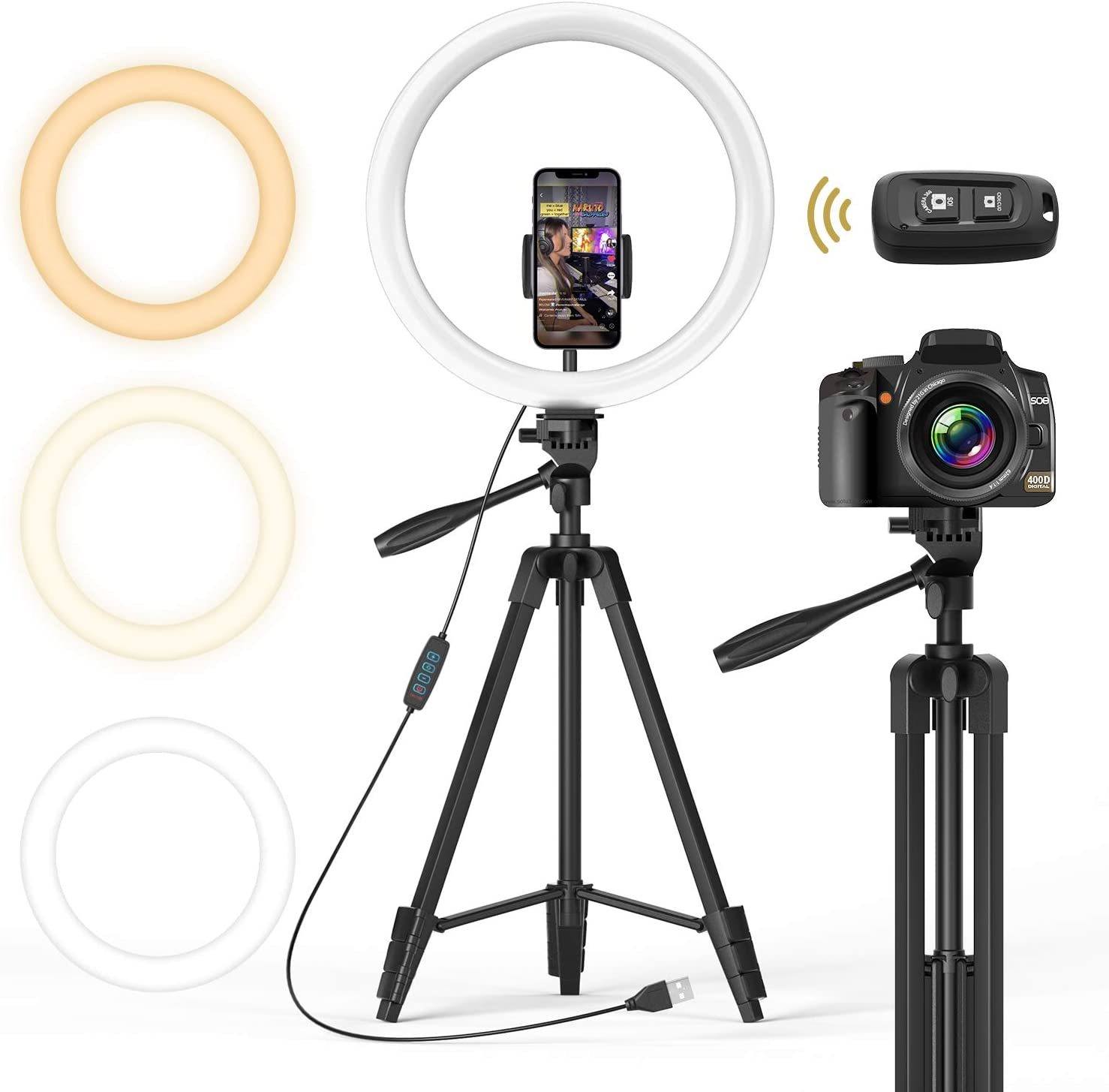 Last updated: 3/16/2023
If you are looking for the best ring light, because, well, you're looking to create a YouTube vid, a TikTok, a continuous Vlog, a how-to-do makeup channel/vid or to shoot some great photography or video, then you're in luck, because Consumer Help Guide is going to help you…
We reviewed a bunch of ring lights and the below came out on top. We like ring lights because of their overall utility and costs outlay.
With mobile phones continuously advancing, one's need to mount their phone to something while having the ability to control it (remotely, pun-intended), with the much needed added touch of lighting, ring lights are definitely a product that fit a need.
Additionally, these ring lights fold up pretty easily into a luggage or back pack, so traveling with them shouldn't be a huge issue. The biggest issue, admittedly, will be packing the ring light component itself since it technically can't be folded, but it's not that challenging since most of them range in 10 to 12 inches in overall diameter. The below choices represent the best ring light for YouTube, TikTok, Vlogging, and Photography interested people…
The Best Ring Lights Reviewed – 2023
1. TONOR 12-inch Selfie Ring Light with Tripod Stand
Another great product from TONOR (https://www.tonormic.com/). This TONOR TRL-20 features a 12 inch ring light – yes – a 12 inch ring light powered by 160 quality LED bulbs, which makes it significantly brighter than 10 inch models out in the market. This is significant, especially when you're shooting video in low-light conditions.
The TONOR TRL-20 features 3 color settings (cool white, 5,800K-6,500K / warm white, 4,100K – 4,700K / warm yellow, 2,700K – 3,300K) and has a 20,000 hour span of life for the lighting.
You can adjust the ring light and mobile phone side-to-side and up-and-down with the included handle very easily for those perfect angle shots you're looking for. The handle also serves as a mechanism for adjusting the resistance levels for adjusting the ring and mobile phone vertically and horizontally, which is pretty cool.
The phone mount will accommodate smaller phone devices as well as the larger phone devices (aka phablets), such as a Samsung Galaxy Note.
The included Bluetooth remote shutter allows you to initiate your phone's video or photo image function, depending on what mode you're currently in, of course. For instance, if you're in photo mode, then clicking the bluetooth shutter button will activate that function.
All in all, great form, great function and why we recommend TONOR's TRL-20's 12″ Ring Light – https://www.tonormic.com/collections/ring-light as a great ring light you should definitely consider.
Pros:
Can extend your 2 year warranty to 4 years if you register the product at Tonormic.com
Easy to set-up and great light output
Cons:
When seating your mobile phone in the included phone mount, especially in portrait view there isn't a bottom seating point, so just be careful when mounting and dismounting your mobile device
2. UBeesize 10-inch Ring Light
Another contender for best ring light is this product from UBeesize which features a 10" ring light featuring 3 light colors (Warm, Cool White, Daylight) and 11 levels brightness in each color, 33 options in total because you'll be able to use the included Bluetooth remote to raise or dim the light settings with a click of a button.
Height-wise, which is very important, with an adjustable stand that can extend to a 50" extendable height (range from a low of 16 inches up to 50 inches). Of course, you can always twist and turn the cable mount which your mobile phone will be attached to in order to get the right angle you want for your photo or video shots.
A notable feature is that the cellphone is placed inside the ring, which allows for your mobile phone in the ring to make the most of the lighting.
The phone clamp is large enough to handle the larger phones, such as a Samsung Note. There is an adjustable handle that lets you adjust the light ring and the mobile phone angle side to side or up and down as you need. Power source-wise, it's USB enabled, so that means you'll need to plug this Ring Light into either a power source that has a USB female-side (think a computer or external battery).
Pros:
Comes with a 3-year replacement warranty if any part fails comprised of the stand fails, such as the stand, ring light, Bluetooth remote)
Cons:
When seating your mobile phone, especially in portrait view there isn't a bottom seating point, so just be careful when mounting and dismounting your mobile device
3. Erligpowht 10-inch Selfie Ring Light
Another contender for best ring light is this Erligpowht 10" Selfie Ring Light and stand is somewhat typical of the top offerings, but at the moment, what sets on this list is due to pricing value.
Features-wise, it has a 10" ring light with 3 color modes (120 LED bulbs): a white, a warm yellow and warm white, and can extend from 17.5 inches to 50 inches in max height.
Of course, it has a Bluetooth enabled remote so that you can operate your phone's camera/video function as needed with a click of a button when you're ready to record, take photos, or stop recording a video.
One thing of difference this stand has is the phone mount clamps onto the main body or stem of the ring light stand as opposed to inside the ring light itself. That may be of preference to some users while it may not be for others.
Cons:
Be careful with mounting and dismounting your phone from the mobile phone mount
Related Guides: The Best Gimbal Stabilizers for Your Smartphone on a Budget