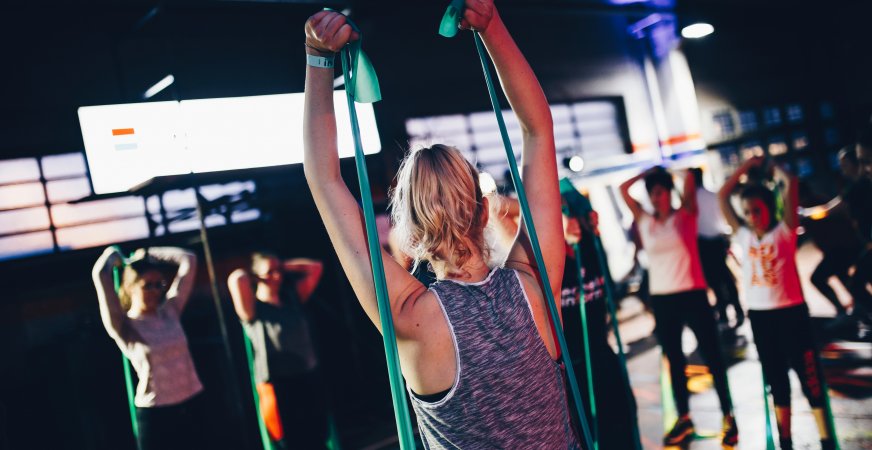 5 Best Resistance Bands [2023 Version]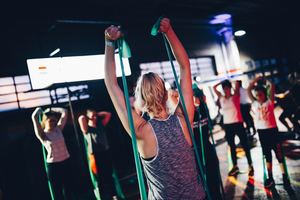 Last updated: 3/24/2023 | Read Time: 3 Minutes
If you are looking to take your workout up a notch, then you are going to need tools to increase the level of complexity. Resistance bands do exactly this for you in a portable and easy to use manner.
Of course, the only way to really benefit from all of the advantages afforded by this equipment is to choose the best resistance bands out there. Unfortunately, this can be a little more difficult than you would imagine, due to a considerable number of products on the market.
A good resistance band will offer you the right amount of tension, be simple to work, and be durable.
Fortunately for you, we decided to do most of the heavy lifting for you. Below, you will find all that you need to know about the top resistance bands and how you can differentiate the mediocre from the best.
Top 5 Best Resistance Bands – 2023
These resistance bands come with five different tension levels – extra-light, light, medium, heavy, and extra-heavy. They are each color-coded to make it easier to discern them.
As a result, you will find these bands useful regardless of where you are in your workout journey. So, whether you are just starting out or are well on your way to being a professional athlete, these bands are suitable for all.
At the same time, each of the bands is incredibly lightweight, making them simple to store and carry, wherever you want.
The only minor issue with these is that the lighter tension bands tend to roll up quite a bit when you are working out.
The other advantage with these bands is they are durable and well-made. They are constructed from 100 percent genuine latex.
This means that they will not easily snap or break while you are using them. Furthermore, they have also been designed to be comfortable and gentle against your skin, thus avoiding any adverse reactions from the material.
The bands have been constructed to last you a long time so not only will they not snap, but they will also not stretch out beyond repair. This makes them an excellent investment for anyone.
They are sweat resistant which means they are a great deal easier to maintain, even if you exercise rather intensely.
+Pros:
Different tension levels
Maintains flexibility
Durable
Safe for skin
Sweat resistant
-Cons:
Lighter tension bands can roll up
Are you looking for a set of resistance bands that you can use to help you in every step of your fitness endeavors? If so, then this will be the set for you.
Now, there are five resistance bands in this package, all color coded so that you can find it easier to tell them apart.
They provide the following tension levels – 5, 15, 20, 30, and 35lbs. What's more, they are stackable which means that you can use them in any combination that you can think of, up to 105lbs.
Then, there is also the fact that you get quite a few accessories with the bands as well. This includes a door safe anchor, soft grip handles, and ankle straps.
The minor problem here is that the clips that you use to attach all of these accessories are quite small which makes them a bit difficult to work for most people.
The good news, however, is that the resistance bands are actually made from high-quality materials. They are constructed from silicone latex which makes it a great option for those with sensitive skin.
This quality also ensures that the straps will not snap, dry out, or be deformed in any way, even with continuous use.
+Pros:
Highly durable
Lots of tension levels
Maintains flexibility
Good for sensitive skin
Lots of accessories
-Cons:
Clips are a little small for most
With this package, you get four fitness resistance bands to choose from. This means that you have a wider variety to choose from when selecting your preferred tension levels.
The bands offer the following four different tension levels to users – 5 – 35lbs, 10 – 50lbs, 25 – 80lbs, and 50 – 120lbs.
As you can see, these bands have something to offer for every workout enthusiast, regardless of your capabilities. It also provides you with a way to slowly improve your fitness levels as you go along.
Now, these bands are made from 100 percent latex and many of the latex allergens have been removed.
Still, you may find that a strong latex smell lingers on the bands and they may not be suitable for those with sensitive skin.
Despite this, you can ensure that the bands are quite strong and tough, nonetheless. They are able to hold their shape for a longer period of time and don't snap even when used vigorously and often.
In fact, these bands are so strong that you can use them with other types of gym equipment and take your workout to the next level.
+Pros:
Tension levels allow for progressive training
Good durability
Can be used with gym equipment
Maintains flexibility
-Cons:
May not be suitable for those with sensitive skin
Do you want a set of resistance bands that will help you to progress as a fitness enthusiast? If so, you will find that these bands are exactly what you need.
See, there are four bands in total and each of them has different tension levels, depending on how much you can manage.
These are as follows – 10 to 35lbs, 30 to 60lbs, 40 to 80lbs, and 50 to 125lbs. They are color coded so that you can easily tell them apart.
Now, depending on the tension, the bands have different widths. This is so that the bands can be used together to create even further tension.
You will have no trouble at all, customizing the tension for your precise workout needs.
Made from layers of rubber, these bands boast quite a bit of durability which means that you can perform your exercise as vigorously as you need.
Furthermore, you don't have to worry about the bands snapping or being damaged in any way, either. They are also able to maintain their flexibility, even with continuous use.
It should be known that these bands have a rather smooth surface. So, when you are using it against your skin, you may discover that it is rather slippery to work with.
+Pros:
Lots of tension levels
Great durability
Maintains flexibility
Can be used together
These resistance bands are a great option for anyone who is just starting to work out and wants lower tensions to begin with.
You get five resistance bands in this package and have varying tension levels. These include 3, 5, 8, 13, 19lbs so that there is something there for everybody.
One of the perks of these bands is that they are quite slim which ensures that they are stackable and can be used together. This means that you can go all the way up to 98lbs if you choose to.
So, one of the biggest fears that people have when using resistance bands is that they will snap and hit your body.
Well, this isn't a problem that you need to be concerned with this set. Why? Well, this is because they have anti-snap properties.
This is all thanks to the construction of the bands. They have nylon and ABS plastic cores, strong inner safety cords, and finally high-quality latex on the top.
In case all of this wasn't enough, these bands also come with their own accessories. You get to utilize a door anchor, handles, and ankle straps.
The only issue with this is the clip attachment system can be rather uncomfortable to use for some as it can rub against your wrists.
+Pros:
Lots of tension levels
Can be stacked
Anti-snap features
Has accessories
-Cons:
Clips can rub against your wrists
Things to Know When Buying Resistance Bands
In this section, we will take a look at all of the information that will be most useful to you when you are purchasing resistance bands.
Different Types of Resistance Bands
Technically, there are two main types of resistance bands that you can select from – flat and tube bands. Let's take a closer look at these:
Flat Resistance Bands: as the name suggests, these resistance bands are flat and thin. This design means that it is easier to keep the bands fixed around your body, making it ideal for lower body workouts. So, if your main fitness goal is to focus on your thighs, calves, and ankles then this would be a good fit for you.
Tube Resistance Bands: these bands do resemble very narrow tubes. What sets them apart is that the ends of these can often be attached to other accessories such as handles, ankle straps, and various anchors. If this is something that you are interested in, then you will find these tubes to be rather useful. Now, you should know that tube bands that have permanent attachments are known as fit tube bands. On the other hand, if you can switch out the accessories, then it is considered a clip tube band.
The Main Features of Resistance Bands
Now, let's consider all of the features that are most significant when choosing resistance bands:
The Tension Levels
As you will have noticed, each type of band has varying tension levels. This is the amount of resistance that you can face, whenever you use the bands.
Now, the tension level you choose should depend on your physical capabilities. For instance, if you are just starting out or are merely looking to do light exercise, then a lower tension is required.
On the other hand, if you are all about making your exercises more complex or want to increase flexibility, then a higher tension is required.
In truth, though, you will find that it is best to get a set that offers a variety. This way, you will be able to use the resistance bands to progress through your fitness levels.
It can also be helpful to have bands that can be stacked together. You can then customize your resistance preferences more easily and can also increase the total tension that you can utilize.
Durability
Considering how resistance bands are used, it should come as no surprise that durability is a rather important factor. After all, you don't really want the bands to snap while you are using them and injure you.
This is why you should stick with resistance bands that are made either from silicone or regular latex. Not only are these materials flexible, but they are also known for being quite strong.
You should also keep in mind that durability also refers to just how well the resistance bands are able to spring back into shape after being used. So, look for one that has a higher level of elasticity to prolong the lifespan of the resistance bands.
Comfort and Ease of Use
As you can imagine, you aren't going to use resistance bands that aren't comfortable while exercising. This is why you should look for a material that works for you.
This is especially important if you have certain allergies or sensitivities to contend with.
At the same time, you will also require bands that are simple to work and use. You should be able to switch between accessories within moments and shouldn't have to think too hard about how to use your resistance bands.
Things to Look for When Buying Resistance Bands
Here are some tips that you can rely on to make it easier for you to choose resistance bands:
Accessories: if you are looking for a full body workout, then you should get bands that are equipped with a greater number of accessories. By doing this, you will be able to use the bands in different ways, ensuring more versatility.
Color-Coded: if you don't want to waste time trying to decode what tension level each band provides, get a set with color-coded Here, the bands with lower tensions will have lighter shades while the higher tension bands will be darker. This makes hassle-free for you to work out.
Sweat Resistant: since you can perspire quite a bit while you exercise, it can be helpful to opt for a set that is made from sweat resistant or moisture wicking material. As such, you will find that the bands maintain their properties even later on into your workout.
Conclusion
To summarize, when choosing resistance bands, make sure that you opt for ones with varying tension levels, greater durability, and enhanced flexibility.
If you are looking for resistance bands for a lower body workout, then you will find that the Fit Simplify bands are the best option.
However, if you would like to utilize more accessories while you exercise, then the Bodylastics and Tribe sets will be a much more suitable choice for you.
In case you prefer greater resistance and a more versatile workout, the WODFitters and Serious Steel sets will provide you with what you need.
This is all that you need to be aware of when choosing resistance bands for yourself. This information will make it much easier for you to come to a decision.
Related Reading: