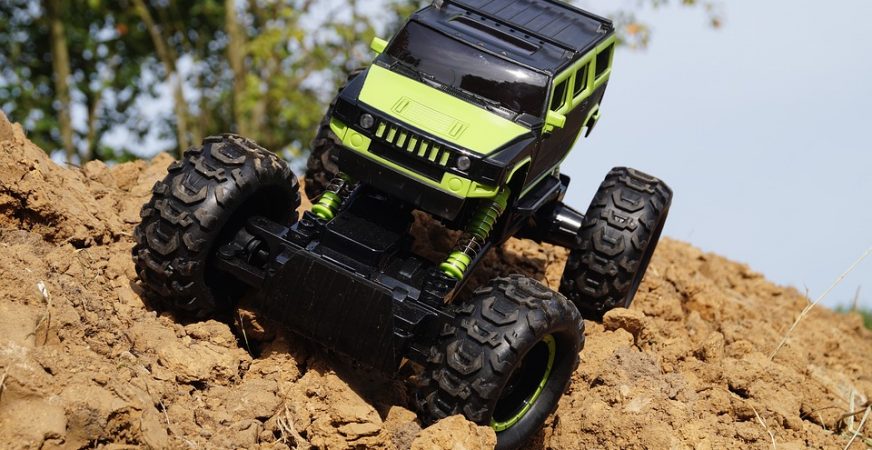 4 Best RC Cars Under $100 (2021 Update)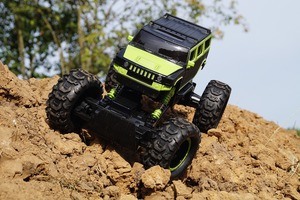 Sometimes it is distressing to walk into the toy store and see that all your favorite remote control cars are priced way over what you can afford.
And it is easy to feel like any remote control vehicle (RC vehicle) of a really good quality is just going to cost more and more.
Racing with RC vehicles is a popular hobby not just among children but grown-ups as well. And the technology that goes into them is also pretty advanced.
A lot of RC vehicles can boast some rather impressive capabilities. If you are really into these but can only spend so much, you have come to the right place.
The cars on our list may not be premium build quality but they still make a sweet deal on any given day. So here's that golden list of RC vehicles:
No products found.
Best 4 RC cars under $100 – 2023
1. Maisto R/C 27Mhz (3-Channel) Rock Crawler
You know just by looking at the way it has been positioned in the box that this thing is capable of some impossible tricks.
The Rock Crawler has two motors and low gearing which make for rugged off-road action.
The RC vehicle itself runs 6AA batteries while the remote control requires 2AAA batteries.
It features a tri-channel transmitter and impeccable off-road capability.
The Rock Crawler can almost deliver as much of a thrill as a real off-roading experience except without the danger element.
Its TPE tyres ensure that the grip is mighty and the tri-channel transmitter allows three people to play – each with their own vehicle – at the same time.
It is extremely good value for money. The main criticisms have been on batteries and climbing abilities.
Sometimes, it can be annoying to deal with two different batteries and opening the compartment in the vehicle can be a bit of a tussle.
Climbing is not so good on steep slopes even with the mountainous grip.
It is also rather lacking in the speed department, but in a way, that makes it ideal for small children to play with.
+Pros:
Plenty of grip
Thrilling ride
Multiple vehicles can be used simultaneously
-Cons:
Uses two different types of batteries
Battery compartment can be difficult to access
Not very good at steep climbs
2. Hosim 4WD 2.4 GHz RC Truck 9125
A great low-cost but high-performing toy RC car is this example by Hosim. The four wheels consist of bouncing spring materials which give support to unexpected dropping and the unstable surface of the ground, which is important for an RC of this nature, and all metal sealed ball bearings are special designed for tough environments and any rugged roads.
It has a pretty cool look that is aerodynamic and aggressive, but that's hardly the best feature of this RC car.
What we really liked is that it can reach a max speed of up to 46km/h (30mph). The range can be maintained even when running uphill and downhill.
The actual size of the truck is perfect, no too large but big enough to handle quick turns.
Be aware: while this RC car is fairly rugged, it would be best to keep clean and oiled.
+Pros:
Solid suspension
Aesthetic design
Fast
-Cons:
About average battery life
3. Hapinic RC Remote Control Car Blue Color
This blue RC car not only looks rad, it's built with top-quality material. The biggest perk is obvious from the beginning:
Unlike most other products, this RC car is made from harmless plastic. Even the electronic components would not cause toxic chemical leaks when degrading.
The car itself is built like a massive RC monster truck. Two batteries enable the 4WD drive.
This toy is an off-road vehicle with 1/18 crawlers. You can ride this car on sand, grass or gravel with relative easy.
Plus:
The RC monster truck has a 2.4GHz radio receiver. The car has an anti-interference feature to make sure playtime is as smooth as possible.
The control range is wide. You can control it within a 100 meter radius. Between 80 and 100m is the recommended range.
Each battery is 700 mAh in capacity. The total playtime is about 30 minutes with one battery lasting up to 15 minutes.
The battery capacity could certainly have been larger. The charging time, too, takes about 60 minutes for about 15 minute playtime.
One big downer is this:
The speed reaches only about 15 km/h. It's not super-fast for playing with pets. Kids would still love the car.
+Pros:
Off-road drive
Two batteries included
Anti-interference radio receiver
Wide control range
Eco-friendly design
-Cons:
Low battery capacity
Long charge time
Not very fast
4. FITMAKER RC Cars (Upgraded Version)
No products found.
The upgraded Fitmaker RC car is optimized to thrill players. The new design looks cool and improves upon the functionality of the car.
This RC car is an all-terrain toy. The monster truck-shaped toy can ride on just about any outdoor and indoor surface, including open road, grass, carpet, tile, and even muddy puddles.
The desert buggy design is built to 1:18 scale. The RC car is made from high-quality ABS plastic. It won't fall apart after using once or twice!
The toy is so durable, it has tires made from PVC rubber. That allows the car to ride on a wide variety of terrain without losing friction.
Super cool perk:
This RC car can reach speeds up to 20 km/h. It's great to use even with pets chasing it.
Because the toy is so speedy, it comes with overheat protection. Overall, the toy is very user friendly.
The remote controllers have a good range up to 100 meters. The remotes require their own batteries, which is a bit of a downer.
Everything is great expect for the battery capacity. The 700mAh batteries offer only about 15-18 minutes of playtime.
Charging takes 2 to 3 hours. Therefore, make sure to purchase additional batteries to manually extend playtime.
+Pros:
Excellent off-road design
Tackles a variety of indoor and outdoor terrain
Rubber tires with good grip
Made from high-quality plastic
Speedy
-Cons:
Low battery capacity
Remote is not rechargeable
For Your Consideration: Tamiya 58346 The Grasshopper RC Car
At the time of this edit, the Tamiya Grasshopper is now been adjusted to be a tad above $100, however, we felt it noteworthy to as recommendation. The Japanese brand Tamiya designs low-cost but high-performing toy RC cars. We were highly satisfied with the reliability and durability of this product.
It has a really cool look that is kind of futuristic. But that's hardly the best feature of this RC car.
What we really liked is the range, which can reach up to 300 feet. The range can be maintained even when running uphill and downhill.
This is an off-road RC car with an RWD drivetrain. It's equipped with a 380 type motor.
But the car is also compatible with 540 type motors. You will have to buy one of these separately, however.
The car is actually tested for safety and durability. The parts arrive separately and have to be assembled.
Assembly won't take much time. We managed to assemble this in less than 30 minutes.
This is probably one of the easiest RC cars to assemble out there, in our opinion.
Be aware:
This kit requires purchasing some additional items. For starters, this RC car requires a 7.2 battery and a charger that needs to be bought separately.
We also bought some additional paint for the kit. Not everyone would be happy with having to buy extra accessories.
The final price of the product, of course, will be higher once all these additional components have been bought.
+Pros:
Easy assembly
Excellent range
Off-road drivetrain
Tested for safety
-Cons:
Requires separate battery and charger
Tips for Buying an RC Car with a $100 Budget
There is not much to worry over what to look for in a good RC car.
Even if you are shopping for one on a budget, the following criteria should be met at a satisfactory level at least.
First off, size. Depending on where you will be driving it, you may have a particular size in mind that would be ideal.
As far as we are concerned, the ideal scale is around 1:10. If you want a toy that is agile and can negotiate tiny trails, you should go for a tiny size.
If you want one for ripping up dirt and terrorizing all the pets in the neighborhood, anything that 1:10 and above should do nicely.
Then there is the brand name behind the product.
Different brands retain slightly variable privileges like customization and further upgrades, so find out your car's full potential in those areas prior to purchasing it.
Other desirable factors to look for in a good brand are reliable customer support as well has high quality build components and performance.
And finally, price.
Of course, if you are shopping for something below $100, all you have to mindful of is that the toy fulfills all the aforementioned criteria to your satisfaction.
With that taken care of, you will little else to do but indulge yourself with your latest toy.
Related Guides: Toy Safety Guidebook: Everything Caregivers Need to Know