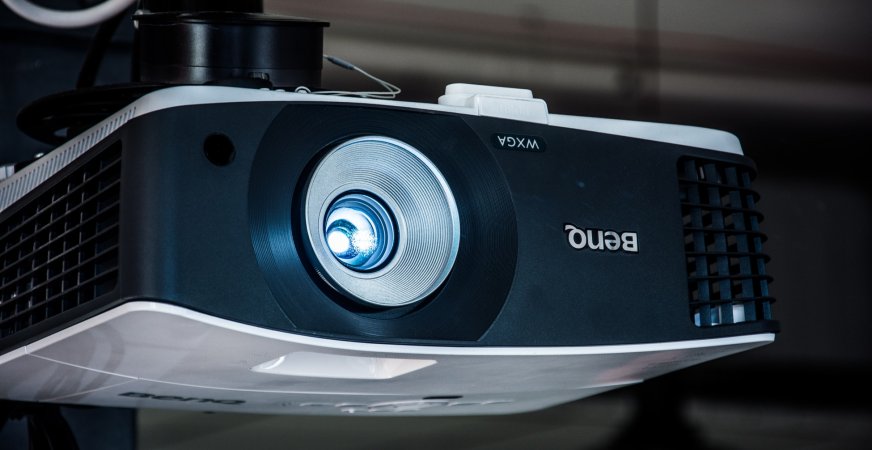 5 Best Projectors Under $500 [2023 update]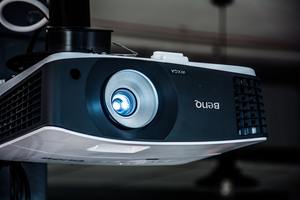 Last update: 3/20/2023 | 5 minute approximate read time
If you're a movie buff, you know how important a good projector is for the perfect screening experience. That's why we'll be assessing the many projectors in the market so that you can get your hands on the best projectors under $500.
Top 5 Best Projectors Under $500
The top 5 projectors on the market for our budget will be discussed below. By the end of this list, you'll be sure to find yourself the right fit.
The Viewsonic provides a longer lamp time than the Optoma, coming in at 15,000 hours.
Although it produces high quality images, at HD, and the focus is easy to adjust to near perfection. No softness at the edge of the screen. It offers a lesser resolution than its counterpart as it's projections are only 1280×800.
Whatever it projects is high in contrast as well, with a dynamic contrast ratio of 22,000:1.
Moreover, you can expect well-lit images as the Viewsonic utilizes 3600 lumens.
The remoted is easy to navigate and should take you about 10 minutes to all-in-all set up, so you can start running movies off your cell phone or lap top. Take note: it does not have a port for flash drives/USB.
In terms of connectivity, you can plug it into anything as it comes with HDMI and VGA capabilities.
+Pros:
Great brightness
Superb picture quality
Easy to set up
-Cons:
Instructions can be difficult; options aren't documented well
The Optoma provides incredibly sharp images, coming in at 1920×1080 resolutions. The images are further made crisp and clear because of how the projector deals with the film's colors.
It uses high contrast, reference display mode, and RGB to bring the colours to life, even in the most well-lit environments. It uses 3,600 lumens, which fully lights up the room with its projections.
You can expect the Optoma to last 8,000-10,000 hours, with an average of 3-4 hours use time per 8 years. This alone is why it's so great, making the Optoma the best projectors under $500.
Moreover, you can attach the device to almost anything as it comes with HDMI and USB capabilities, letting you hook the projector to any gaming console or laptop.
Quick Updated Note: Inventory may be low for the Optoma HD146X.
+Pros:
Easy to use
Easy to set up
Superior picture quality
Bright projections
-Cons:
Limited keystone
Limited zoom
ViewSonic is a leading brand when it comes to projectors. This model is just as great as the offering in the number one spot, giving it a run for its money due to its value.
Here's why:
The projector comes with 3D projection, making viewing experiences superb, especially if you're planning on using the device to game or watch movies.
It also produces strong quality images at native SVGA 800 x 600 along with 3,800 lumens making the projections bright enough to be seen even in the most well-lit rooms.
It offers high contrast with a dynamic contrast ratio of 23,000:1 .
The projector has an extended lamp life of 15,000 hours letting you use it for 3-4 hours every day for 10 years without a problem.
-Cons:
While inexpensive (relatively speaking), 800 x 600 resolution is still not 1080 that people may ultimately desire
4.
No products found.
No products found.
Vankyo's Performance V610 Full HD 1920 x 1080P projector comes with 40° 4D (vertical & horizontal) electronic keystone correction function to ensure the projected image is always a standard rectangle.
If you purchase this projector, you can expect a high dynamic contrast ratio of 5000:1, and 50,000 hours lamp life. Although crisp and clear, what makes this projector so great is that it offers widescreen HD entertainment. The video projector offers the projection size from 45″ to 200″ (9.84 ft or 3 meters is the recommended viewing distance)!
Of course, it is quite bright, utilizing 6,000 lux (lumens).
This projector has a built-in 5W dual stereo speaker and SRS sound system that provides an solid listening experience without the need for an external speaker. It runs 3 fans simultaneously using the latest "SmarEco" technology to minimize noise and reduce lamp power consumption. There are also 2 HDMI ports, 2x USB 2.0 ports, VGA, AV out, and a headphones jack.
At this current juncture, Vankyo is noted to to be providing a 3-year money back guarantee, which is great for peace of mind.
+Pros:
Great value for the money
Good picture quality
Solid sound quality
If you want a projector for gaming, this is for you. It offers one of the best projections from the models on this list as it uses 3500 lumens with 1080p resolution images.
That's not all, it also utilizes SuperColor technology, providing an incredibly vivid experience.  Along with this, a dynamic contrast ratio of 12,000:1 is used.
Moreover, it offers connectivity to 2 HDMI cables and a USB A port.
+Pros:
Great connectivity
Very vivid projections
Great lamp life
Good for gaming
-Cons:
Considerably heavy
Rainbow effect can take place
Things To Know When Buying A Projector
Now let's discuss the essentials that will help you make the best possible purchase.
Different Types Of Projectors
In terms of projectors, there are 2 majors types on the market. They are:
LCD Projectors
These use an LCD panel to pass light through it, controlling the intensity of the colours that are used. Thus, the vividness of the projection.
It does this by using polarized mirrors that separates light into different colours.
DLP Projectors
Most of the projectors on this list are DLP. This means they have a myriad of chips inside them, each reflecting light.
The chips break down light into different colours that pass through. At the end of the day, the images produced are much clearer and crisper than its LCD counterpart.
The Main Features Of A Projector
If you're buying a projector, you should be aware of these features as they can help you determine how good it is.
Brightness
If you want projections that are well lit, even in the brightest rooms, you need one that has a great lumen value.
For example, one that has 3600 lumens produces images brighter than a 3000-lumen projector.
Connectivity
You need to attach the projector to a media device to project an image onto the screen.
The more types of connectivity present, the more types of devices you can hook the projector to.
Contrast
The higher the contrast ratio, the more vivid the images you'll get.
Things To Look For When Buying A Projector
We'll be going through tips you should know about, so keep reading.
Lamp Life
Look for a projector that has a long extended lamp life, as this will make your purchase a great investment no matter how expensive it is. Plus, you'll be able to use it for a long time.
What Are You Using It For?
If you're using the projector for work or presentations, get one that offers the highest lumen count since the environments you'll use the projector in will be well lit.
Size
If you're constantly on the move, a projector that is smaller is the best choice for you.
LCD or DLP?
Get a DLP projector if you want crisper images.
Conclusion
The mentioned projectors are some of the best on the market. If you want the best one for $500, get your hands on the Optoma HD143X.
This is because it has a great lamp life, crisp images, contrast, and brightness. If not, the ViewSonic PA503W is a good choice as it gives the Optoma a run for its money.