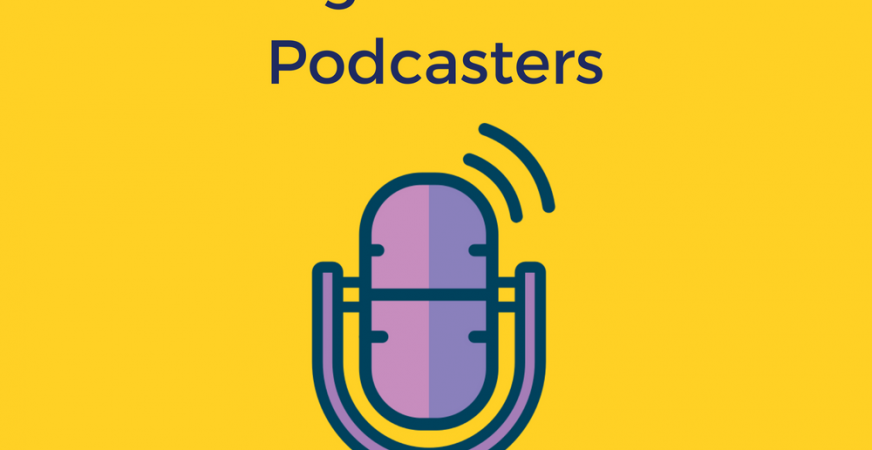 18 Experts Spill the Beans on the Best Microphone for Podcasting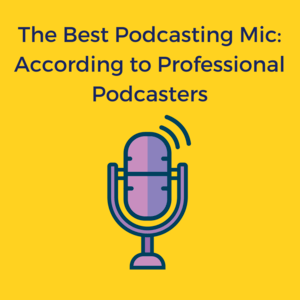 Every podcaster knows the unique challenges of choosing a great microphone for a show.
After all, the success of your podcast will depend on how great it sounds, literally.
Podcasters often face a dilemma deciding whether to buy a studio-grade mic or just rely on cheap USB podcast equipment easily found online.
The end result should be crystal-clear audio without any distracting background noise that might put off potential listeners.
So we requested a group of well-known podcasters to give their thoughts on the matter. Here is the question we asked our experts:
If you had to choose, what would you say is the best microphone for podcasting, based on your experience? Also, what would you say makes it the best?
We got all sorts of responses from podcasters, coming from a variety of backgrounds, who have already discovered their ideal microphone.
Some recommendations were quite surprising. Read below to find out more (and perhaps discover your dream podcasting microphone among the recommendations):
Top Recommendation for Podcasting Mic
It can be rather tough to find the best podcasting microphone in a highly saturated market. That was quite clear from the diverse range of recommendations the podcasting pros provided.
However, one mic kept getting more votes than the others.
It was a close call, but the majority of the experts picked the Audio-Technica ATR2100 as the best. It's also the most affordable podcasting mic among all the brands mentioned by the professionals.
So why Audio-Technica ATR2100?
The Audio-Technica ATR2100 is a handheld USB dynamic microphone specifically designed for digital recordings.
The advantage is that this mic comes with an XLR analog output too, so it can be plugged into conventional sound systems like a non-digital mic.
The mic has a built-in headphone jack for podcasters to monitor output and prevent any audible delay.
The overall functionality of this mic is enhanced thanks to the cardioid polar pattern, which eliminates unwanted noise from the sides and the rear.
Several of the podcasters who chose this mic raved about its performance and the below-$100 price tag. Travelling podcasters loved this mic because it's very lightweight.
The Japanese brand has even had their microphones at a number of Olympic Games. You know, allowing announcers to be heard clearly over raucous crowds.
That alone could be reason enough to invest in the ATR2100.
Professional Podcasters from Diverse Backgrounds Reveal Top Microphone for Podcasting
The professional podcasters who contributed have been in the business for years and have had their fair share of struggles choosing a great podcasting microphone.
Some of the pros have even worked in the audio engineering and tech fields, so they know the subject well.
Without further ado, scroll down to read the best microphone recommendations from established podcasters. Please note that we listed the responses in the order we got them:
Keith Malley and Chemda Khalili— Heil PR-40 Dynamic Studio Recording Microphone
Bio: Keith and Chemda are the brains behind "Keith and The Girl," or KATG, one of the best ranking comedy podcasts at Podcast Alley. Both parties hail from Queens, NY, and love talking about their lives with much hilarity to adoring fans. KATG has over a million monthly downloads. You can learn more about the KATG duo on their website or follow them on Twitter.
"We're Heil PR-40 fans. It costs a little bit, but sound, to us, is just as important as content. The key is getting a directional mic—one where the speaker needs to talk directly into the microphone as opposed to the microphone picking up the whole room and ambient noise, the echo of another guest, etc."
Kami Huyse— Audio-Technica ATR2100-USB Cardioid Dynamic USB/XLR Microphone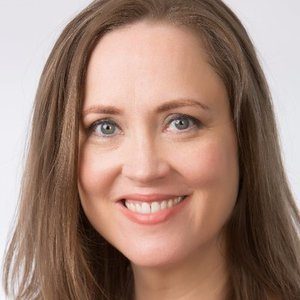 Bio: Kami Watson Huyse is a public relations veteran and an experienced blogger. She has been on the internet since the early 2000s and has seen all too many trends. Her podcast is aimed at marketing and public relations professionals. She teaches professionals how to authentically connect with an online audience. You can learn more about Kami on her website or check out her Twitter feed.
"The mic that I use for Communities That Convert podcast is an Audio-Technica ATR2100-USB Cardioid Dynamic USB/XLR Microphone. It plugs right into my computer and has a great sound. It runs about $64 on Amazon and stands up to my co-host's much better and more expensive mic."
Dale Callahan— Blue Yeti and Audio-Technica ATR2100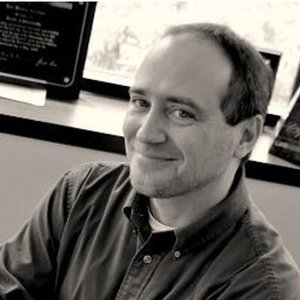 Bio: Dale is an electrical engineer by profession. At the same time he leads a graduate engineering program at the University of Alabama at Birmingham, he is also an entrepreneur, blogger, speaker, author and a podcaster. Dan runs a highly successful podcast that teaches corporate workers how to take control of their lives. You can learn more about Dale's fascinating life on his website or follow him on Twitter.
"I have found the Blue Yeti a powerful tool for my podcasting and my #1 mic. Almost all of my podcasts and videos are done with the Yeti.
Pros:
– Solid and no easy to knock off. I set it aside on my desk when not using it (it is big).
– Great audio
– You can adjust the audio pattern. Rarely need that but I could see it being great if you have live guests.
– Mute button on the mic with a light indicator showing you are on mute.
Cons:
– Hard to use with a boom since it is so heavy.
– Not easy to pack and take with you.
I also have an Audio-Technica ATR2100.
Pros:
– Has USB and XLR connectors. I could see this being great if your main setup is with a mixer, but you sometimes need a more lightweight set for when you travel….
– Lightweight and easy to put in a bag for travel.
– Inexpensive ($64) with great audio.
– The lightweight allows me to use it for some video where we put it on a boom or hang from the ceiling.
Cons:
– I have had to send some back due to low audio levels. I had two in a row that did not work when I received them. Maybe just a glitch or a bad batch of mics.
Both mics are awesome and will get the job done. If I was just starting, I would likely go with the ATR for ultimate flexibility and a bit better price."
Darren Marlar— MXL USB.006 USB, Neumann TLM103, and MXL USB.009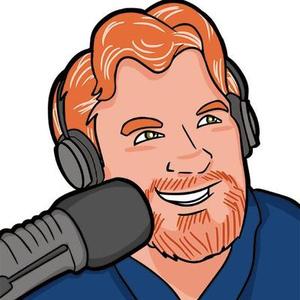 Bio: Darren has been an audio producer since 1990, when he had a job in radio and doing voiceovers. He eventually branched out to doing his own thing, and launched a podcast. He has nearly three decades of experience as a voice artist. Get familiar with Dan's life and career by following him on Twitter or checking out his super cool website.
"…When it came to microphones my first concern wasn't podcasting—it was making sure my voice over clients would be happy with the audio I was sending them. While in the studio I was using a quality XLR microphone, but I needed to be able to do my job while on the road if necessary, so I began looking for a 'road mic' and discovered the MXL USB.006.
Not only was [the MXL USB.006] affordable, but it was also cardioid (uni-directional) which is what I needed, and most of my clients aside from the professional audio producers could not tell I was using a USB mic after audio was processed.
A few years later I upgraded my studio microphone to a Neumann TLM103 and wanted to find a comparable USB mic for travel again—and discovered the MXL USB.009, which is what I still use today when traveling.
The MXL USB.009 is quiet, has the features I need, and again my clients can't tell a difference between that and my professional studio microphone.  I have recorded many, many episodes of my 'Weird Darkness' podcast on both mics and not a single person has mentioned hearing a difference."
No products found.
Alexa Meisler— Shure SM58
Bio: Alexa was hit with the travel bug when her family took her to Spain as a 10-year-old. Ever since then, she has been passionate about globetrotting. She runs a popular podcast about travel writing. Alexa is also a social media strategist, photographer, a mother, and a wife. You can learn more about her travels on her website or look at cool travel pics on her Twitter.
"I love the [Shure] SM58 for recording my podcast. My husband is a musician, so I was super lucky to have him help set up my recording studio with a great mic, mixer and all the right cords. The SM58 provides clear and professional sound and has been the mic I've used since I began recording my podcast."
Thomas Frank— Audio-Technica ATR2100-USB Cardioid Dynamic USB/XLR Microphone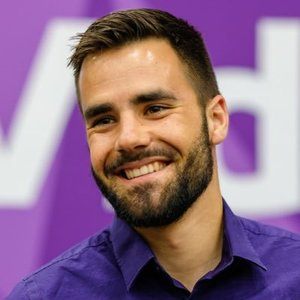 Bio: Thomas is an author, speaker, and a YouTuber who runs a highly successful podcast aimed at students. He offers resources for students to overcome common challenges of studying to succeed in the future. You can definitely get more than study guides on his website. For more info about Thomas, check out his Twitter feed too.
"For audio-only podcasts, the best beginner podcasting microphone is the Audio-Technica ATR2100 – full stop. Nothing I've tested beats its performance without costing way more."
Travis Huff—RODE NT-USB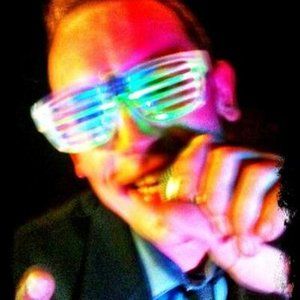 Bio: Travis is a social media management entrepreneur with a solid background as a media executive. He runs a podcast aimed at brands that want to conquer social media. Travis is a lifelong resident of Fresno, California, but helps clients from all over the world. Check out Travis's impressive resume on his website or follow him on Twitter.
"I love the RODE [NT-]USB Microphone. It's consistent and what I started with 🙂
I've never had an issue with it, and I love the way it records my voice during the shows! It's truly best to start with something and, instead of upgrading, maximize your resources until they break, then start again with new tech!"
Eric Rosenthal— Blue Yeti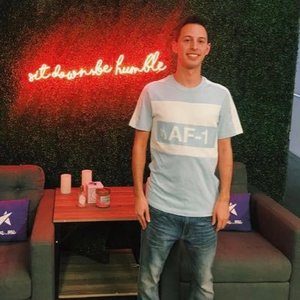 Bio: Eric and his brother Jeff are the brains behind ItsTheReal podcast and viral comedy videos. The duo does stage events and has even developed TV shows. Throughout their lustrous career, they have worked with celebs like Stevie Wonder, Joe Budden, Pete Wentz, and Jojo. Go to their website for more details or follow the duo on Twitter.
"The Blue Yeti microphone has been my go-to for podcasting. It's easy to set up, easy to use, and cost about $100 which is a much lower price than other comparable mics. It's been 3 years with my Blue Yeti and I haven't had a single problem. Couldn't be more happy with it!"
Christian Spicer— Shure PG-42 USB (out of production) and Razer Seirēn Pro
Bio: Cool dude Christian is an ardent comic book fan and a video gamer. He is also an author, a stand-up comedian, and a podcaster. His improv acting is just as beloved as his groovy podcast. Want to know more about him? Look up his website or follow him on Twitter.
"Unfortunately, they don't make the mic I use anymore. I use a Shure PG-42 USB. I also have a Razer Seirēn Pro I like a lot, but it is typically my 'traveling' podcast mic and I have my Shure hooked up on the mic arm in my office."
Erik Fisher—RODE Podcaster
Bio: Erik runs a highly successful podcast that educates people on all aspects of productivity. He is also an author, speaker, and a coach. He gets people to think, laugh, and then succeed. Get more intriguing details about Erick on his website or check out his Twitter feed.
"I have used the RODE Podcaster for the last 6 years on my show. I initially got it because I wanted [better] quality with portability because I never knew where I would be recording. A few years ago, I got solid space to use, but have stuck with it."
Yan Theriault— Zoom H4n
Bio: Yan is a French-Canadian microblogger and a podcaster from Quebec. He has been on the internet since its early days in the nineties. His first website was created in 1996! He has had a career as an editor and a photo director, but these days he calls himself a "web-tertainer." You can check out humorous vignettes on his website or follow him on Twitter.
"Been helping podcasters for years now and they all ask that same question. What is the best microphone for podcasting? I give them more than just a microphone. I give one tool that does it all: the Zoom H4n.
It may not look sexy as a cardioid microphone mounted on a shock mount stand… but that box does it all. It's a little piece of miracle. You can use it as an analogue microphone, USB microphone, USB interface, handheld recorder or multitrack recorder. The sound is great. It's a tool that you'll keep using even after upgrading for that fancy $600 microphone."
Gregg Housh— Heil PR-40 Dynamic Studio Recording Microphone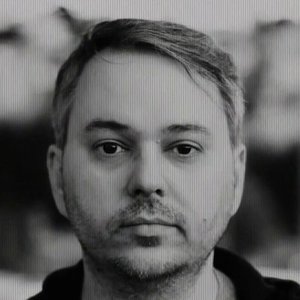 Bio: Gregg has an unusual background for a podcaster. In his early 20s, he was a criminal hacker on the run from the FBI. The Man eventually caught him and he spent 7 years in prison. Gregg now legitimately participates in online subcultures and is occasionally an interview subject for internet-related stuff. You can learn about Gregg's advocacy activities on his website and get his updates on Twitter.
"I actually have two favorites, but one stands out for me. The Heil PR-40 has great range, and allows me to talk to everyone in the room without having to speak right into the mic for fear of losing anything.
With every other mic I've used, we've always run it through multiple filters while doing editing and cleanup. The [Heil] has never needed this, the sound is crisp and clear."
Andy Paul— Heil PR-40 Dynamic Studio Recording Microphone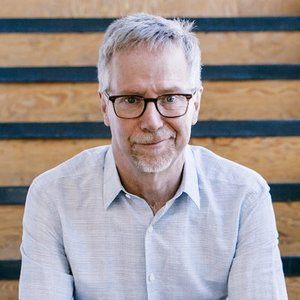 Bio: Any is a leader in sales. You wouldn't have ever guessed it if you met him in his first ever sales training class, when the bosses thought he was too introverted for the job. Andy certainly proved them wrong and now has a successful career as a consultant and a podcaster. You can follow Andy on Twitter or his website.
"I've standardized on the Heil PR-40 mic. I've experimented with mics from other manufacturers. None have favorably compared to the sound quality produced by the Heil PR-40."
Becky Morales— Voice Recorder App on iPhone 8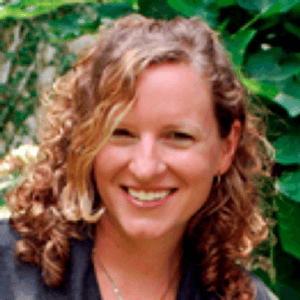 Bio: Becky is a travelling ESL and Spanish educator, who globetrots with her multicultural family. Her husband and five kids each come from a different country. She vigorously blogs about her travels and also runs a successful podcast. You can check out Becky's travel adventures on her website or Twitter.
"I use the app 'Voice Recorder' on my Samsung 8. I simply place it on my computer so that I can read my script, and also capture my interview this way when I am Skyping on my computer. I found that if I record in my closet, surrounded by clothes that absorb the echo, I get pretty good quality."
Carl Donnelly—Peavey Pvi 100, Zoom H6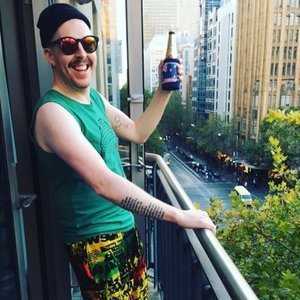 Bio: Carl is a standup comedian who has won several notable awards for his work. He travels the world performing at various comedy festivals from Canada to New Zealand. He also has a hilarious podcast that you can check out on his website. If you love his work, follow him on Twitter too.
"We actually have two different setups for the podcasts we do. My regular podcast is quite simple in that we just use three Peavey Pvi 100 microphones (running into a Zoom H6). They do the job and are pretty cheap.
Our spinoff 'Babysitting Trevor' is a slightly bigger production so our producer uses Rode NTG2 shotgun mics (again running into a [Zoom] H6). They're pricey but the sound quality is amazing."
Dan LeFebvre— Electro-Voice RE20, Rode NT1, Audio-Technica ATR2100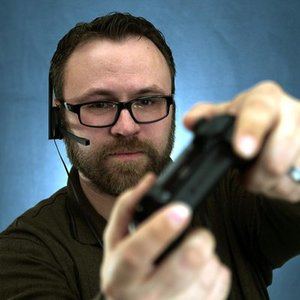 Bio: Dan runs the award-winning "Based on a True Story" podcast. Essentially, he breaks down movies that are supposedly "based on a true story" down to the actual facts.  Before he was a successful podcaster, Dan solved software problems for people. You can check out the podcast on Dan's website and follow him on Twitter too.
"… I don't know if I can pick just one, haha! It depends so much on where you're recording….
In my experience, the mic you use heavily depends on where you're recording. Many indie podcasters who record at home (i.e., not a professional studio) use a dynamic mic because it won't pick up as much background noise. For this setup, I like the Electro-Voice RE20 …. It's pricey, but delivers great quality.
That's not what I use to record my podcast currently, though. I love recording with my Rode NT1…. Being a condenser mic, it picks up a lot more noise than the RE20. So, that means I have to do a lot more sound treatment at home where I record. But, I think the end result is worth it because I can record more naturally without having to be right up on the mic like a dynamic mic needs.
If you're on a budget, the Audio-Technica ATR2100… offers a great balance of quality and savings.
No matter which mic you use, I'd also recommend the DBX 286s… to drive them while helping remove some extra background noise."
Joanne Wilson— AKG P120 Condenser Microphone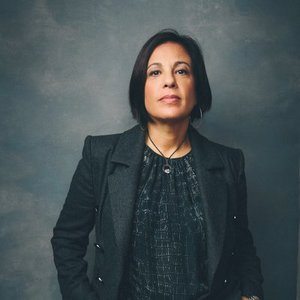 Bio: Joanna is proud to say that she has had a whirlwind career. She started in the tech industry during the dot-com boom, then worked for NGOs, and ended up as a suburbanite mom and a podcaster. You can check out Joanne's podcast on her website or check out her Twitter wisdom.
"We use an AKG P120 condenser microphone. This mic has a really nice pickup pattern that's focused enough to make background noise easy to remove, and just wide enough so that I can record a duo or trio with a single mic if I need to (like when we had the women from King, for example.)
The mic has a very dry, 'NPR' quality to it, which we picked based on personal preference. It's rugged enough to withstand some occasional travel while being sensitive enough to maintain great sound quality.
It also comes with a low-end notch on the mic, fits easily on a variety of stands, and hasn't let us down yet!"
Juliette Frette— iTalk App for iPhone, ElectroVoice RE-20, Shure SM58
Bio: Juliette is the genius behind some smart, provocative, and hilarious podcasts, and after several collaborations and guest hosting, she is now working on her own podcast project. She is also a "modern gypsy," as in she travels, a lot. You can follow the amazing podcasts on her website or follow her on Twitter like the way she stalks her boyfriend.
"I haven't used this yet but I'm planning to experiment with iTalk, which is a free app you can download—another podcaster friend of mine says it's good quality and free. You can also edit iTalk clips on your computer with another app called Audacity.
My buddies Ted Smith and Steve Migs at KISW use the ElectroVoice RE-20's in studio (I've used them too) and they are considered the gold standard for radio mics… but may be too expensive for home use. Migs likes the Shure SM58 microphone for the home and for broadcasting on location due to their durability and sound quality… Accordingly I'm considering purchasing one for myself soon!"
No products found.
Ron Martin and Little Miss Horror Nerd— Audio-Technica ATR2100-USB Cardioid Dynamic USB/XLR Microphone
Bio: Ron and Little Miss Horror Nerd (aka Jessica) run the horror podcast Resurrection of Zombie 7. The podcast is all about horror movie franchises both old and new. Each week, the podcasters break down a cult horror classic movie, often with the name Dracula in it. You can learn more about their podcast on the official website or check out their posts on Twitter.
"As a podcast that doesn't generate income and is mostly a hobby, we prefer the Audio Technica ATR2100 for two reasons. First, it's fairly inexpensive. As an independent podcast with no budget, high end equipment is mostly out of our reach. The sound quality is fairly awesome when matched with the price.
Secondly, it's a directional microphone. Ambient noise can be a big issue as both a distraction to the other hosts or guest hosts on Skype, but also to the listener if you can't edit them out. A microphone that has to be talked directly into is a big help in eliminating as much of that before editing as possible.
It's a good product and hopefully other umbrella podcasting equipment companies are taking notice!"
We were amazed by the variety of responses we got.
The experts cover all the challenging aspects of choosing a great podcasting mic and managed to offer insights on things most of us don't even consider.
At least, that's what we think. What do you think? Did you find your ideal choice for a podcasting microphone among the above recommendations?
Don't keep us guessing and leave a comment below!