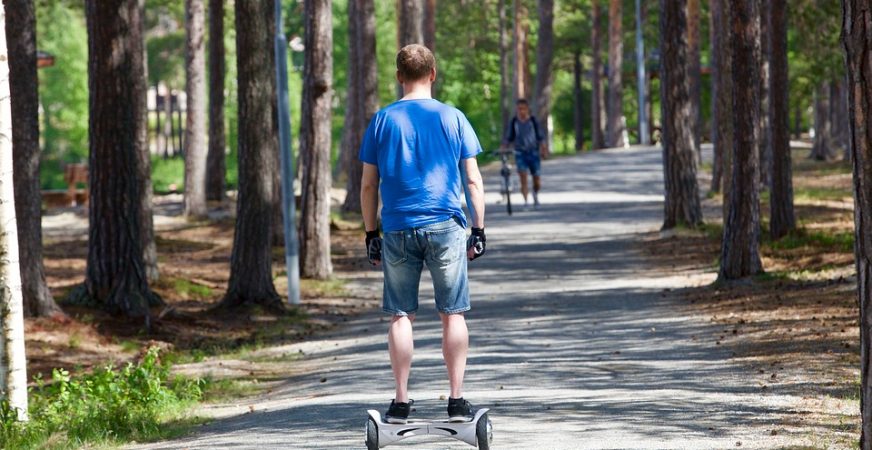 5 Best Hoverboards Under $200 (Who Needs Walking, Right?) [2021 Update]
Last updated 6/2/21
Reading Time: 6 minutes
When your own two feet simply will not do, you are going to need a hoverboard to get you places.
This futuristic and fun mode of transportation has exploded on the market. It is quite common to see kids and adults zooming around on them.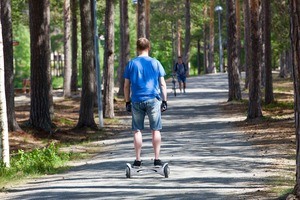 Now, most hoverboards aren't outrageously pricey but can't still cost a considerable amount.
Still, we have managed to find the best hoverboard here.
It should be noted that the balance and speeds on the cheaper models may not be as top-notch as their more expensive counterparts.
These are your options for the best hoverboards under $200:
Top 5 Best Hoverboards Under $200 – 2023
1. Hover-1 Ultra Electric Self-Balancing 
You'll be traveling in style with the Hover-1 by your side. This good-lookin' hover also has some bright front LED lights that are plenty vibrant, providing solid illumination.
Anyone can use the hover board. It has an impact resistant solid frame, carrying loads up to 220 pounds, powered by two 250 watt electric motors. Although it can carry a heavy weight, it's quite compact (22.49 pounds weight) so you can take it anywhere. It can travel up to 12 miles in distance at approximately 7 MPH after a 4 hour charge.
+Pros:
Colorrful
Compact
Max speed of 7mph
Great battery life
-Cons:
Beeping noises when you achieve 7-8 MPH warning 
2. Hoverstar Hoverboard
Although it can reach decent speeds of up to 6 MPH, it doesn't carry the most load; with the Hoverstar, a maximum weight of 165 pounds is allowed.
Powerful LEDs turn on the side of its wheels. The lights aren't just on the wheels but the footboard as well.
Not only will you ride in style, but you can play your favorite music while doing so. It has a Bluetooth speaker you can use.
One of the big selling points of the Hoverstar is that there's an insane amount of color choices to select from, as in 23 the last time we checked. 
+Pros:
Bluetooth speaker
Anti-slip footboard
Color choices galore
-Cons:
Charge doesn't last very long
3. Spadger Hoverboard
The Spadger can go 9mph. This is considerably fast, so have your safety gear extra secure. It goes so fast because of its 300 watt motor.
It has 6.5 inch rubber tires. This helps you smoothly go through the toughest terrains. What's more is, it ensures durability.
It's self-balancing so anyone can use it. You don't have to be afraid as it also comes with an anti-slip footboard. So, your chances of falling off are nonexistent.
The wheels have green indentures which pop against its LED lights. The LED lights rotate and are on the footboard as well.
Safety is very important to the manufacturer. That's why each of their hover boards have been thoroughly tested.
Hence:
The Spadger is UL2272 Certified.
Its 36V batteries mean you can use it for a very long time. It also means that the hover board charges quickly.
You can play your favorite music while on it as it comes with Bluetooth capabilities.
+Pros:
9mph speed
Large battery
Tough wheels
Self balancing
Anti-slip footboard
Great audio-visual experience
-Cons:
People have issues connecting to its Bluetooth speaker
4. TOMOLOO Hoverboard
This is a great hoverboard, especially if you are looking for a model for children. The TOMOLOO board is capable of carrying up to 165lbs in weight.
At max weight, it can manage a cruising speed of around 12km/hr. This is the perfect speed – while you won't be going too fast, you won't feel like you are crawling at a snail's pace either.
What's just as exciting is the incredible battery life. When fully charged, the hoverboard can travel for a distance of up to 10km!
Naturally, one of your biggest concerns is safety. Well, this model passes with flying colors here. It meets the highest international safety standards such as UL2272 Certified, MSDS/UN38.3, and UL2271 safety of battery.
What's more, the board is resistant to high temperatures. It has even been designed to be fire retardant. Apart from this, the hoverboard is incredibly strong and durable.
In case you are looking for a board that offers a little more, you will be thrilled by the additional features on this model.
It comes equipped with Bluetooth and flashing lights for added entertainment.
The only real fault with this hoverboard is that the charging port isn't quite as sturdy as the rest of the board. So, you must be careful with it.
+Pros:
Meets safety standards
Good speed
Great distance
Bluetooth features
5. Swagtron Hoverboard
No products found.
If you are looking for a hoverboard that offers more than just speed and distance, then this will be the board for you.
Now, this hoverboard is quite excellent at getting you from one place to another. It has a powerful dual 200W motor that can get you where you need to go without any issue.
Just as fun is that you can travel up to 12km/h, ensuring that you can arrive at your destination rather quickly.
This hoverboard can also travel at an incline of 30 degrees. So, even if you aren't travelling on a surface that isn't perfectly flat, you should still have no issues at all.
Speaking of which, thanks to the hard rubber tires, this hoverboard works well on quite a number of surfaces.
At the same time, UL-certification ensures that you are completely safe while you are on this board.
This is a hoverboard that is suitable for a wide variety of riders. For one thing, it accepts between 44lbs and 200lbs for riders.
For another, it has 3 rider modes to select from. So, depending on whether you are a novice or a more experienced rider, you can select a suitable mode.
Now, while this hoverboard does offer up Bluetooth speakers, they do have their limitations. Thus, they may not work as well as you want them to, especially at a higher volume.
+Pros:
Great traveling speed
Good traveling distance
Can take inclines
Safe
Various rider modes
Suitable for numerous riders
-Cons:
Bluetooth speakers aren't that great
Tips for Choosing a Hoverboard Under $200
While hoverboards were initially quite pricey, there is actually a considerable selection to choose from now, even in the budget range.
However, if you are looking for a hoverboard under $200, there are certain things that you should pay attention to:
First and foremost, you should be concerned about your safety. This means that the hoverboard should have passed all of its safety inspections.
In the United States, in particular, hoverboards must have received a safety certification UL 2272. This assures you that the hoverboard is not a fire hazard.
Hoverboards are all equipped with motors capable of producing a varying amount of power. It is largely up to you, the buyer, to decide what this power should be.
This can be determined by looking at the top speed that a hoverboard can achieve within a certain period of time.
Last but not least, you should consider the battery on the hoverboard. Just how long will you be able to use it once it has been fully charged?
Furthermore, how long will the battery take to recharge? It is a good idea to look for hoverboards that have a battery indicator so that you are aware of how much charge is left.
These are the top hoverboards under $200. They will allow you to experience the thrill of a hoverboard without having to break the bank.
Related Guides: 8 Personal Accessories You Didn't Know You Needed