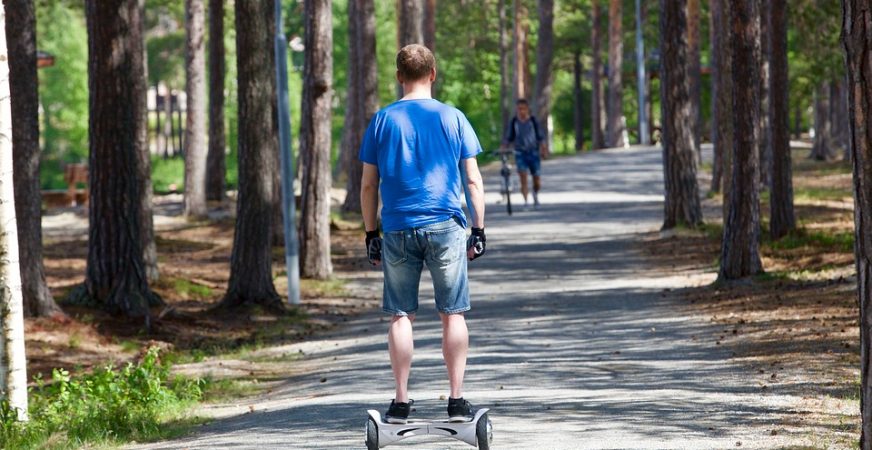 4 Best Hoverboards Under $200 (Who Needs Walking, Right?) [2018 Update]
When your own two feet simply will not do, you are going to need a hoverboard to get you places.
This futuristic and fun mode of transportation has exploded on the market. It is quite common to see kids and adults zooming around on them.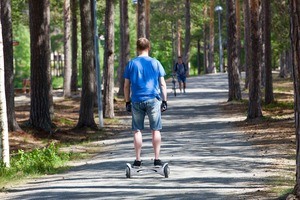 Now, most hoverboards aren't outrageously pricey but can't still cost a considerable amount.
Still, we have managed to find the best hoverboard here.
It should be noted that the balance and speeds on the cheaper models may not be as top-notch as their more expensive counterparts.
These are your options for the best hoverboards under $200:
Top 4 Best Hoverboards Under $200 – 2018
The GoTrax hoverboard has a rather flashy appearance, with a colorfully painted exterior and lunar LED lights.
It boasts a cosmic theme. So, you will feel that you are speeding past meteorites instead of the sidewalk.
But looks aren't everything when it comes to this gadget. It packs high-end features like this:
A riding speed up to 7.4 mph. The top-notch torque is supported by dual 250W motors.
A hoverboard that can reach impressive speeds might be a cause for concern. You might wonder if the battery can withstand explosion at this speed.
You will find that this is very much the case with this GoTrax. The battery is, in fact, UL 2272 certified and tested.
The battery can take a rider up to a distance of 12 miles. That's not bad for a hoverboard in this price range.
This hoverboard is surprisingly problem-free except for some minor issues. The riding surface is narrow, so it's easy to slip when getting off.
The structure may not support all adults. The hoverboard is great for kids, but adults weighing over 200lbs might want to be cautious when getting on these wheels.
+Pros:
Great design
Speedy
Covers up to 12 miles per charge
Batteries certified for safety
Great value
-Cons:
Narrow riding surface
Not for heavy adults
XtremepowerUS hoverboard is mesmerizingly flashy. The floorboard has multiple LED lights that flash spectacularly when the hoverboard is in use.
This would have been a rather standard hoverboard, sans the lights, had it not been for the following features:
Rotation and Bluetooth.
This hoverboard can rotate itself 360 degrees with the rider on it. More than a gimmick, the feature can help you turn around in a snap without resorting to inventive circular riding.
The Bluetooth pairs the hoverboard with a smartphone. You can play music through the gadget when the devices are synched.
The Bluetooth feature doesn't increase functionality, but it can make your hoverboard blast music like a cool new car.
Important note:
The Bluetooth device must be close to the hoverboard to work. Otherwise, it disconnects with a voice warning.
The XtremepowerUS has a 4.4 Ah Lithium-ion battery inside. The battery is UL certified.
It charges in about 2 or 3 hours. That's faster than a large smartphone so it's a great perk.
The hoverboard supports a maximum load of up to 220 lbs. But the max speed is only 8 mph.
+Pros:
Flashy lights
UL certified
Supports up to 220 lbs
Quick charging
Bluetooth for playing music
Rotates 360 degrees
-Cons:
Limited max speed
Bluetooth disconnects unless the phone is very near
The Levit8ion addresses the biggest problem hoverboards face right away:
The battery has been rigorously tested and is UL 2272 Certified, so as to prevent any explosions or fires. The manufacturer states that that the battery has been built according to U.S. electric safety guidelines.
Moving on, the rest of the hoverboard is well-designed. It also has a relatively spacious foot area.
Crazy fact:
This hoverboard is made from aircraft-grade aluminum. The material allows the hoverboard to carry heavy loads.
Despite that, this hoverboard can carry only about 220 lbs max. Other sturdy hoverboards have similar max weight caps.
The scooter has 6.5-inch rubber tires. Tires of this kind are relatively large and are known for tackling rough as well as exceptionally smooth surfaces.
With two motors, the Levit8ion can push 14 km/hr. The distance the charge battery can run is impressively between 15 to 20 kilometers.
The Bluetooth speaker connects to a smartphone so you can listen to music. The range might be an issue because the connection can drop easily.
There are, of course, plenty of flashing LED lights to show off too.
+Pros:
Made with aircraft -grade alloy
High speed limit
Well tested battery
-Cons:
Bluetooth can disconnect
Not durable
The Otto hoverboard is a very basic model. Nonetheless, all of its features are well-designed and the scooter, overall, is of good quality.
There is a dual motor on this hoverboard with an output of 350W. This amounts to a top speed of about 6 mi/h (9.6 km/h).
The device is also capable of travelling up mild slopes that are no more than 15°.
Riders have to be a minimum of 44 lb (20 kg) to ride the Otto hoverboard. However, the board can take a maximum load of up to 225 lb (102 kg).
You can travel up anywhere from 5.6 mi to 8.7 mi (9 km to 14 km) when the battery is fully charged.
This distance can increase or decrease depending on the rider's weight, the speed at which you are travelling, and how smooth or bumpy the terrain is.
The battery on this hoverboard can take about two or three hours to charge.
What we really liked about this hoverboard was that it has plenty of safety features.
Of course, it passed UL 2272 inspection to determine that there was no chance of it catching fire.
Also, when you try to go too fast, the hoverboard adjusts the speed so that you are always travelling within the safe range.
We have yet to find any problems relating to this hoverboard.
+Pros:
Can go up slight inclines
Reasonable top speed
Lots of safety features
Tips for Choosing a Hoverboard Under $200
While hoverboards were initially quite pricey, there is actually a considerable selection to choose from now, even in the budget range.
However, if you are looking for a hoverboard under $200, there are certain things that you should pay attention to:
First and foremost, you should be concerned about your safety. This means that the hoverboard should have passed all of its safety inspections.
In the United States, in particular, hoverboards must have received a safety certification UL 2272. This assures you that the hoverboard is not a fire hazard.
Hoverboards are all equipped with motors capable of producing a varying amount of power. It is largely up to you, the buyer, to decide what this power should be.
This can be determined by looking at the top speed that a hoverboard can achieve within a certain period of time.
Last but not least, you should consider the battery on the hoverboard. Just how long will you be able to use it once it has been fully charged?
Furthermore, how long will the battery take to recharge? It is a good idea to look for hoverboards that have a battery indicator so that you are aware of how much charge is left.
These are the top hoverboards under $200. They will allow you to experience the thrill of a hoverboard without having to break the bank.
Related Guides: 11 Personal Accessories You Didn't Know You Needed