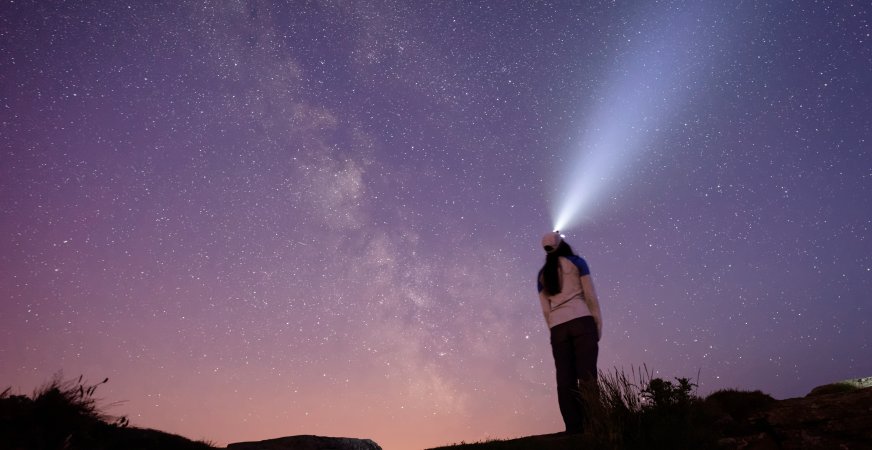 3 Best Headlamps [2019 Update]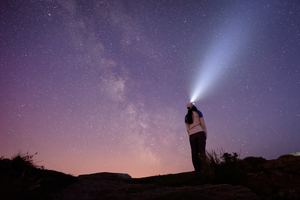 We can all agree that a headlamp is one of the handiest gadgets a modern outdoorsy person can own. But a good headlamp can be tricky to find.
The two most crucial aspects of buying one of these:
Brightness and battery power.
The hands-free illumination should be balanced out with the ability to maintain the light for a long time. A headlamp with a shoddy battery or low light is simply not worth the price.
With that in mind, here is a very useful list of the best headlamps you can find in the market right now:
Top 3 Best Headlamps – 2019
First of all, this headlamp is quite good looking. It's neatly and comfortably made with a sturdy headband.
Best feature:
It's IPX 8 waterproof. The headlamp can be immersed in 3.3ft of water maximum for about 30 minutes.
However, it only has one LED light. The bulb can emanate bout 300 lumens of white light, which is decent.
There are tons of settings available. This headlamp can be dimmed, has a strobe, and night vision in red.
It can be locked onto a single mode as well. The lamp has a tech called PowerTap that allows quick transition between full for dimmed power.
Plus:
This has a feature called "brightness memory." It allows the user to always turn the lamp on at a certain brightness level.
Also, the light can be flipped downward in different angles. The strap is very secure too.
We were able to wear the strap comfortably. There was no bobbing and nothing came loose.
However, there is a metal plate that the bulb is attached to. It's not very comfortable on the forehead.
The headlamp is not very bright for night running. The 300 lumens is suitable for short runs only.
+Pros:
IPX 8 waterproof
Secure strap
Affordable
Remembers the last brightness setting
Angling possible
-Cons:
Not bright for serious night-time use
Uncomfortable on the forehead
There were two things we liked about this headlamp right away:
The weight and the wearable modes.
This headlamp can be worn on the head with a strap or can be clipped on to a hat or similar headgear.
It's also amazingly lightweight. It also has some weatherproof ability.
The Streamlight is IPX4 waterproof. We managed to use the Streamlight in light rain and snow without damaging it.
The headlamp has a Lithium Polymer rechargeable battery inside. There's no need to change batteries.
The battery has a capacity of 450 mAh. It's decent enough to last up to 2.5 hours.
A USB rechargeable code comes with the device. A snap-in hat clip is also included.
The brightness:
The headlamp can provide about 180 lumens of light.
The beam is widespread, but it's not that powerful. We liked the fact that the diffused light is even and creates less shadow.
Users can either beam the light or use diffused light. While lumen count is worth the price, it's simply not powerful for activities like spelunking.
The body of the headlamp is very sturdily built. The polycarbonate casing and lens are impact resistant.
+Pros:
IPX4 waterproof
Impact-resistant body
Decent battery life
Clip-on mode
Ultra lightweight
3.
No products found.
No products found.
We easily loved this rechargeable headlamp mainly because it's super bright. Amazingly enough, for about $20 we got brightness up to 8,000 lumens.
This headlamp can easily brighten up a small room. It's suitable for spelunking, night jogging, or just about any serious night-time activity.
Superb feature:
This headlamp has a range of 200 meters.
The lamp is also adjustable up to 90 degrees. It also had one of the most durable casings we have come across.
The headlamp case is made from alloy. It's resistant to abrasions and is also IPX5 waterproof.
The headlamp can be used in rain. One more great feature:
The Zukvye is zoomable. It's possible to zoom the light in an object as a spotlight.
There are also four power modes, including a red warning light mode. We particularly like the energy savings mode.
The rechargeable battery is huge. The 2,500mAh capacity can last up to 12 hours on a single charge!
Besides, it comes with two rechargeable batteries.
One problem:
It has about 4 bulbs so this headlamp is bulky. It's quite weighty when worn around the head.
Other than that, everything else is great.
+Pros:
Super bright
Zoomable
Large capacity batteries
Abrasion-resistant case
Adjustable beam
IPX5 waterproof
-Cons:
Bulky
Slightly uncomfortable to wear
No products found.
Things to Know When Buying a [Headlamp]
Buying a headlamp needs a bit more work than you may have expected. Here is a helpful guide that will allow you to choose the best product:
Different Types of [Headlamps]
Headlamps don't necessarily come in many different types. But here are some categories to be aware of when buying:
Rechargeable or Battery Powered
Headlamps are either powered by AA or AAA batteries or have a rechargeable battery.
A few have both modes of power.
You will have to buy your own batteries for battery-powered headlamps. Using such a headlamp is not different from using a battery-powered flashlight.
Headlamps with rechargeable batteries are like phones. The battery capacity can differ, and thus the longevity of the headlamp.
Typically, you can expect a rechargeable headlamp battery to last around 3 hours.
Clip-on or Strapped
Headlamps can differ depending on how it can be worn.
Some headlamps are clip-on. You can clip the lamp on to a hat or a jacket.
Most, however, have a strap to be worn around the head.
The Main Features of a [Headlamp]
Here are the most important specs you need to consider when buying a headlamp:
Brightness
This is possibly the most important feature you need to pay attention to. The brightness of a headlamp is determined by the lumen count.
The more lumens the headlamp has, the brighter it will be. But it can be tough to decide how many lumens you will need.
Most headlamps have a lumen count between 150 and 300. The so-called "ultra bright" headlamps can have lumen counts in the thousands.
Here's a short explanation of how bright lumen counts can be:
Up to 150 lumens—Bright enough to use around the house or in closed spaces. But not bright enough for navigation.
Between 200-300 lumens—This is a decent level of brightness for navigation. Suitable for short jogs, hiking, or camping.
Over 1,000 lumens—These headlamps are very bright. These are great for serious visibility such as what you might need for spelunking.
Be aware that lumen count refers to the maximum amount of visible light. While it's a reliable way to tell how bright a lamp can be, it doesn't necessarily mean the lamp can generate any given number of lumens exactly.
That's why it's important to consider the beam type and distance as well, without just relying on the lumens.
Distance
Depending on the size of the headlamp, it will only exert light into a certain distance.
When buying a headlamp, look for how far the beam can reach. It will give you a good idea whether the headlamp is suitable for navigation and certain activities like hiking.
Power Modes
Headlamps come in a range of power modes. Meaning, the power modes determine how the light reaches any given area.
Most headlamps have a spot beam, which is a beam like a flashlight generated. Beam strength and distance are important for navigation.
When you want to light up a general area, then you need diffused light. Some headlamps have this as a mode.
Other lighting modes include strobing and "night vision." The red night vision lights can lower the brightness of a headlamp so people in a group are not blinded by each other's lamps.
If you need a particular power mode, do look for it in the specs section for the headlamp.
Battery Option
You should decide whether you want a headlamp with a rechargeable battery or input battery.
You don't have to change the batteries with a rechargeable headlamp. But you will have to rely on the battery capacity.
Some rechargeable headlamps could come with weighty battery packs. These are uncomfortable to wear.
On the other hand, if you choose a headlamp with AA or AAA batteries, you will always have to carry extra batteries.
It's up to you to decide which mode is most suitable for your needs.
Battery Capacity
When buying a headlamp, especially a rechargeable one, be careful of the battery capacity.
The battery capacity will be given in an "mAh" number. A decent battery would have over 400 mAh.
A 400mAh battery can last up to 2 hours maximum. Battery power would depend on how bright the headlamps are when you use.
Don't forget to pay attention to battery capacity when buying rechargeable headlamps. It's like buying a phone in this regard.
Weight
Headlamps are worn on the head most of the time. Therefore, you might want to consider how heavy a product is.
A lightweight headlamp is naturally more comfortable to wear, naturally. Therefore, look at the weight specs before buying.
Keep in mind that the strap also plays a role in how comfortable a headlamp is to wear.
Waterproof
You probably don't want your headlamp to go off if it touches a bit of sweat or a droplet of water.
Buy a waterproof headlamp, especially if you plan to go spelunking.
Don't judge a headlamp by the "waterproof" labeling. Also look at the waterproof rating, which would be given in an IPX format.
The rating determines whether your headlamp can actually be submerged in water or whether it can survive some rain.
Things to Look for When Buying a [Headlamp]
Follow these tips when buying:
Don't judge the power of the headlamp on brightness alone. Look at other factors such as power modes, distance, and durability as well.
See if a guarantee is provided. You can return the headlamp if it's inherently faulty even after the refund time expires.
Be wary of the states battery life. It can greatly vary depending on the power mode your headlamp is on.
If you are looking for a headlamp for nighttime running, consider a running headlamp. At least, make sure the headlamp you purchase can reach a decent distance.
Look at additional perks the gadget may offer, such as glow-in-the-dark options.
Conclusion
A great headlamp isn't necessarily expensive. You can find very bright products at affordable prices.
If you want a really good headlamp, look beyond just the price and the brightness. Our reviews will help you in this regard.
Consider your needs first, and then you will be able to choose the best headlamp.