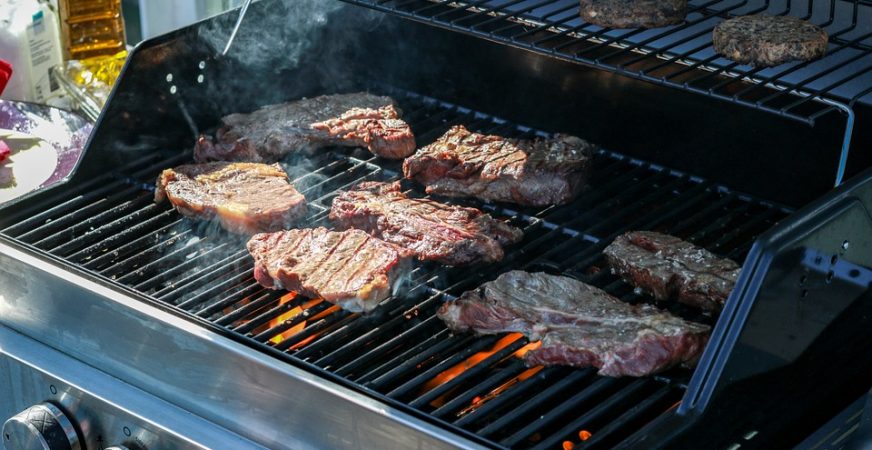 5 Best Gas Grills Under $500 – [2021 Update]
Last updated: 6/2/21
Reading time: 6 minutes
Backyard grilling is essentially a tradition for most families and is done quite often. Now, the higher end grills can get quite pricey, usually out of the reach of most households. While you don't need to spend a fortune on your gas grill, you still need to make a bit of an investment.
This is to ensure that you get a quality product that will not only be effective but also last you quite a while. $500 is a good cut off point to find such a grill. At the same time, there are certain restrictions to be expected with grills in this price range.
The most obvious ones include the materials used for the construction of the grill. As a result, you can expect rusting or for the grill not to last too long. Nonetheless, there are some good ones – here are the best cheap gas grills:
5 Best Gas Grills Under $500 – 2023
1.  Char-Broil Tru Infrared 3-Burner Grill
Here's the deal with this Char-Broil grill – you have to understand that it's a infrared grill, which means the grill grate will get ultra-hot and can maintain high heat temps, which makes it great for searing and grilling such things as steaks and burgers.
Basically, the grates offer up excellent heat retention while also directing transferring the heat to the food. You will be able to keep a constant eye on the temperature as there is a built-in thermometer.
The heating system consists of three burners, each with an output of 24,000 BTU an hour. There's also a side burner that is 10,000 BTUs, perfect for sauces, soups or cooking some onions. The ignition switch is very nice and burners essentially sparks up every time.
With infrared grills you typically end up using less propane and you also have the added benefit of very few flare-ups.
One of the complaints about infrareds is that they're great for steaks and burgers, but require more patience and know how when grilling other items, which is something to definitely note.
+Pros:
Reliable, even cooking due to infrared technology
In-built thermometer
-Cons:
Learning curve using this infrared grill when it concerns grilling items other than steaks and burgers
2. Weber 57060001 Q3200 Liquid Propane Grill
One of the biggest problems with buying gas grills is finding a reliable product that can distribute heat uniformly. The Weber Q3200 offers excellent returns on this front, quite surprising given its price. This grill has cast iron cooking grates enameled in porcelain. The porcelain wonderfully contains the heat, making this grill just perfect for things like searing.
It's big enough to grill medium to large roasts for the whole family. The porcelain top doesn't let small pieces like veggies fall through, which is a major plus. This Weber is not a massive grill, mind you. It might not be suitable for hosting the whole neighborhood for a summer barbeque. However, it should be enough for the needs of the average family.
The grill is just the right size to be portable. It comes with a wheel-mounted cart so you can roll this around to any place in the house you like. The grill has stainless steel burners and a built-in lid thermometer. The folding side tables are removable. The burners produce 21,700 BTU per hour.
The grill is durable too. But mind the ignition. The electric ignition can take a while to start. Also, there's an LED indicator light that will burn out because of the heat once you start using the grill.
+Pros:
Excellent heat distribution
Porcelain top
Great for searing
Portable
High heat production
Durable
-Cons:
Not for large-scale grilling
Bad ignition
LED indicator burns out
3. Camp Chef Flat Top Grill
The Camp Chef flat top grill is actually a 2-in-1 product. It has a flat griddle on top of a traditional grill, which is a game changer for home cooks. So essentially, you can remove the top griddle to grill anything over open flame with bottom part. As a result, this gas grill can prepare almost any type of meal from a traditional roast to paninis.
The flat top griddle is massive, with a length of 31 inches and a width of 20.5 inches. So if you want to cook for a small, hungry army, then this would probably be the gas grill you want. There are four 12,000 BTU burners that distribute heat evenly. The griddle heats up quite fast, which is a major perk when cooking for a crowd.
The griddle also includes two massive foldable shelves. In total, you can make use of a grilling surface of about 501 square inches. The whole thing weighs 142 pounds. This might not be the portable grill you are looking for, but rather the versatile monster you need in your backyard. In addition to flat top cooking and grilling, you can use it as a water pot heater.
This can be hard to assemble for some given that some parts don't come with labels. Overall, this is an excellent product with nearly no drawbacks.
+Pros:
Large cooking area
Even distribution of heat
Converts to open flame grill
Heats up fast
-Cons:
Not portable
Assembly might be difficult
4. Weber 45010001 Spirit II E-310 3-Burner Liquid Propane Grill
The Weber Spirit II has a high initial price tag, but it's packed with features that justify the expenses. Right away, this grill has burners with 30,000 BTU heating capabilities. That's a lot of power and you can expect things to get hot real fast and real high. That's hardly the only amazing feature.
This grill comes with cast iron cooking grates enameled with porcelain. One side of the grates is thicker than the other. This enables optimal cooking for different types of food. For example, you can cook delicate food like fish on the thin side, and use the thicker side for food like steaks. The thick part of the grate is intended for searing.
The grill comes with what Weber calls Infinity ignition, which comes with a guarantee that it won't fail. The ignition is indeed fast and saves a lot of time and trouble that typically comes with some other grills. The mechanism behind this is backed by a 10-year guarantee, so you can get it easily fixed if things go wrong.
Other than great cooking, the grill is designed to be convenient when storing. It has an open cart design with wheels on one side. This makes the bulky and heavy grill easy to move almost anywhere without losing stability when cooking. It comes with a warming rack to place food. There are several features that improve space efficiency like a folding side table. The side tables have integrated hooks in addition to hang cutlery or to keep seasonings.
There are also four color options to choose from. The only downside is assembly, which can be complicated and cumbersome. Some retailers offer assembling services either for free or for a price.
+Pros:
Porcelain coated grill
Grill designed for both delicate and searing cooking
Fast and reliable ignition
High heat output
Hardware backed by warranty
Space efficiency features
Portable
5. Solaire Anywhere Portable Infrared Propane Gas Grill
No products found.
If you don't have a lot of space or are looking for a gas grill that you can carry around, then this grill is for you. While the Solaire may be compact, its size is no indication of its power. With 14,000 BTU at its disposal, this grill is capable of cooking even meats at a high temperature. The grill can be activated with an electric push-button feature. There is about 155 square inches of cooking space on this grill, plenty for at least two individuals.
The Solaire gas grill is also well constructed. It is made from commercial grade and boasts welded construction. The grates as well are created from stainless steel. The rails have been made to accept different Solaire-related accessories and mounts.
This is certainly a grill that has been made to move around. It weighs just twenty pounds and has a spring latch that keeps the housing closed while it is being transported around. Not to mention, you can set up this grill virtually anywhere.
The only drawback with this grill is that there is no grease pan to trap drippings as they fall.
+Pros:
Lightweight and portable
High heat
Welded construction
Tips for Buying a Gas Grill with a $500 Budget
The following is some information that you should have on hand when shopping for gas grills under $500:
The first thing you will need to consider is just how large you want your grill to be. It is important to be mindful of how manufacturers list out the actual grilling space available. Most companies tend to mention the space as a sum total of the grill, warmers, and sometimes even size burners. Therefore, you should always look at the individual space to determine if you are getting the right sized grill.
On a similar note, you will need to ensure that you can adequately control the temperature on the grill. This will enable you to set up a two-zone cooking space – for both direct and indirect cooking. To be able to do this, you will need a minimum of two burners, although three or more will prove to be best.
In addition to the BTU of the grill, you should also focus on how much heat each grill can produce. Particularly when cooking meat such as steaks, you are going to require a considerable amount of heat. Infrared and sear burners can help with attaining these high temperatures.
Last but not least, you will have to consider just how well the grill has been built. Within this price range, you will be limited when it comes to both materials as well as workmanship. Nonetheless, you should for grills that are constructed from cast iron, stainless steel, cast aluminum, enamel bonded to steel, or powder coated steel.
Here you can find some of best mid-range gas grills as well as a bit of help on how to find the best ones.