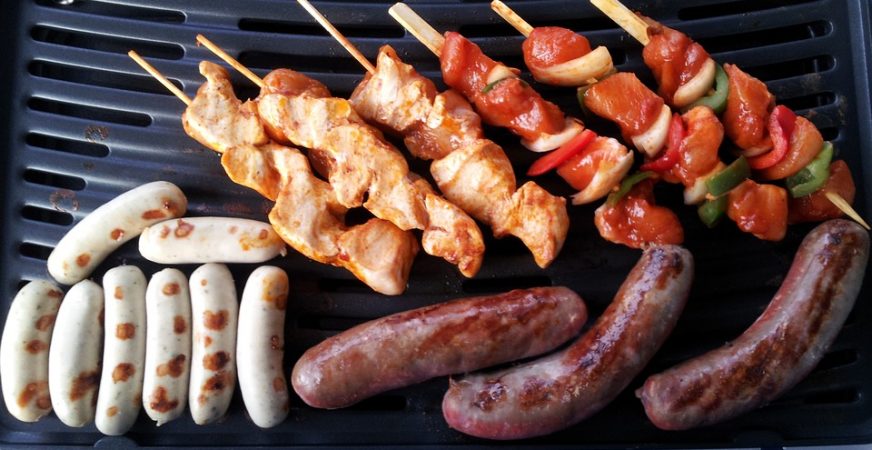 3 Best Gas Grills Under $200 [2018 Update]
If you want to throw a backyard barbecue once in a while, then a gas grill is what you need.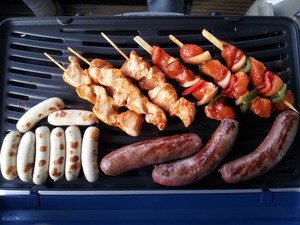 Gas grills can cost a lot depending on the size.
But if you are looking for a product for home use, then you can find a good gas grill for an affordable price under $200.
In case you are confused about all the types of gas grills in the market, here is a list of best gas grills under $200 all ready for your consideration:
3 Best Gas Grill Under $200 – 2018
This large, medium sized grill can easily pass for the best gas grill under $200.
It has a generous 438 square inches of grilling area, and 40,800 BTU gas heating input.
The warming rack is 192 square inches. There's also a 12,000 BTU side burner. The grill comes with a lid too.
This grill is amazingly well constructed for heavy use. It's made from highly durable steel, and the cast-iron grates are porcelain coated.
There are little perks like side shelves and electronic ignition too. Though overall the grill weighs about 100 pounds.
The best feature about this grill is that it gets hot fast. We could quickly make a steak or a burger with all three burners working with the lid down.
The grill can reach temperatures as much as 400 degrees, so it's kind of like an oven.
The warming shelf is great for cooking delicate foods, like veggies, without risking burning.
This grill is very spacious and has plenty of room to cook for four or five at once.
The only drawback we can complain about is that the assembly can be time-consuming.
+Pros:
Sturdy
High capacity
Can reach high temperatures
Includes warming grill and side shelf
This is a great small type of grill for home use. It's not powerful as the Char-Griller mentioned above, but it should suit the needs of a small family.
This grill has two burners with a heat input of 26,500 BTU. The cooking surface of 280 square inches is quite generous enough.
The wire grates are porcelain coated, so there's less chance of food getting stuck or blackened during cooking.
The grill also comes with neat plastic side shelves and tool hooks that increase convenience.
It also has a steel lid coated with porcelain that reduces rust and soot issues. The grill has a reliable Piezo ignition system too.
This grill is great for cooking veggies, eggs, pancakes, and similar foods. It's great for cooking meats, but the process may take a bit longer.
One major drawback of the unit is assembly. Everything comes disassembled, so the buyer has to put together the burner.
That's serious work involving over 130 bolts and screws. If you are not a tool person, it would be a nightmare.
We highly recommend getting a professional to assemble the grill because if you get it wrong, the grill could be unsafe to use.
+Pros:
Suitable for small family use
Porcelain coated grates and lid
Lots of storage space on the sides
-Cons:
Burner must be assembled from scratch
This grill is rather small, but it makes up for it in portability.
This grill only has 145 square inches of grilling area, but comes with a telescoping stand.
The advantage of the stand is that it can be adjusted to the ideal cooking height. Though small, this grill can handle serving up to 6 people at a time.
It only has 5,500 BTU heat input, so the grill cannot reach high temperatures like some products listed above.
But if you want a small barbecue, this would more than suffice.
This grill is very lightweight at 17 pounds, and comes with lockable handle to carry the grill like a briefcase.
This grill is really easy to set up and then fold up for transportation or storage.
The grill is small so you won't be able to cook huge slabs of meat or big portions at once.
The drip tray is also limited in capacity, and grease can start dripping down the ventilation holes if you are not careful.
It will be good idea to remove the tray with each new portion.
+Pros:
Highly portable
Easy to carry or store
Comes with stand
-Cons:
Small grilling area
Limited capacity drip tray
Tips for Buying a Gas Grill with a $200 Budget
With $200, you can buy a small to medium sized gas grill that can serve up to about 6 people at a time. Here are several tips to keep in mind as you shop:
Don't buy a gas grill without a manufacturer's warranty. The ideal gas grill will have a burner with a warranty for about a decade, or close.
Make sure what type of LP canisters are needed to operate the grill.
Some only support refill canisters, while other gas grills work with disposable canisters. It's important to know which is best for the grill you have in mind.
Porcelain coated grills are great for keeping food from blackening while cooking. However, porcelain cannot be brushed while hot to get food residue out.
If the porcelain coat of a girdle is damaged, then it will distribute heat unevenly.
If you plan on grilling mainly meats like steaks, then plan on buying a medium or large sized grill with temperatures that can rise above 400 degrees.
Think about portability before you go purchasing any of the best gas grills under $200. Some medium sized gas grills are hard to carry and store.
Related Guides: 50 Outdoor Activities You Can Do Right Now