4 Best Elliptical Bikes [2021 Update]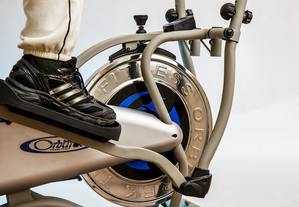 Elliptical bikes offer a different workout for your body than a treadmill. But the challenge is to find an elliptical machine that can match what you find at the gym.
The main problem:
Elliptical machines can be bulky and non-portable. An elliptical can be noisy too.
There are certainly great products that overcome such common issues. Here are some of the best elliptical bike products you can consider that offer excellent consumer-friendly features:
Top 4 Best Elliptical Bikes – 2023
This elliptical machine can offer an experience comparable to what you find in the gym, while taking up minimal space and at a very affordable price.
If you have hard wood floors, it's advisable to get some sort of non-skid pad material underneath this machine, as it may slide on your floor if you work out hard on it.
Important note: while this machine is smooth, reports are that users who are just over 200 lbs have found the machine to shake and wobble, even though the machine is supposed to support around 250 lbs, so please keep that in the back of your mind when purchasing.
It offers a smooth stride, almost like running, has an adjustable seat that can adjust both vertically as well as horizontally, tension adjustments and some simple computer functions.
About the computer functions – it can monitor workout duration, distance covered, calories burned and speed.
The stride length on this machine can go up to 13 inches.
Pros:
Smooth motion
Comfortable
Very cost-effective
Easy instructions (parts are labeled)
Cons:
Have to wear shoes to be comfortable with the pedals
Bare plastic seat is uncomfortable
2.

No products found.
No products found.
This elliptical is primarily for use while you are sitting, while you're at office or on the couch at home.
Notable features:
This elliptical bike has an adjustable tension control system (8 levels of resistance), so you can control the intensity level of a workout easily.
This elliptical bike is Bluetooth enabled. It comes with its own app to monitor fitness statistics and plan workout program. You can use the app with an iOS iPhone device or an Android device to tally the progress on your workouts.
A lot of folks will still walk the dog, hike, and work out beyond the office and the Cubii may not replace those other forms of exercise – it could potentially increase your overall level of activity that you ultimately fit within the day.
Pros:
Adjustable resistance levels
Very quiet operation
Ergonomic design reduces joint pain
Bluetooth connected to an app
Great for offices
With today's busy lifestyle we're constantly multi-tasking, typically with an electronic device in our hand. Well, if you're going to do that you might as well consider getting into better fitness by utilizing the JR1 by Cubii and pedaling your way towards that goal.
The unit has very comfortable pedals in which you can go barefoot, with socks or shoes and includes an LCD monitor that displays distance pedaled, calories burned, minutes active, and rotations per minute in real time.
This elliptical offers a number of resistance levels. This machine is a great option for those who want to build some muscle and also have tender joints or arthritic joints.
One thing we'd recommend if you plan on using this Cubii at the office is bringing another pair of gym shoes or the like to the office and leaving them there because the shoes your primary that you wear to the office will start to build an odor if you continually use them at the office while using the Cubii at the office in parallel.
Pros:
Attractive price option for the performance
Silent operation
Great product support from manufacturer
Cons:
No Bluetooth or app support
This is a full-size elliptical bike that will not disappoint. It's more expensive than desk elliptical bikes, but it's well worth the price.
Here's why:
The resistance this machine delivers compared well against gym-grade machines. There are up to 20 levels of resistance!
This elliptical bike comes with 22 pre-built programs. There are programs to control your heart rate, test fitness, and custom design workouts as well.
The bike's precision path is 20 inches in length. The ramp can be manually adjusted into 6 positions.
That's not all:
The machine is designed with a weighted perimeter flywheel to create the biking motion. So the motion is smooth and quick to accelerate.
It's got a dual LCD displays with complete fitness tracking capabilities. It's also well optimized for comfort and entertainment.
The fun features anyone can enjoy:
An adjustable fan, a USB charging port, in-console speakers, an MP3 outlet, and a medial shelf.
There are some downsides as well:
The wheels are rubber coated. These can start shredding with constant use.
It comes with a warranty for these issues. But that only lasts 9- days, which is a major bummer.
Pros:
20 plus resistant levels
Manual ramp adjustment
Speakers and MP3 outlet
USB charging port
Adjustable fan
Cons:
Rubber coated wheels don't last long
Shoddy warranty
Could be expensive
Things to Know When Buying an Elliptical Bike
Elliptical bikes are expensive. So when you buy one, you should keep the following in mind to make sure your money is well spent.
Different Types of Elliptical Bikes
Elliptical bikes vary among models. But these bikes can be categorized as follows:
Full-Size Elliptical Bikes
A full-size elliptical bike is what you usually see at gyms. It's a biking machine with handlebars and sometimes a seat.
These machines have full LCD displays. Importantly, these machines can support your weight safely while standing up.
Full-size elliptical bikes offer great resistance training. Most have intensive cardio programs as well to really sweat out the calories.
While these machines are great at the gym, they might be too bulky for homes. Also, you will have to spend quite a bit on a full-size elliptical bike.
Desk Elliptical Bikes
Desk elliptical bikes are a stripped-down, compact version of the full-sized model. These bikes don't have handlebars or upper body support.
Instead, these bikes just have the part that creates the biking motion. The recommended method to use a desk elliptical is while sitting down.
Because the desk elliptical machines don't have handlebars, you won't have any support while standing up. You will have to balance yourself while using the machine.
Some desk elliptical bikes can slip when someone is using the machine due to weight. On the flip side, these machines are highly affordable.
The Main Features of an Elliptical Bike
This is what you need to most concern yourself when buying an elliptical bike:
The Resistance Level
The resistance simply refers to how hard the bike is to ride. The resistance is created by the mechanisms of the pedaling motion.
Resistance can also be created by adjusting the size of the ramp. A high number of resistance levels means you are looking at a good elliptical bike.
Stride Length
The stride refers to how long it takes to do a complete biking motion with one foot. The longer the stride, the smoother and more challenging the elliptical bike will be.
Stride length essentially determines who well you exercise on the bike. Therefore, make sure to look at this spec when purchasing.
Pedal Size
The pedals of the elliptical machine should be roomy and have non-slip surfaces. A roomy pedal is very important for safety as well.
You can check the pedal size of any machine in a detailed product description. It should be at least 20 inches to be safe.
Things to Look for When Buying Elliptical Bikes
Here are some things to keep in mind when buying:
Don't buy a desk elliptical bike if you need upper body support. These don't have handlebars like at the gym.
Fitness tracking capabilities with enhance the functionality of the machine. Therefore, look for at least a heart rate monitor when buying.
Don't forget to always check the maximum weight supported before making a purchase.
Double check warranties to make everyone is on the same page.
Conclusion
Buying an elliptical bike would offer you excellent value if you heed the above suggestions. When it comes down to it, your research will determine how good your purchase would be.
Consider your needs first and then choose the machine of your choice. You can buy either a desk elliptical bike or a full-sized one depending on your budget.
Choose a machine that offers excellent resistance to build muscle and lose weight. Protect your purchase with a great warranty, too.
Related Reading: