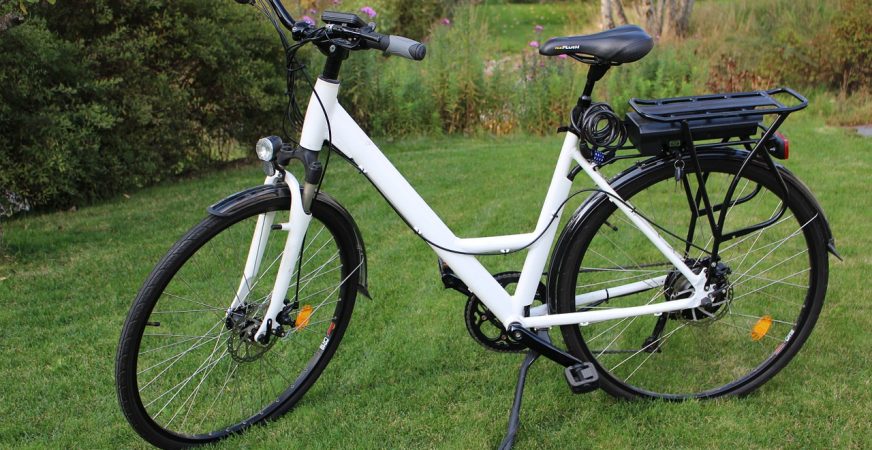 4 Best Electric Bikes [2021 Update]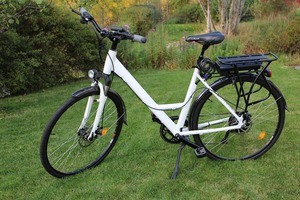 Everyone can safely agree that owning a bicycle instead of a car saves a lot of money spent on gas, insurance, and so on. But, unlike with a car, commuting on a bike can be exhausting, leaving the rider a sweaty mess once they get to work or school.
But what if there's a bike that offers all the benefits of eco-friendliness and cost-saving minus the sweat-inducing pedaling?
Here's your introduction to the best electric bike. As the name suggests, these bicycles have semi-auto or fully automatic pedaling, so that the rider can cycle without actually feeling exhausted.
Imagine riding up a hill and arriving at your destination without breaking a sweat!
Electric bicycles are excellent investments for those who are priced out of automotive vehicles. Thanks to the automation system, these bikes can move faster than the pedaling ability of some riders, thus effectively substituting as a convenient mode of transportation.
Buying an e-bike can be an exhaustive process. So we compiled a list of the top e-bikes currently available in the market considering price and performance. Here is the list:
Top 4 Best Electric Bikes 2023
1. ECOTRIC 20 Inch New Fat Tire Folding Electric Bike
Perhaps the best value on the market, this bike is known for its ability to hold a battery charge, even when the bike is stationary for periods of time, and for its overall durability.
This e-bike has a removable battery and world-class 7-speed Shimano gears. On normal terrain, it can reach up to 20 mph speeds and travel continuously for up to 23 miles when on electric only with a 500W Motor and 36V 12ah lithium cell battery.
What more could you have with one of the best electric bikes?
This ECOTRIC comes with an aluminum folding frame that can fit in most SUVs and most standard cars that have decent trunk height to squeeze this bike into their trunk. The frame is designed for flat and paved mountain roads and its max loading is 240 lbs.
+Pros:
Snazzy looks and folding frame design
Reliable and durable
-Cons:
Lacks torque for serious climbing
2. ANCHEER Power Plus Electric Mountain Bike
If you are looking for a machine to add some serious power and speed to your ride, then this bike will definitely be the one that you should choose.
See, equipped with 250W brushless gear motors, you will have no trouble at all getting up to around 15 miles an hour on the road.
So, regardless of your destination, you will have no problem getting there as fast as you need to.
The powerful 36V lithium battery also adds to the power of this electric bike. Thanks to it, you can travel between 15 and 30 miles, depending on the mode that you have chosen.
Now, speaking of modes, you can select from e-bike and assisted bike mode so that you can maximize either speed or distance.
Adding to this is the 21-speed transmission system and the smart 3-speed meter that makes it a breeze to select which speed you are traveling at.
There is also no denying that this is a hardy bike as well. It is made from a durable aluminum alloy, ensuring that this is a bike that can stand up to the trails without any problems.
Now, that being said, this is a rather hefty bike and so, it can be difficult to ride up inclines. The upshot of this, however, is that it has a greater load capacity and can support most riders with ease.
Pros:
Fast
Can cover a great distance
Good motor
Durable frame
Various modes and speeds to choose from
Cons:
3. Nakto 26 Inch 250W Cargo-Electric Bicycle
This is one of the most affordable e-bikes we found available online. It's super eco-friendly and is priced low enough for even a college student to afford.
Despite the low price tag, this e-bike is quite powerful and extremely well-built. It comes with a 36V, 10Ah, removable Li-ion battery and a 250W brushless motor.
The Shimano gear set has 6-speed levels with maximum speed up to 20mph. With the semi-auto pedal assist, a rider can comfortably travel for up to 35km.
Plus, the battery charger is UL approved. The motor kicks in with the pedal assist too.
The bike has an inbuilt variable speed throttle feature that allows riding for hours. The range can depend on weight and terrain but reaching 20 miles is not difficult.
One of the biggest pros:
Saddle height adjustment. The rider can adjust the quick release saddle for the most comfortable position without having to go to a bike mechanic.
While the main components are great, some of the accessories, like the basket and the kickstand, are very cheaply made and won't last long. The original tires are annoyingly prone to punctures as well.
And it comes with a bizarre instruction manual that doesn't make sense. Otherwise, the frame and motor are good.
+Pros:
Incredibly affordable parts
The saddle can be height adjusted with quick release
Suitable for long rides
-Cons:
Bad quality accessories
Incomprehensible instructions manual
4. ECOTRIC Fat Tire Electric Bike
Are you looking for a bike that you can ride in any weather conditions at all? Or maybe, you want a bike that can handle various terrains.
Well, regardless of which one of these features you are looking for, you will find that this is the electric bike for you.
Now, as you can imagine, a good deal of this bike's prowess comes from the fat tires as they boast anti-skidding properties. Thanks to this, riding in sand, snow, and virtually any other landscape is an absolute breeze.
Of course, there are a lot of other factors at play here. This includes the 500W gear motor that allows you to get up to 23 miles per hour without even breaking a sweat.
Then there is the fact that thanks to the pedal assisting, walk assisting, and hybrid cycling options that you can select from a variety of ways to use this bicycle.
In fact, riding this bicycle, in general, is quite easy due to the Shimano 7 Gears Shifting System which makes the bike rather simple to maneuver.
You will also find that this bike accepts a wide variety of riders as it has a load capacity up to about 260lbs.
The only downside with the settings of this bike is that the display and settings are a bit basic, limiting how you can change them.
Pros:
Great load capacity
Lots of modes to choose from
Fast
Powerful motor
Great for all conditions
Cons:
Display and settings are simplistic
Additional Electric Bike to Consider:
Cyclamatic Power Plus CX1 Electric Mountain Bike
No products found.
This e-bike has a quick release battery and world-class quick change Shimano gears. On normal terrain, it can reach up to 15mph speeds and travel continuously for up to 28 miles.
The Power Plus CX1 comes with a battery upgraded to 36V, so the performance is nothing short of incredible for the price range. Oh, and the vintage silver frame is eye-catching and stylish, so you won't look like an old hippie riding this one.
The frame design is based on mountain bikes for smooth and reliable rides. Like most mountain bikes, this comes with Kendra tires, front suspension, and a padded saddle that won't make your bum sore on the way to work.
The well-built design has zero plastic in its components. It can reach high gears up to level 7 so even riding uphill is a breeze.
The bike is very heavy though, which you will feel when riding manually or in the assisted pedaling mode. Lugging this in and out of the house or apartment would definitely give your upper arms a workout.
The battery indicator can be a bit imprecise as well, so always calculate the remaining charge very conservatively. This is a great e-bike that can sometimes be difficult to purchase due to lack of inventory.
+Pros:
Beautiful silver frame
Good capacity battery that can reach high speeds
High-quality components and no plastic
-Cons:
Heavy frame
Imprecise battery indicator
Things to Know When Buying an Electric Bike
Buying an electric bike is not too different from buying a regular bike. Prospective owners should look for specs such as the type of bike, gear speeds, wheelset, frame, and other features riders need in a bike.
The only difference is that e-bike buyers have to check the durability and reliability of the motor and the battery back.
Here are several facts that will help you make a smart decision when purchasing an e-bike:
Different Types of Electric Bikes
Hybrid E-Bikes
Hybrid e-bikes are just like regular bikes. These bikes combine two functionalities, such as the ability to commute on roads with the ability to mountain climb steep trails. When it comes to e-bikes, hybrid means having a motor and a frame that can be folded for carrying.
Fat E-Bikes
Fat e-bikes can ride on soft surfaces where other bikes would sink. For example, think snow or beach sand.
Most bikes cannot be ridden on such surfaces. However, fat bikes have wide tires with low air pressure, making it possible to ride on terrain that would sink other types of bikes.
Mountain E-Bikes
Most e-bikes are designed to commute on flat roads. Mountain e-bikes are simply the motorized version of mountain bikes.
If you want to ride your e-bike uphill or downhill, you will need a mountain e-bike. These models have powerful motors, brakes, and gears that can handle sloping terrain, unlike regular e-bikes.
Pedal Assist or Fully Automated E-Bikes
E-bikes can be generally categorized into two depending on the type of motorization offered:
Some e-bikes are fully automated, meaning that the bike doesn't require any pedaling at all and can ride on with the rider only maneuvering.
Pedal assist bikes require manual pedaling, but the motor will offer some support. Therefore, the rider can reach higher speeds or cycle without getting exhausted as usual. It's a bit like having training wheels that can push the bike forward.
The Main Features of an Electric Bike
The Motor
Obviously, what distinguishes e-bikes from typical bikes is the presence of the motor. This is the part that gives the bike the electric assist, so the rider doesn't have to pedal hard, or at all.
The power of the motor is determined by the wattage. The higher the wattage number, the more powerful the e-bike is.
The placement of the motor can have practical concerns as well. For example, if the motor is placed under the frame facing the road, you might not be able to drive over puddles that might splash water on the circuits of the motor.
E-bikes do come with different motors that can vary in performance, power, and durability. Most of these details are very technical and difficult to understand for the typical buyer.
However, there's one difference that buyers should know about:
Brushed and brushless motors can have a bearing on the price and the power of the motor.
Brushless motors are more energy-efficient than brushed motors. Brushless motors are also quieter and long-lasting.
At higher voltage levels, brushless motors can become overheated, whereas brushed motors don't have this issue. Therefore, it's very important to look for a speed controller when buying an e-bike with a brushless motor.
Brushless motors are more common in e-bike models because of the efficiency levels that bring the overall prices down.
The Battery
The battery powers the motor, naturally. E-bike batteries function in very similar ways to smartphone batteries.
They have voltage levels and capacity. The voltage level generally indicates how much max power the battery can provide to the motor.
The capacity is determined by how long the e-bike can ride on a single charge. This can vary depending on the territory, the weight of the rider, the model, and other factors.
Nearly all e-bikes come with lithium-ion batteries that can be recharged, just like smartphones. E-bikes that are ridden every day should be routinely charged.
Just like smartphone batteries, the Li-ion batteries in e-bikes get worn out after a while. In that case, you will have to replace the battery.
Frame
The frame matters to e-bikes just as this part matters to regular bikes. The material the frame is made of can determine the durability and the weight of the frame.
If you want a lightweight bike that is easy to ride and carry, buy a full alloy frame bike. Carbon steel frames are heavier, but are more suitable for certain types of riding like speeding.
The frame height can determine how comfortable the rider will be on the bike. Keep that in mind when buying online.
Things to Look for When Buying an Electric Bike
The most important determination should be given to the motor and the battery. What type of motor does the bike have and how long can the battery last?
Check the overall weight the e-bike can carry, especially if you are a large adult.
Pay attention to the wheelset and the type of bike. You will require different types of wheels and frames depending on the territory you plan on cycling mostly on.
List your requirements before you settle on an e-bike. After all, there's little point in buying a mountain bike if you only need an e-bike to commute on a road.
Brushless motors are highly recommended for first-time e-bikes because of high levels of efficiency and low cost. But make sure the bike model has a speed controller to prevent overheating.
Check if the bike offers fully automatic pedaling or only pedal assist. With the latter, you will have to manually cycle with the electric assist boosting speed and the exerted force.
Conclusion
When buying an e-bike, always consider the range, motor type, and the bike type.
If you want a low-cost e-bike, you can choose a well-reviewed model like the Nakto e-bike. If you want a frame that can support a heavy rider, you will need a model like the Addmotor Motan.
The terrain you travel on will matter too. For example, if you need a powerful e-bike for uphill rides, choose a model like Ancheer.
Foldable hybrid e-bikes offer additional conveniences, especially when you need to carry the bike on your commute. In this case, a model like Greenbike will be best.
The best e-bike is the bike that matches your needs. So are you ready for your first e-bike?