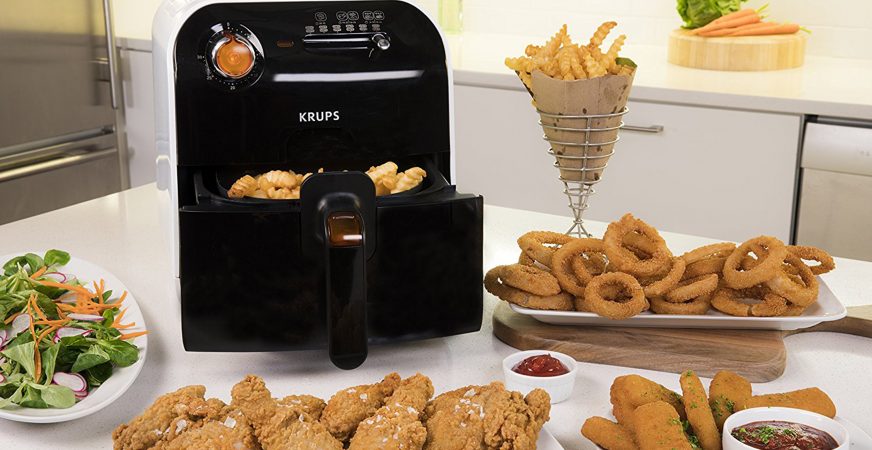 Best Air Fryer Under $100 [2023 Version]
Last updated: 1/25/22
Reading time: 4 minutes
Looking for the best air fryer under $100? We here at Consumer Help Guide have seen air fryers become very trendy and become all the rage, but for very good reasons.
You want crispy french fries with little to no oil? You want tasty fresh, crispy chicken wings, but don't want your kitchen to smell like a fried chicken shop?
Air fryers have more uses than what was just popularly listed above, however, they definitely do deliver and are justifiable in any kitchen should you desire healthier options with the crisp and the mess. In many cases choosing the best air fryer under $100 for you or your family may come down to the design, the amount of space the fryer takes, or the capacity (usually measured in quarts).
Air fryers do not actually fry foods; rather, they circulate hot air rapidly, in a relatively tight space, accelerating your cooking time and delivering food that has a crisp on the outside. 
Best Air Fryer Under $100 – 2023
1.
No products found.
No products found.
Quick Editor's note! It appears that from time to time this COSORI air fryer will be priced a smidge above $100, depending on supply and, ultimately, how the seller wants to price it at. So, you may see it in the $90s or you may see it a bit under, say, $110 depending on the week/month/seasonality. It has become quite popular – no wonder why it's out best air fryer under $100.
If you're looking for a fantastic looking air fryer – assuming you're looking for one that is black in color – that is intuitively easy to use, and easy to clean right out of the box, then the COSORI should definitely be considered as your choice.
The buttons are self-explanatory – you can select the fries icon button for fries, the fish icon and button for fish, and so on and so on. This appliance is not noisy from an air fryer perspective.
The cookbook contains a lot of images to help you along with any recipes that you may be interested in.
Some additional features to note for this 1,700 watt, 5.8 quart size fryer are a removable nonstick coated basket and it is 11 tap and go functions (e.g. steak, fries, seafood, etc.).
+Pros:
Fantastic aesthetic appeal
Ease of use
Easy to clean
-Cons:
Fryer doesn't remember the last temperature and time used 
This compact 1,500 watt air fryer has an LCD digital display. It's a 4.2 quart design and will visually appear to be a bit bigger than a standard coffee maker in stature, being a bit wider and taller.
This Ultrean air fryer is your solid, reliable device that has a few less features, such as a quick reheat button, than some of the higher priced models on the market, making it a solid contender for best air fryer.
-Cons:
Some owners have complained of the non-stick coating flaking off
GoWISE's 1,700 watt, 7-quart air fryer are certainly compact in design, however, you'll notice the size difference compared to most of its 4-5 quart competitors, but you're getting a few more quarts of capacity, so it's understandable.
It also should be noted that this fryer is typically under $100, hence why it made the list, however, if it is not listed as so, it will likely be $10-20 above the $100 price point.
The touchscreen digital display has 8 presets to save you time should you want to tap and go for, say, fries or chicken.
One of the things that separates this fryer from others is that it comes with racks that you can stack on top of each other should you want to separate your food items.
+Pros:
Beautiful design
Stackable racks
-Cons:
The fryer will stay on for about a minute if accidentally turned on
Quick note: this Ninja air fryer model is typically under $100, however, there may be instances wherein it is slightly above $100 for a new model, so we want to call attention to this – just in case. That said, we're listing a "renewed" model, which has been shown to be under $100 frequently.
If you have watched TV, even on and off, during the course of the past couple of years, then you've invariably seen a Ninja air fryer infomercial.
That said, this Ninja delivers on air frying and definitely cooks crispy fries and chicken to your delight. This 1,500 watt air fryer is pretty quiet as well, but like any air fryer, you'll definitely hear it when it's on.
In case you're wondering what Ninja means by "4 in 1 air fryer"– the 4 functions are air fry, air roast, reheat and dehydrate. 
+Pros:
Overall quality build and compactness
-Cons:
Smaller, in-between temp adjustments not present when setting
If you're looking for, frankly, the least daunting to use air fryer, then Dash's Deluxe Air Fryer probably fits the bill. It has a large dial for setting the time with a 30-minute auto shut-off feature. It's powered by 1,700 watts and has a 6 quart capacity, so it'll cook quite a bit of volume when asked and needed.
That said, due to the color and design of the Dash it will appear a bit bulky on your kitchen counter, so folks with smaller kitchens may want to think about that when making a purchase. However, again, if complete simple ease of use is important if you plan on having guests or children use this device, then this fryer has to always be considered.
+Pros:
Extremely simple to use
Reliable