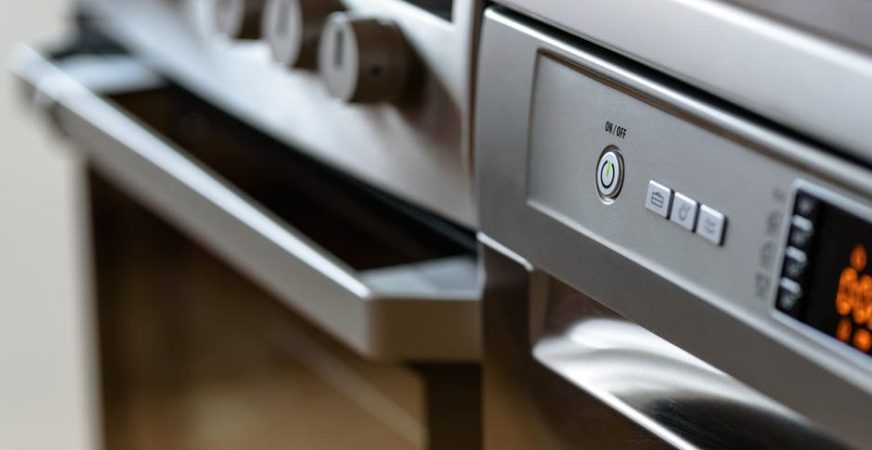 5 Best Toaster Ovens Under $100 [2021 Update]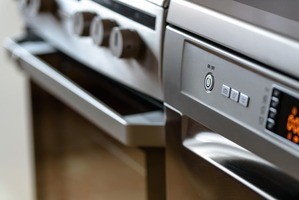 Who wouldn't like to bake pizza at home, grill kebabs, or toast some bread for breakfast without the hassle of heating up and cleaning a large oven?
Then toaster ovens are your best choice.
Toaster ovens don't cost much money either. Most cost around $100. If you want a larger toaster oven, you can pay up to $300.
But if you want a compact and energy-efficient toaster oven, a budget of $100 is very sufficient.
Scroll down for our list of best toaster ovens under 100:
5 Best Toaster Ovens Under $100 – 2023
This is a neat little toaster oven that not only makes toasts, but also bakes cookies, breads, and even pizza without a hassle.
This is very much a miniature oven that is more energy efficient than a regular oven, but is more versatile than a toaster.
This toaster oven uses convection heating, warm air will be circulated throughout the oven with the help of a fan. The advantage is that it bakes real fast.
But there's a drawback:
this toaster oven can get quite heated, so make sure not to place any plastics or melt-y items anywhere near this appliance.
You will have to follow this rule with any toaster oven.
The oven has very convenient two rack positions. It's easy to cook breakfast or dinner for a large family in less than an hour.
Also, you can bake a pizza on the top rack and broil kebabs in the lower one with ease.
At one time, it can cook a 12-inch pizza and 6 slices of bread.
This oven comes with easy and modern digital controlling and a 120 minute timer.
The text that accompanies the buttons is very small and can fade quickly if you are not careful.
We really liked the crumb tray on the bottom that can be removed for cleaning.
+Pros:
Two racks
Removable crumb tray
Versatile
Fast cooking by convectional heating
-Cons:
Digital display text is tiny and is prone to fading
Oven gets heated enough to melt nearby plastics
This is a unique toaster oven. Actually, we would call it a toaster with a mini oven part at the bottom.
The top toaster can toast 2 slices of bread or bagel at a time with a 60 minute timer and shut off. Then bottom part is a mini oven that can cook meats and pizza in small portions.
We managed to bake 2 medium sized pizza slices at once.
Overall, this unit is really small and compact. So if you live in a dorm or an apartment with limited kitchen space, then this toaster oven would be ideal.
It's not as large and accommodating as most toaster ovens. However, it can offer a lot more than a toaster for smaller kitchens.
This toaster oven is completely electric, so it works quietly without a fan. It has automatic shut off and a slide function lever.
It wonderfully comes with a crumb tray at the bottom for easy cleaning.
Though small, it can still bake cookies, small cuts of meat, kebabs, and the like. Overall, this is an excellent product for the budget price.
+Pros:
Compact and saves counter space
Oven included in addition to regular toaster
Completely electric
-Cons:
Small so can't fit medium or large sized dishes, like a full size pizza
This oven has a very unique design will a roll-top door that allows for a large opening and thereby making reaching inside for food that much easier.
Since the door opens above the oven, it frees up your counter top space in front. This design contributes to easy cleaning since food can't spill on the door in the same way traditional toaster ovens behave when opening. For those folks with children, the roll up door can be a safety feature since it moves the potentially hot door away from your hands and forearms when the door is open.
The exact size of the toaster oven is 15 x 18.5 x 9.5 inches or for metric scale 38 cm x 47cm x 24cm.
With a spacious interior, the Hamilton Beach Easy Reach Toaster Oven can accommodate the foods that most of your family will make, such as a decent sized frozen pizza or toasty sandwiches (it can accommodate up to 6 slices of toast inside).
+Pros:
Toasting speed
Easy to use and comfortable contoured knobs
Front access crumb tray for convenience
Roll top door design
-Cons:
Noisy fan when in convection mode (only during warm-up period)
If you are looking for a toaster oven that can perform a wide variety of functions, then this is the appliance for you.
This machine offers up 10 cooking methods in total. Thus, you can broil, bake, toast, defrost, keep warm, reheat, and much more.
So, regardless of what you want to whip up for a meal, you will be able to do it with this one toaster oven.
This is especially true since 1500W powerful output and convection fan feature allows you to cook a wide variety of foods a lot faster.
Also, while it may seem small, the interior is actually quite large. You can easily fit in a 12-inch pizza or food with similar size comparisons.
Best of all, this toaster oven comes equipped with its very own appliances. This includes a removable crumb tray, baking rack and pan, rotisserie kit and lifter, plus more!
The easy-to-view display along with the simple controls makes this a breeze to use as well.
The only real downside is that the temperature settings are a little odd. The even spacing between the temperature options means that it is difficult to get your exact, desired temperature.
+Pros:
Many cooking methods
Powerful toaster oven
Easy to use
Sizable interior
Accessories included
-Cons:
Temperature settings are too far apart
If you want a good substitute for your traditional oven, then this will certainly be a good fit for you. This is largely to do with the size.
On average, you can fit up to a 12-inch pizza or 6 slices of toast. Thus, there is room for most of the recipes that you want to make.
In addition, this toaster oven comes equipped with a convection oven feature. Due to this, you are able to cook foods faster than before.
This, combined with the fact that you have a wide variety of temperature choices – 150 to 450 degrees Fahrenheit – means that you can mimic important features of your oven.
This toaster oven also boasts seven cooking settings to make your job even easier. You can choose from bake, toast, convection bake, broil, warm, defrost, and pizza.
All of the digital settings are carefully laid out and are quite easy to use. And, with the help of the viewing light, you know exactly how your food is faring.
You also get useful accessories such as a baking pan and an easy clean-up crumb tray.
One of the issues with this toaster oven is that it has an automatic shut-off. While this does improve the safety of the appliance, it can also make it trickier to cook foods well for longer periods of time unless specified.
+Pros:
Lots of cooking settings
Variable temperature choices
Quick cooking
Easy to use
Additional Toaster Oven to Consider Under $100
Making crispy toast or perfectly broiled chicken slices has never been easier. This Hamilton Beach 31401 offers a number of features that busy people can truly appreciate.
This toaster oven can bake and broil. The latter is a rare feature for toaster ovens, so you can definitely benefit more with this product.
This Hamilton Beach is both convenient and highly energy efficient. Here's a big advantage that many other toaster ovens don't offer:
You don't have to preheat this toaster oven. Preheating can waste a lot of energy, which you can completely avoid with this model.
Plus:
This toaster oven uses less energy to deliver the same results as other toaster ovens. For example, you can reheat frozen chicken nuggets using only 75 percent less energy than other ovens.
And you can cook the nuggets 20 percent faster, according to the brand!
This little toaster oven is also highly versatile. You can make toast, bake pizzas, broil chicken, and cook frozen dinners without wasting time.
You can bake, broil, and toast using only three different settings. Shove in even a casserole and it will cook.
The toaster oven is compact, but you can shove in a 9-inch pizza inside. Cook time for bigger meals is as quick as 30 minutes.
The exact size of the toaster oven is 15 x 11.5 x 8.7 inches. The oven comes with its own bake pan.
The toaster oven has auto shutoff for extra safety. The exterior is stainless steel so cleaning is easy.
It's almost perfect. If there's a downside, then it's the slightly off temperature settings.
Don't expect exact temperature readings. This, however, is not a major issue when you want to prepare a snack or a small meal.
+Pros:
Bake, broil, and toast
Stainless steel exterior
Includes bake pan
Considerable interior size
Cooks many different types of meals
Energy efficient
No need to preheat
-Cons:
Iffy temperature readings
How to Buy a Toaster Oven with a $100 Budget
A $100 is a great budget to buy a really good quality toaster oven that will last in your kitchen for years.
When buying, do be aware of the following things however:
Always mind the size of the interior.
If you plan on baking large pizzas, make sure the interior can accommodate it. Toaster ovens of this budget range can at most fit a 12-inch pizza.
Decide between a convectional toaster oven and a completely electrical one.
Convectional toaster ovens have fans inside to distribute heat. These ovens bake faster in general, but can be a bit noisy too.
Electrical toaster ovens are less energy efficient, but are completely noise free.
If you want an easy to clean toaster oven, look for a product with a nonstick interior.
Some toaster ovens have crumb trays included, so little foot items don't gather at the bottom.
You can easily slide out the crumb tray and cleaning without sticking your hand in the oven.
Buy a toaster oven with auto shut off. It will prevent your food from overcooking, and also will reduce the risk for fire hazards.
The toaster ovens mentioned above have auto shutoff features.
Do pay attention to the controls. They should be intuitive and easy to use even for someone who is not at all tech savvy.