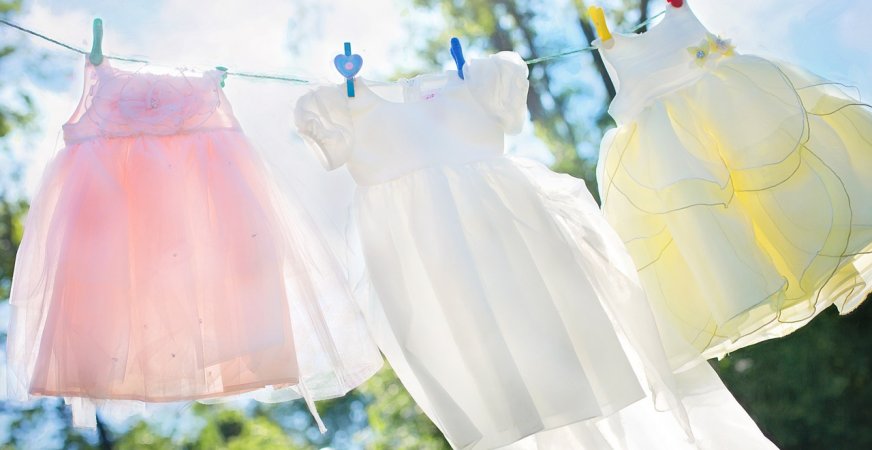 5 Best Fabric Softeners (For Comfortable, Fragrant Clothes) [2021 Update]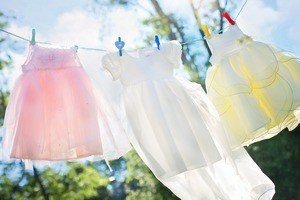 Adding a bit of fabric softener is an essential part of getting laundry done right.
One problem:
There are just too many fabric softener brands and products to choose from.
Are some products really better than others?
Here is a list of the best fabric softener reviews so you can decide for yourself:
Top 5 Best Fabric Softeners – 2023
1. Downy Unstopables In-Wash Scent Booster
This is not the regular liquid fabric softener you might be used to. The Downy Unstopables come as little blue beads or pellets in the bottle.
The advantage:
Unlike with liquids, you can use as many or as few as you want.
We used about half a cup of pellets with a regular load. We didn't need to wait to add the fabric softener until the rinse cycle.
The instructions indicate that it's perfectly fine to toss in the softener pellets with the detergent. It's as convenient as that.
In some washing machines, you may have to wait until the washing cycle is done to add fabric softener. This product completely removes that hassle.
It is perfectly color safe. This fabric softener is suitable for all types of fabrics as well.
Plus:
The scent is quite incredible. When this load was going through the rinse cycle, we could smell it from the next room.
The softness and the fresh scent can last for weeks inside the closet. The label says it can last up to 3 months!
However, some may find the smell a bit strong. It can be particularly strong-smelling and cause minor stains if used extensively.
+Pros:
Safe on colors and all fabrics
Works with any machine
Can be tossed in with the detergent
Long-lasting scent
Available as beads
-Cons:
Scent can be strong
Too many pellets may cause staining
2. Bounce Fabric Softener Sheets, Outdoor Fresh
Bounce is hands down one of the best fabric softener dryer sheets around. It's affordable and each box contains as many as 240 sheets.
The perks are many:
Bounce sheets can reduce static cling and prevent wrinkles.
These sheets are great for preventing static cling in just about any dryer. On top of that, the sheets repel other things that cling to clothes in the dryer like lint and strands of hair.
The sheets can leave clothes wonderfully soft and less likely to wrinkle. You may not even need to iron some fabrics after using these sheets in the dryer.
What's more:
The Bounce sheets are perfectly color safe.
These sheets can be used in high efficiency (HE) dryers as well. However, you may have to use more than a single sheet.
We had to use at least 2 sheets with large and HE loads. If you want the clothes to smell nice, you may need to use more than once sheet as per load.
It smells good right out of the dryer. But the fresh scent doesn't last long in the closet.
If you are looking for cheap but highly effective fabric softener dryer sheets, this is the product you want.
+Pros:
Prevents static cling
Reduces wrinkles
Works with HE dryers
Color safe
-Cons:
Scent doesn't last long
Need to use multiple sheets with large loads
3. Snuggle Plus Super Fresh Fabric Softener Dryer Sheets
Having trouble preventing clothes from static cling or otherwise getting damaged in the dryer?
The Snuggle Plus dryer sheets are hands down one of the best products to prevent static cling in any dyer.
These sheets work like a charm in any dryer. We were impressed by how well the clothes came out smelling nice and feeling soft.
One more thing:
The Snuggle Plus dryer sheets are really great at eliminating tough odors. When the dryer cycle is done, the clothes would smell nothing less than utterly luxurious.
We only needed to use a single sheet per load. The sheets are so effective, there's really no need to toss in two or three sheets even with a maximum load.
More importantly:
These dryer sheets work with high efficiency (HE) dryers. In fact, these sheets are one of the few products that can withstand the workload of HE dryers without getting ripped into pieces.
The price per box is quite cost effective as well. Each box comes with 105 sheets for less than 10 bucks.
One downside:
This product isn't suitable for use with children's sleepwear.
Don't use these sheets on any garment labeled flame resistant. It can reduce flame resistance.
+Pros:
Works in HE dryers
Prevents static cling
Eliminates bad odors
Cost-effective
-Cons:
Not suitable for use with flame-resistant clothing
4. Gain Dryer Sheets, Original, 240 Count (Packaging May Vary)
Gain dryer sheets are mainly known for one thing:
Great, fresh scent.
The clothes do smell heavenly after using these fabric softener sheets. But there are other perks as well.
The major advantage:
These dryer sheets will eliminate static cling.
A single sheet can effectively eliminate the worst of static cling. But you may need to use more than one sheet per load for full elimination of static.
Also:
These dryer sheets can reduce wrinkles. It works rather well with cotton blends that are prone to wrinkling in the dryer.
One disadvantage is that these dryer sheets don't act as fabric softener sheets. These are mainly used for eliminating static.
But if you don't want to use extra liquid fabric softener in the rinse cycle, these dryer sheets would do well.
There are some other downsides too:
You must not use these sheets with flame resistant clothing, especially children's sleepwear. There is a specific warning against that.
The sheet may cause spotting when used with high heat settings. We do not recommend these sheets for high-performance dryers.
+Pros:
Excellent scent
Prevents static
Reduces wrinkles
-Cons:
May cause spotting in high heat settings
Not suitable for use with flame resistant clothing
Need to use multiple sheets per load
5. Mrs. Meyer's Clean Day Fabric Softener, Honeysuckle
If you loathe the strong fragrance some regular fabric softeners can leave, Mrs. Meyer's might be the product you need.
This fabric softener uses plant-derived ingredients including:
Cotton extract, honeysuckle flower extract, orange peel essential oils, and Ylang Ylang flower oil.
The result is a very mild and natural fragrance. The honeysuckle scent isn't overwhelming at all.
The label claims that 99 percent of ingredients in the product are plant-derived. However, be aware that it does contain standard chemicals used in regular fabric softener.
You will find ingredients like fragrance and dihydrogenated palmoylethyl hydroxyethylmonium methosulfate as well. This product is not ecofriendly.
Make sure you are not allergic to the scent before buying. This fabric softener is not hypoallergenic.
It's a lot milder than most store-bought products, nevertheless. This fabric softener is compatible with HE machines.
We highly recommend using this product if you want a more soothing scent. One problem is that the scent can quickly dissipate out of the dryer.
This fabric softener is really great at making clothes fluffy and soft. Ironing afterward is really easy.
Plus:
Using this fabric softener can help reduce static cling in the dryer. You may not need to use an additional dryer sheet.
+Pros:
Mild and natural scent
Uses a lot of plant-derived ingredients
Can reduce static cling
Makes ironing easier
-Cons:
Some ingredients may cause allergies
Not ecofriendly
Things to Know When Buying a Fabric Softener
Confused about all the fabric softener brands out there? Here's a useful guide to help you choose the best:
Different Types of Fabric Softener
Fabric softener mainly differs in how the product is available. When shopping, you will come across the following types of fabric softeners:
Liquid Fabric Softener
Liquid fabric softener looks a lot like laundry detergent. You can measure the liquid in cups and add as you need to the washing or rinse cycle.
Liquid fabric softener mainly eliminates odors and makes fabrics feel softer after each rinse cycle. Some may reduce wrinkling.
Most washing machines have a separate dispenser to add fabric softener. Some products can be used simultaneously with the laundry detergent.
Liquid fabric softener must be adequately diluted. Using too much per load may cause staining.
Beads or Pellets
Fabric softener beads or pellets are solid forms of liquid fabric softener. These work very much like the liquid version of the product.
The fabric softener beads are also measured just like the liquid.
However, you may not need to use as many beads because these solids are often more highly concentrated than the liquid version.
Therefore, you may have to be careful when you use fabric softener beads. It's easy to use too much and cause staining.
Dryer Sheets
Fabric softener dryer sheets are put in the dryer, rather than in the washing machine, with each laundry load. Each sheet is thin, scented, and feels a bit like gauze.
One or two dryer sheets can eliminate odors and soften clothes. But mostly, fabric softener dryer sheets prevent static cling in the dryer.
The dryer sheet dispenses the fabric softening chemicals as the dryer gets heated.
Some dryer sheets can tolerate very high heat settings, while other products are only suitable for mild to moderate loads.
Most dryer sheets work with all types of dryers. But some are suited for use with high-efficiency dyers.
You will have to decide what kind to use depending on whether you need the softener in the dryer or the washing machine.
The Main Features of a Fabric Softener
Nearly all types of fabric softener products in the market can do these things:
Soften Fabrics
The main function of fabric softener is to make fabrics feel soft coming out of a rinse cycle or dryer.
The chemicals in laundry detergent can sometimes make fabrics feel rougher after washing.
That's where fabric softener comes in.
These chemicals will make any type of material feel much better on your skin.
Add Fragrance
The other main function fabric softener has is of making clothes smell good. These products are often perfumed to eliminate bad smells.
Fabric softener scents can often make clothes smell good in the closet for weeks.
Eliminate Static Cling
Fabric softener dryer sheets will prevent static cling that often occurs inside the dryer. If you don't want your clothes to zap you after a good drying, these sheets can help.
Reduce Wrinkles
Fabric softener can coat various textiles in chemicals so that clothes are less likely to wrinkle as a result.
If you are not a fan of ironing shirts and jeans, a bit of fabric softener may help.
Things to Look for When Buying a Fabric Softener
Here are some tips for buying fabric softener:
If you have sensitive skin, look for fabric softener with a hypoallergenic label. The typical chemicals in these products may cause irritation for those with sensitive skin.
Don't buy regular fabric softener for baby or toddler clothes. Get a specially formulated product, preferably with pediatric approval.
We would recommend that you read the chemical ingredients list for fabric softeners before buying. Some of these chemicals may cause allergic reactions.
Ecofriendly fabric softener is not only good for the environment, it may be better for your skin as well.
Conclusion
You'll find dozens of fabric softener brands available both online and in stores. To distinguish between the good products and the bad, always read the labels and customer reviews.
Refer to our reviews for the best fabric softener products money can buy. The products we have reviewed are affordable and offer many benefits to the average user.
Related Guides: House Cleaning Tips: 20 Essential Pointers to Keep Your Home Spick and Span